Definition
radio frequency (RF, rf, orr.f.)
See also audio frequency (AF).
Radio frequency (abbreviated RF, rf, orr.f.) is a term that refers to alternating current (AC) havingcharacteristics such that, if the current is input to an antenna, an electromagnetic (EM) field is generated suitable for wireless broadcastingand/or communications. These frequencies cover asignificant portion of the electromagnetic radiation spectrum, extending from nine kilohertz (9 kHz),the lowest allocated wireless communications frequency (it's within the range of human hearing), to thousands of gigahertz(GHz).

Download this free guide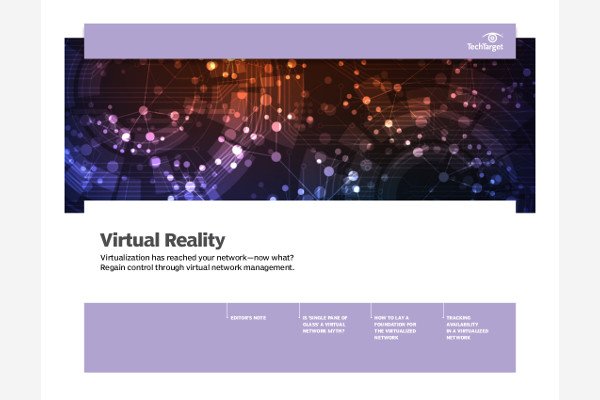 Download: Overcome Virtual Network Management Challenges
The virtualized network poses challenges to network management systems -- and as more hardware components become virtualized, that challenge becomes even greater. This handbook discusses the steps IT must take to both build and corral their virtualized infrastructure.
By submitting your personal information, you agree that TechTarget and its partners may contact you regarding relevant content, products and special offers.
You also agree that your personal information may be transferred and processed in the United States, and that you have read and agree to the Terms of Use and the Privacy Policy.

When an RF current is supplied to an antenna, itgives rise to an electromagneticfield that propagates through space. This field is sometimescalled an RF field; in less technical jargon it is a "radiowave." Any RF field has a wavelength that is inverselyproportional to the frequency. In the atmosphere or in outerspace, if f is the frequency in megahertz and sis the wavelength in meters, then
s = 300/f
The frequencyof an RF signal is inversely proportional to the wavelengthof the EM field to which it corresponds. At 9 kHz, the free-spacewavelength is approximately 33 kilometers (km) or 21 miles (mi). At the highestradio frequencies, the EM wavelengths measure approximately one millimeter (1 mm). As the frequency isincreased beyond that of the RF spectrum, EM energy takes the form ofinfrared (IR), visible, ultraviolet (UV), X rays, and gamma rays.
Many types of wireless devices makeuse of RF fields. Cordless and cellular telephone, radio andtelevision broadcast stations, satellite communications systems,and two-way radio services all operate in the RF spectrum. Somewireless devices operate at IR or visible-light frequencies,whose electromagnetic wavelengths are shorter than those of RFfields. Examples include most television-set remote-controlboxes, some cordless computer keyboards and mice, and a fewwireless hi-fi stereo headsets.
The RF spectrum is divided into several ranges, orbands. With theexception of the lowest-frequency segment, each band represents an increaseoffrequencycorresponding to an order of magnitude (power of 10). The tabledepictsthe eightbands in the RF spectrum, showing frequency and bandwidth ranges. TheSHF and EHFbands are often referred to as the microwave spectrum.
| | | | |
| --- | --- | --- | --- |
| Designation | Abbreviation | Frequencies | Free-space Wavelengths |
| Very Low Frequency | VLF | 9 kHz - 30 kHz | 33 km - 10 km |
| Low Frequency | LF | 30 kHz - 300 kHz | 10 km - 1 km |
| Medium Frequency | MF | 300 kHz - 3 MHz | 1 km - 100 m |
| High Frequency | HF | 3 MHz - 30 MHz | 100 m - 10 m |
| Very High Frequency | VHF | 30 MHz - 300 MHz | 10 m - 1 m |
| Ultra High Frequency | UHF | 300 MHz - 3 GHz | 1 m - 100 mm |
| Super High Frequency | SHF | 3 GHz - 30 GHz | 100 mm - 10 mm |
| Extremely High Frequency | EHF | 30 GHz - 300 GHz | 10 mm - 1 mm |
Dig Deeper on Wireless LAN Implementation
PRO+
Content
Find more PRO+ content and other member only offers, here.