A trunk is a line or link designed to handle many signals simultaneously, and that connects major switching centers or nodes in a communications system. The transmitted data can be voice (as in the conventional telephone system) data, computer programs, images, video or control signals.
Next-Gen WLAN: How 802.11ac Will Change Your Network Forever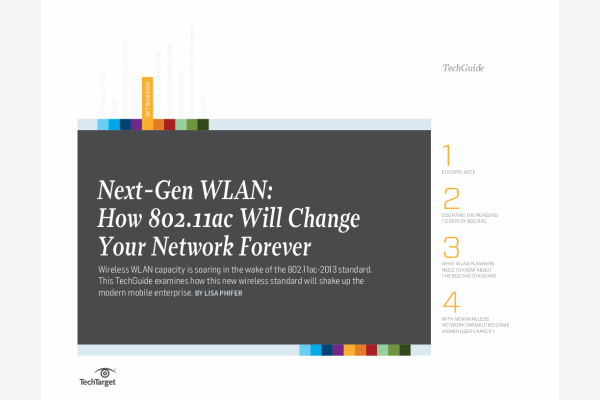 The IEEE 802.11ac-2013 standard is approved – but what does this mean for your network? Hear from experts on what this means for WLAN data rates, and why the WLAN will soon be a viable alternative to Ethernet.
By submitting your email address, you agree to receive emails regarding relevant topic offers from TechTarget and its partners. You can withdraw your consent at any time. Contact TechTarget at 275 Grove Street, Newton, MA.
You also agree that your personal information may be transferred and processed in the United States, and that you have read and agree to the Terms of Use and the Privacy Policy.

Trunks are used to interconnect switches to form networks, and to interconnect local area networks (LANs) to form wide area networks (WANs) or virtual LANs (VLANs). A trunk often consists of multiple wires, cables, or fiber optic strands to maximize the available bandwidth and the number of channels that can be accommodated. A trunk can also be a broadband wireless link. The use and management of trunks in a communications system is known as trunking. It minimizes the number of physical signal paths, and thus the total amount of cable hardware, required to serve a given number of subscribers in a network.
In Cisco networks, trunking is a special function that can be assigned to a port, making that port capable of carrying traffic for any or all of the VLANs accessible by a particular switch. Such a port is called a trunk port, in contrast to an access port, which carries traffic only to and from the specific VLAN assigned to it. A trunk port marks frames with special identifying tags (either ISL tags or 802.1Q tags) as they pass between switches, so each frame can be routed to its intended VLAN. An access port does not provide such tags, because the VLAN for it is pre-assigned, and identifying markers are therefore unnecessary.
Continue Reading About trunk
PRO+
Content
Find more PRO+ content and other member only offers, here.