broadband voice gateway definition
A broadband voice gateway is a device that allows you to make telephone calls over a high-speed Internet connection rather than through a regular telephone outlet without having to go through your computer. The device or gateway, which is about the size of a video cartridge, is plugged into your broadband DSL or cable modem. You then attach an ordinary cord or cordless telephone to the gateway and make calls just as you would with the plain old telephone system (POTS). On the Internet, your call is carried in packets using Voice over Internet Protocol (VoIP).
Next-Gen WLAN: How 802.11ac Will Change Your Network Forever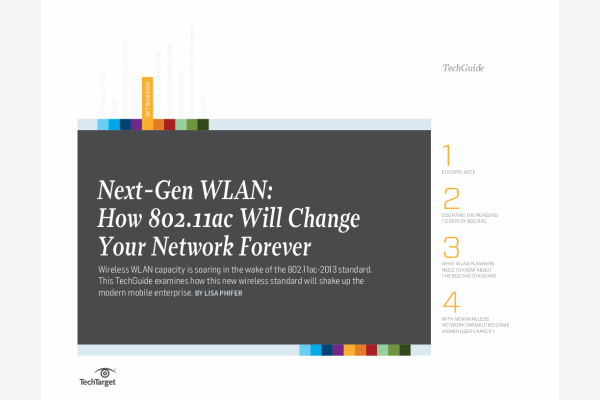 The IEEE 802.11ac-2013 standard is approved – but what does this mean for your network? Hear from experts on what this means for WLAN data rates, and why the WLAN will soon be a viable alternative to Ethernet.
By submitting your email address, you agree to receive emails regarding relevant topic offers from TechTarget and its partners. You can withdraw your consent at any time. Contact TechTarget at 275 Grove Street, Newton, MA.
You also agree that your personal information may be transferred and processed in the United States, and that you have read and agree to the Terms of Use and the Privacy Policy.

Because the gateway bypasses your computer, you can surf the Web at the same time that you or someone else uses your Internet connection for a phone call. No software is required. The gateway can be set up with or without a network router. You can add additional phone lines from the gateway with an RJ-11 splitter.
The major benefit of broadband voice service is saving money on long-distance charges, while enjoying better sound quality than afforded by a regular dial-up connection. However, there are other considerations that make it impractical as the sole telephone service in a household: unlike regular telephone service, if your Internet service is down, your phone will be down along with it, and a power outage means your phone is out as well.
Continue Reading About broadband voice gateway
PRO+
Content
Find more PRO+ content and other member only offers, here.