Also see band, bandwidth, broadband, and narrowband.
Technical Guide: How to Achieve Unified Network Management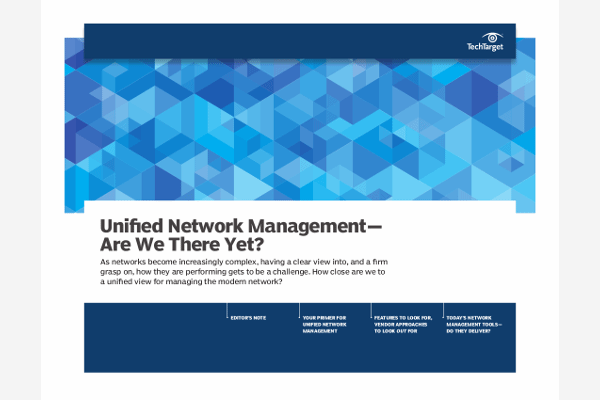 Quickly identify and resolve increasingly complex enterprise network issues. Access this comprehensive guide which reviews a holistic approach to enterprise network monitoring and the tools available to help achieve unified network management.
By submitting your email address, you agree to receive emails regarding relevant topic offers from TechTarget and its partners. You can withdraw your consent at any time. Contact TechTarget at 275 Grove Street, Newton, MA.
You also agree that your personal information may be transferred and processed in the United States, and that you have read and agree to the Terms of Use and the Privacy Policy.

Baseband has several usages:
1) Describing a telecommunication system in which information is carried in digital form on a single unmultiplexed signal channel on the transmission medium. This usage pertains to a baseband network such as Ethernet and token ring local area networks.
2) Same as the above, but allowing that the information could also be carried in analog form.
3) Any frequency band on which information is superimposed, whether or not the band is multiplexed and information is sent on subbands. In this usage, there is sometimes the meaning that the frequency band is not shifted to some other frequency band but remains at its original place in the electromagnetic spectrum.
This was first published in
November 2006
Dig Deeper on Network Administration
PRO+
Content
Find more PRO+ content and other member only offers, here.