Get started
Bring yourself up to speed with our introductory content.
Wireless network deployment and management
Wireless network deployment and management are discussed in this guide.
Deploying a wireless network can be a daunting task and once it is finally deployed, it has to be managed to keep it working at peak efficiency. This section of the Wireless Protocols Learning Guide discusses preparing for a wireless network deployment including network and protocol analysis and wireless network management and monitoring.
Table of contents

Wireless technologies defined


802.11 protocols


Wireless access points


Wireless network deployment and management
-- Wireless network management


Wireless security


Wireless troubleshooting
Wireless network deployment
Both specialized WLAN testing tools and experienced, knowledgeable personnel are required to deploy and maintain an IEEE 802.11 wireless network that meets the needs of your users.
AirMagnet has found that tinsel Christmas decorations can reduce signal strength by 25%.


,
As you prepare to design and deploy a wireless network, you will need a protocol analysis tool to help diagnose ongoing performance and connectivity problems, to detect attempts by unauthorized personnel to access the network, and to detect "rogue" APs -- unauthorized APs connected to the network by employees or others.
If you have deployed voice over your wireless network, you will need to invest in a protocol analysis tool enhanced to report the metrics specific to VoIP call quality.
Wireless technology is complex. Tools alone are not sufficient for a successful deployment. "A tool can tell you that your signal is not strong enough, but it cannot do the research for you to select the ideal antennas for a given environment and conditions," says Sue Galpchian, director of operations for Celergy Networks, concerning wireless network planning.
To find out more about designing a wireless network that will meet your needs, "WLAN test tools, expertise, turn theoretical network into reality" is full of good information and step-by-step directions for designing, analyzing and developing a healthy wireless network.
Avoiding congestion on a wireless network can be a tricky maneuver without some first-rate tips on capacity planning.
Many companies devote considerable attention to purchasing Wi-Fi access points, routers and switches, giving far less thought to Wi-Fi client selection. But it takes two to tango: client devices have a major impact on WLAN operation. Supporting a hodge-podge of Wi-Fi clients complicates maintenance, troubleshooting and performance/security planning. Standardizing on a few well-chosen Wi-Fi clients can make a big difference. Be sure to know how to determine whether embedded or aftermarket wireless will best fit your needs, how to compare client options and how to build the criteria that will enable the best selection.
Wireless network management
As users begin to shift between Ethernet and Wi-Fi throughout the workday, it makes sense to apply VLANs to both wired and wireless network access. Learn more about mapping Wi-Fi stations onto corporate VLANs and how an existing VLAN can be extended to incorporate wireless stations -- giving workers exactly the same network access rights and limitations previously experienced over Ethernet.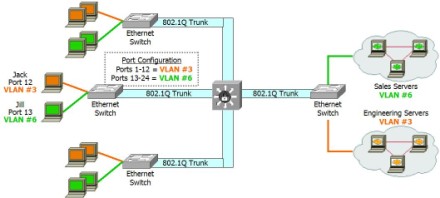 Mapping SSIDs to VLANs
As VLANs continue to grow in popularity, augmenting and displacing Ethernet, IT managers will be required to monitor 802.11 network usage for purposes of accounting, capacity planning, and compliance reporting. But how can you track what you cannot see? You can accomplish this feat by combining traditional network and session monitoring techniques with wireless-specific methods and tools.
Many conventional methods used to collect and analyze IP traffic, network device statistics, and application service utilization can be applied to networks that contain wireless links. Wireless-specific management tools provide details that cannot be obtained from traditional network traffic monitors and AAA servers.
Every 802.11 station has equal access to the shared medium (channel). Prioritization and the ability to manage quality of service (QoS) requires an extension to the 802.11 standard that is now under way.
The widespread deployment of wireless networks has created problems in office buildings, apartments and shopping areas, where multiple wireless networks share the air. The situation is expected to worsen as every coffee shop provides wireless service. Two new IEEE standards aim to improve wireless LAN manageability:
802.11k will specify measurements of surrounding radio frequency environments created by APs and laptops and create methods to allow these components to exchange measurements. 802.11v will specify ways to utilize 802.11k measurements to help manage the wireless environment and to improve WLAN reliability, throughput and QoS.
This was last published in
September 2007
Dig Deeper on Wireless LAN (WLAN)