Get started
Bring yourself up to speed with our introductory content.
WAN optimization controller comparison: Evaluating vendors and products
WAN optimization controllers and the vendors that make them have attracted a great deal of interest lately. Our guide explains why and shows how to compare major WAN optimization vendors.
IT organizations have a growing interest in deploying WAN optimization controllers (WOCs) as a way to implement...
Continue Reading This Article
Enjoy this article as well as all of our content, including E-Guides, news, tips and more.
network and application optimization on branch office networks. One of the factors driving this interest in WAN optimization vendors and products is the fact that many organizations have taken applications out of branch offices and consolidated them in centralized data centers. This, combined with the fact that only a minority of employees now work at a headquarters site, means that the vast majority of employees now access applications over a relatively low-speed, high-latency WAN. In addition to low speed and high latency, the WAN also suffers from quality issues such as dropped packets or packets that are out of order. These characteristics often result in unacceptable application performance on the WAN.
As companies increase their use of Software as a Service and other forms of public and private cloud computing, the amount of application traffic that transits the WAN will only increase. This traffic increase will make IT organizations even more interested in deploying WAN optimization and acceleration. Although there are similarities in the WOCs currently available in the WAN optimization marketplace, there are also some significant differences. One goal of this guide is to help IT organizations to create a short list of WOCs to investigate. The second goal is to provide some benchmarks and characteristics to look for to help compare WAN optimization vendors and products.
WOCs benefit businesses by improving the performance of applications that run over the WAN and/or reducing WAN bandwidth expense. As shown in Figure 1, these products improve performance by: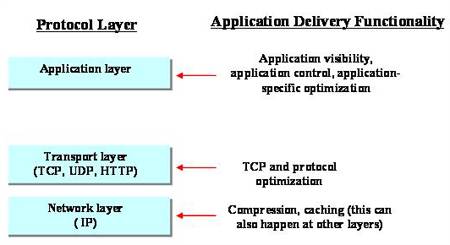 Figure 1: The layers of application delivery functionality

One way to segment the WAN optimization market is to analyze a WOC's ability to provide optimization between:
Disparate data centers
Branch offices and a data center
Remote users and one or more data centers
The first generation of WAN optimization that was deployed to support optimization between data centers or between branch offices and a data center was a physical appliance. Today, many WOC vendors also support a software solution, often referred to as a soft WOC.
In the above segmentation, a data center may be owned by the IT organization or by a cloud computing service provider. In the latter case, the IT organization has little control over which optimization capabilities exist within the data center.
For more, read all the sections in our guide:
About the author:
Dr. Jim Metzler, principal at Ashton Metzler and Associates, is a widely recognized authority on network technology and its business applications. In more than 28 years of experience, Jim has helped numerous vendors refine product and service strategies and has helped enterprises evolve network infrastructures. He has directed and conducted market research at a major industry analyst firm and run a consulting firm. Jim holds a Ph.D. in numerical analysis from Boston University. He is co-author of the book Layer 3 Switching: A Guide for IT Professionals (Prentice Hall).
This was last published in
February 2010