Metro Ethernet tutorial
This metro Ethernet tutorial explains what kind of carrier Ethernet the service is, when the technology should be used, and what wide area network (WAN) managers need to know about it.
This metro Ethernet tutorial explains what the technology is, how it can be used and what WAN managers need to...
Continue Reading This Article
Enjoy this article as well as all of our content, including E-Guides, news, tips and more.
know about it.
Thinking about upgrading your wide area network (WAN)? Then you've probably read or heard about, or are considering, metro Ethernet technology. According to the 2010 benchmark conducted by Nemertes Research, 71% of organizations are using some form of carrier Ethernet, and 77% plan to do so by 2012. Why? Users describe it as "cheap and cheerful"—an easy-to-provision, low-cost option for high-speed WAN connectivity. And it's highly effective. Nearly half—43%—say their carrier Ethernet deployments are "extremely successful," with another 52% saying their deployments are "very successful." (No organizations said their deployments were unsuccessful.)
Metro Ethernet tutorial part 1: The many flavors of Carrier Ethernet
Metro Ethernet is just one flavor of carrier Ethernet, but it's the most popular one as you can see from the following graph: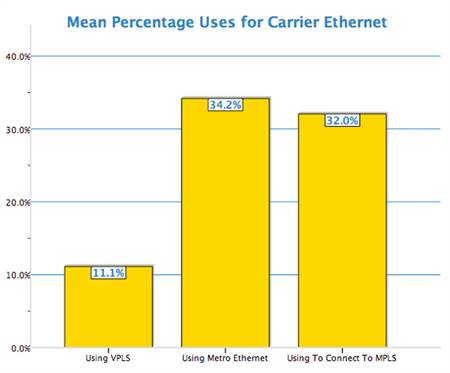 More than a third—34%—of organizations say they're using metro Ethernet, versus 32% that say they're using Ethernet to connect to a Multiprotocol Label Switched (MPLS) cloud, and 11% that say they're using virtual private LAN service (VPLS).
What's the difference? With metro Ethernet, carriers provide a point-to-point Ethernet connection within a metropolitan area. Access speeds typically range from 10 Mbps to 1 Gbps (although some providers are beginning to offer 10 Gbps). These speeds are ideal for low-latency, high-throughput applications like data-center interconnect and disaster recovery. Connectivity happens at Layer 2, which means users don't need to share address spaces or routing information with carriers. And the potential for broadcast storms is minimized since there are typically just a handful of sites on the connection.
With Ethernet access to an MPLS cloud, Ethernet serves as the Layer-2 access technology for a Layer-3 (IP-layer) service. As with any other form of MPLS, users share routing information with the service provider. And with VPLS, users can construct a multipoint Ethernet link across the WAN. They need to handle routing at the edges, which can be complex as the network grows in size and scope.
Metro Ethernet tutorial part 2: When to use metro Ethernet
Given the plethora of carrier Ethernet options, WAN managers may be wondering where exactly metro Ethernet fits in the network. In general, metro Ethernet services are most suitable for scenarios such as the following:
Data-center interconnects. Many organizations view metro Ethernet as the canonical way to interconnect regional data centers. Data centers require high-bandwidth connectivity (the minimum is typically T3, or 45 Mbps) and are often in close proximity, so metro Ethernet can be a perfect fit.
High-performance computing sites. Many organizations use Ethernet WAN services as a way to link computing clusters to enable high-performance computing.
Contact center connectivity. Contact centers often require very high-bandwidth connectivity and are extremely sensitive to latency and issues like route convergence times. As a low-latency Layer 2 service, metro Ethernet can be ideal.
Metro Ethernet tutorial part 3: Top five tips for procuring metro Ethernet
Procuring metro Ethernet should be just as "cheap and cheerful" as deploying the service. Tips WAN managers should consider when procuring metro Ethernet include:
Ensure circuit redundancy. Carriers typically provide redundancy options for fiber services, including Ethernet. Double-check for diverse route paths and full redundancy.
Request an SLA. Just because metro Ethernet generally works well is no reason to ignore the basics: Ask for a service-level agreement (SLA) covering delay, jitter, packet loss, and provisioning and repair times.
Confirm availability before you buy. It's important to read the fine print and ensure that metro Ethernet is available not just in your metropolitan area but also in your specific facility. Otherwise, you may end up on the hook for costly installation fees.
Consider Ethernet exchanges. Smaller carriers are increasingly interconnecting at exchange facilities managed by players like Telx and Equinix. Consider connecting to such facilities as a way to extend coverage.
Assess the availability of upgrades. Sure, you want metro Ethernet today—but you may decide to move toward VPLS or MPLS services downstream. Check to see that your provider also offers those.
What's the bottom line? Metro Ethernet can be a welcome addition to your WAN service portfolio.

For more information, read this tip on how to negotiate network service contracts with WAN carriers.
This was last published in
September 2010
Dig Deeper on WAN technologies and services