Get started
Bring yourself up to speed with our introductory content.
Crash Course: Your networking career
Get all the job advice you'll need to cultivate a successful career in networking with this Crash Course.
Get all the job advice you'll need to cultivate a successful career in networking with this Crash Course.
NEWS
Cisco gives experts-to-be a practice run (12 Dec 2005 | SearchNetworking.com)
IDC sees bright future for network consulting (31 May 2005 | SearchNetworking.com)
Network management outside the cocoon (30 Mar 2005 | SearchNetworking.com)
Read more career-related news here.
TIPS
How to ask for a raise without getting fired
Asking for a raise is an anxiety-ridden act. These tips should help you determine when it's a good time to ask for a raise, and when it's not.

Download this free guide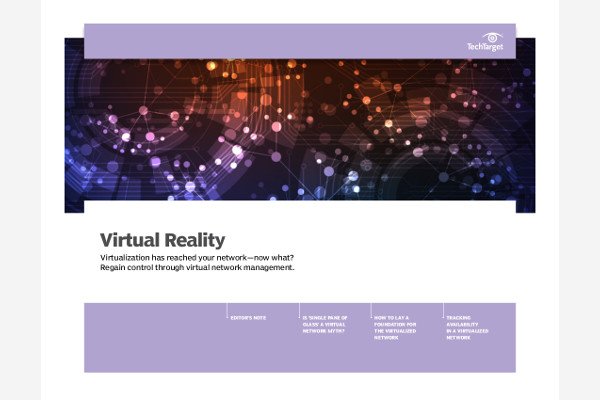 Download: Overcome Virtual Network Management Challenges
The virtualized network poses challenges to network management systems -- and as more hardware components become virtualized, that challenge becomes even greater. This handbook discusses the steps IT must take to both build and corral their virtualized infrastructure.
By submitting your personal information, you agree that TechTarget and its partners may contact you regarding relevant content, products and special offers.
You also agree that your personal information may be transferred and processed in the United States, and that you have read and agree to the Terms of Use and the Privacy Policy.
The network administrator's survival guide
This piece from contributor Doug Chick presents a humorous look at surviving in your role as a network administrator.
Top 10 time management tips
Do you have a time management problem? Use these ten tips to see if you do and solve the problem.
Vacation? What vacation?
How can you get yourself and your business to the point that you can take a vacation? Or are you doomed to be on the job 24/7, for the rest of your life?
Read more career-related tips here.
ASK THE EXPERTS
How can I make the transition from programming to networking?
Expert response: The hardware/networking side of things, alas, doesn't tend to pay as well as the programming side does (in fact, salaries are about 25% lower in that area, other things being equal)...
Can I break into the networking field with no experience, just certs?
Expert response: Though the A+, Network+, CCNA combination is a good one to begin a career in IT, it's the kind of thing that qualifies candidates only for entry-level jobs in tech...
How do I let potential employers know about research and study I've done on my own?
Expert response: You should craft a cover letter to include with a resume that summarizes your training experience, and lists the technical skills and knowledge...
Do you have any advice for dealing with an uncooperative and unsupportive employer?
Expert response: This sounds like a "no-way-out" kind of situation to me. I'd suggest that you begin searching for another job immediately, and that you make inquiries...
Ask our career expert, Ed Tittel, your job-related questions and view previously answered Q&As.
Dig Deeper on Network Administration