Get started
Bring yourself up to speed with our introductory content.
CompTIA Security+ exam overview
An overview of the CompTIA Security+ exam overview including some basic facts about the exam and some analysis and perspectives of the exam.
The CompTIA Security+ certification is an international vendor neutral industry credential that validates the knowledge of information security professionals with at least two years of experience in network support or administration or adequate academic training. It is also generally recommended that candidates for the certification have some experience in the area of information security.

Download this free guide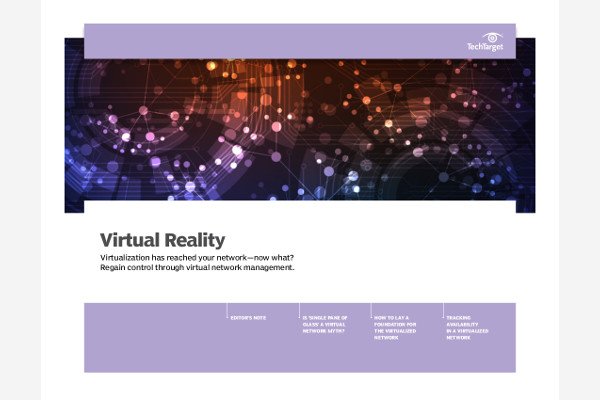 Download: Overcome Virtual Network Management Challenges
The virtualized network poses challenges to network management systems -- and as more hardware components become virtualized, that challenge becomes even greater. This handbook discusses the steps IT must take to both build and corral their virtualized infrastructure.
Review of exam specifics:

Exam cost: $225 each attempt. CompTIA Corporate Members receive discounts off the non member pricing. Employers that require this test are usually corporate members and will inform you of this. You can also buy exam vouchers of VUE or Prometric to get a discount. Check CompTIA store for exam vouchers.
Exam location: You can register for the exam at any Pearson VUE and Thompson Prometric center.
Locate an authorized Pearson VUE testing center near you
Locate an authorized Prometric testing center near you
Time allocated: 90 minutes per exam
Total marks: Graded from 100-900 marks
Minimum pass marks: 764
Number of questions: 100 questions per exam
Exam code: SY0-101
Pre-requisites: None. A+ and Network + is recommended.
Exam format: Linear format; computer-based test (CBT)
Prerequisites: None. CompTIA Network+ and/or equivalent of two years of networking experience with an emphasis on security is recommended but not required.
Validation period: Certification does not expire; however it is recommended you upgrade to the latest exam version when objectives are revised. The last revision was in 2005.
Score report: Delivered immediate on test completion.
Exam pattern
The question types found on the Security+ exam are:
Multiple choice with single answer: Student is required to select a single answer from a range of options (generally 4-5) by clicking on a radio button.
Multiple choice with multiple answer: Student is required to select a range of options. The number of options to select is specified.
Fill in the blank: Student is required to type in the missing text to complete the sentence.
Exhibit based: Some questions from the above types will have special exhibits or evidence that you must use to answer the questions
Security+ Exam objectives

| | |
| --- | --- |
| Certification Domain Area | Percentage Of Exam |
| General Security Concepts | 30% |
| Communications Security | 20% |
| Infrastructure Security | 20% |
| Basics of Cryptography | 15% |
| Operational and Organizational Security | 15% |
This is only meant as quick overview of the basics of the exam and what it covers. If you are 100% committed to following through with your entry into the InfoSec world we highly suggest you visit the CompTIA Security+ web-site and gather all needed details.
Beyond the basics
While the overview of the Security+ Exam can provide you with the most basic facts regarding the exam, here are some analysis and perspective of the exam.
The exam is entirely multiple-choice, which some also call "multiple guess." The reason: the answer is actually given to you in the form of a choice! Multiple choice (guess) tests can be considerably easier for the test taker when appropriate test strategies are employed. In the Study Guide, we cover some of these strategies, but just for example: One of the most common techniques in test-taking, especially on CompTIA exams, is to learn word association. In any given question, one or two of the answer choices will be almost entirely unassociated with the question. By utilizing word association, you can ensure that your choice is at least associated with what may be the correct answer.
Even beyond the test format, however, there is much to know about the exam. One of the questions we get all the time is: "Should I guess?" Absolutely! The test does not penalize the test taker for guessing and so you should never, under any circumstances, leave a test answer blank. It is always statistically to your benefit to guess on a given question. Another common question is: "How hard is the exam?" Actually, the passing score for Security+ is relatively higher than that for the A+ or Network+ exams; this however doesn't imply that the Security+ exam is any harder. In fact, many students find the Security+ exam the least difficult of the CompTIA exams because it is straightforward and usually only covers material specifically noted in the syllabus.
Why become Security+ certified?
There are several reasons to become Security+ certified, including:
An array of exciting and rewarding careers in information security
To supplement an existing career in networking or administration
Expansion of your own personal knowledge and expertise
See more about the career options available to the CompTIA Security+ certified professional in the next article on career paths.
A quick note on vouchers
Some tips on vouchers:
Much like coupons, vouchers expire and cannot be extended beyond expiration date. Be sure to check the expiry date of the voucher before making a purchase. In general, the closer the expiry date on the voucher, the larger is the discount offered. These high discount vouchers are sometimes also described as "early expiry vouchers" or "short term vouchers". You MUST register for the exam before the expiry of the voucher to get the discount.
Refund or exchange is typically not permitted, so be sure when you make the purchase.
Typical saving through a voucher can be 10%-45% of the exam price.
Do I really need to be A+ or Network+ certified as CompTIA suggests?
While it never hurts to have more certifications, the truth of the matter is that A+ and Network+ certification have little to do with Security+ and the test is not cumulative over material covered in the A+ or Network+ examinations.
That being said, there is much information that is covered on both the A+ and Network+ exams. For example, the Network+ exam does cover remote access protocols in great detail. However, the wealth of information that is covered on the Network+ exam is not particularly applicable to the Security+ exam. It is therefore probably not worth your time to review this information.
Some final thoughts
The decision to pursue the Security+ certification is a major one that requires an investment of some money and a lot of time. However, the return on that investment - certification, expertise, and insight - is invaluable. Therefore we would encourage anyone who believes that the Security+ certification may benefit them to go ahead and learn the information that is necessary to do well on the exam. While it won't be necessarily easy to pass the Security+ exam, the end result is quite rewarding.

ProProfs Free Online Security+ Certification School provides free study aids for the Security+ exam such as study guides, practice exams, practice questions and testing software. Its free online Comptia Security+ learning center is located http://www.proprofs.com/mwiki/index.php?title=Comptia_Security%2B_Certification_Exam.
Dig Deeper on Networking Certs and Careers