Get started
Bring yourself up to speed with our introductory content.
Choosing WAN connectivity and services wisely
This guide explores the evolution of the wide area network and the WAN connectivity services being developed to improve remote connections, including the use of services like MPLS, Ethernet, and the Internet.
WAN services have become increasingly relevant to businesses in large part because of the proliferation of branch offices, remote workers, and the need for access to centrally provided data and applications As services like MPLS, Ethernet, and Internet become more critical, so does the need for more reliable WAN connections. This SearchEnterpriseWAN.com WAN Nation series will look at how WAN evaluation and selection procedures are evolving and keeping pace with new user and applications demands.
MPLS, Ethernet services more critical as network habits, strategies change
Reliable telecommunications services are of growing importance to network staffs, as they must address the proliferation of branch offices, remote workers, and the need for access to centrally provided data and applications.
Telecommunications services, including Multi-Protocol Label Switching (MPLS), Ethernet, and Internet access, are becoming even more critical because the way employees work is changing dramatically
Migration to MPLS reduces the cost of WAN bandwidth, with IT practitioners on average reporting a 17% drop in the cost of bandwidth as a result of MPLS.
For most medium to large enterprises, MPLS has become the de-facto standard for site-to-site connectivity. A whopping 74% of Nemertes Research participants say their companies are using MPLS in their WANs. The move to adopt has accelerated quickly, with an increase of more than 175% in a little more than two years.
Why the move to MPLS? There are three key reasons:
To provide guaranteed performance for real-time, IP-based applications such as voice and video
To flatten networks away from hub and spoke designs
To save money
Of these three, the any-to-any architecture and support for IP quality of service optimization were most important for justifying an MPLS migration.
MPLS CoS and effect
Operating numerous, separate networks for voice, data, video and other applications is not an innovative approach towards an effective communications infrastructure. Forty-eight percent of organizations run at least three traffic types -- typically voice, data and video -- over their MPLS WANs and use both internal and provider-provisioned class of service (CoS) to prioritize different application types to meet performance requirements. Besides the three main traffic types, other applications on MPLS include imaging, streaming audio, and streaming video. The remaining 52% run either two traffic types -- typically voice and data, or one -- just data.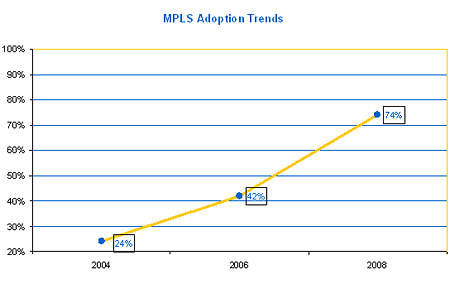 With most organizations running multiple traffic types, you would expect the majority are taking advantage of MPLS CoS. But, the reality is that only half do. Instead, they rely on the traffic-management capabilities provided by WAN optimization products rather than CoS offerings from their MPLS providers.
They have not yet deployed applications such as VoIP or video that require prioritization, or their average utilization is a small percentage of total bandwidth, so prioritization isn't an issue.
Migration to MPLS reduces the cost of WAN bandwidth, with IT practitioners on average reporting a 17% drop in the cost of bandwidth as a result of MPLS. But many roll those savings into additional bandwidth to support new applications.
Best practices for evaluating telecom services
Optimize for IP: Your application requirements should drive your WAN service selection, not the other way around. If you must support latency-sensitive applications, such as voice, video, virtual desktops or transaction-processing systems, make sure you buy a WAN service that can prioritize and manage your applications.
Take advantage of Ethernet: Ethernet services offer significant potential for lower costs, higher bandwidth, and increased network flexibility. Leverage Ethernet technologies where available, work with your providers to understand their service offerings and road-maps, and don't be afraid to consider emerging providers.
Evaluating SIP trunking: SIP trunking offers significant potential to reduce costs and improve voice call-routing flexibility. Work with your service providers to understand emerging offerings and implementation architectures.
Ethernet services take flight
Ethernet adoption is also on the rise, and telecommunications service providers are delivering via three approaches:
As an access technology for layer 3 MPLS services
As a point-to-point layer 2 service
As a point-to-multipoint layer 2 service -- often branded as virtual private LAN service (VPLS)
It is the second and third scenarios that are gaining in interest from those looking to reduce network-operating costs, gain control over routing architectures, and/or support non-IP protocols. Organizations are actively deploying Ethernet services, with 53% using and 9% planning to deploy this year.
Network staffs typically implement Ethernet to supplement rather than replace layer 3 MPLS services. Enterprises deploy Ethernet in metropolitan areas to connect large facilities to each other and to data centers, as well as between data centers separated by a large distance (using VPLS services).
The biggest attraction to Ethernet is cost, as it's often a fraction of the cost of alternatives such as leased lines. Another rationale is flexibility to support non-IP protocols, such as custom applications for monitoring systems or internal applications, as well as the desire to maintain control over enterprise routing protocols.
Network managers say the biggest limiting factor in their use of Ethernet isn't technical. It's the availability of Ethernet services. The lack of Ethernet services from Tier-1 providers has led some to deploy services from emerging providers such as Cogent Communications, Reliance Globalcom (formerly Yipes), and Time Warner Telecom.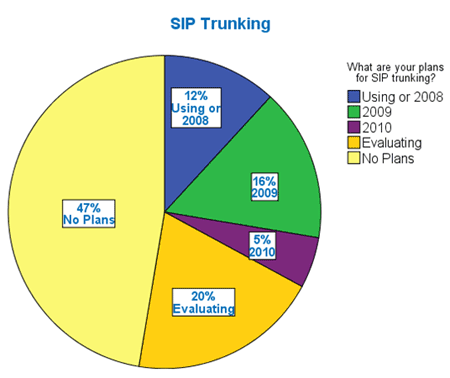 SIP trunking also has gained interest, as 53% percent of organizations are using, planning to use, or evaluating the services. SIP trunking has significant potential to reduce telecommunications costs and improve service flexibility. It eliminates the need for on-premises gateways that connect enterprise telephony systems with the Public Switched Telephone Network (PSTN), essentially moving the gateway into the carrier network.
Access between the carrier network and the enterprise telephony system is via a direct SIP connection. By leveraging SIP trenching, organizations can reduce PSTN access costs by 20% to 60%. They also can take advantage of emerging services to enable incoming and outgoing call routing based on policies or call load, and they can use virtual number services to provide local dial-in numbers outside of operating regions.
Match carrier and network services to site needs to develop a strong WAN plan
Although it's common practice to refer to "the WAN" as though it were a single monolithic network, in reality a wide-area network connects three discrete types of sites:
data centers;
distributed offices; and
remote offices and users.
Each has unique requirements for bandwidth, latency and availability, and often the optimal architecture for linking all three site types incorporates a range of services.
By definition, data centers include massive amounts of computing resources that serve up large volumes of data to the rest of the organization. These sites require massive amounts of bandwidth (and, generally, very low latency). Other sites that may fall into this category include contact centers or very large administrative sites.
Seventy-six percent of organizations use MPLS services for the core WAN, citing any-to-any connectivity, CoS capability and cost as the top justifications for deployment.
Branch and distributed offices include multiple personnel and usually a certain amount of local-computing resources. Remote workers and telecommuters are generally single-person sites but also may include sites with fewer than five people with limited connectivity requirements.
Along with classifying sites into categories, it's important to baseline the bandwidth requirements of each category of sites. For some organizations, a "high-bandwidth" data center may require speeds of 100 Mbps or T3/E3 connectivity (45/34 Mbps); for others, nothing less than OC-192 (9.6 Gbps) or 10 GB Ethernet connection will do. Similarly, assess the latency requirements for each site.
Once the network team categorizes the sites and assesses the bandwidth requirements, sites can be matched to services. In some cases, a single service type can meet the needs of multiple site types. In others, network managers must procure three distinct sets of services.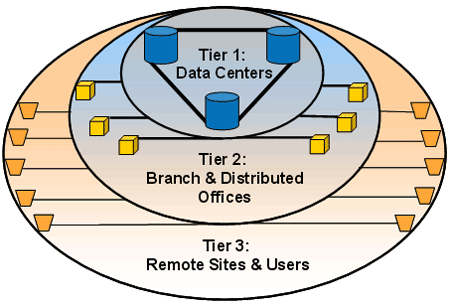 Data center consolidation
Most organizations are in the process of consolidating data centers, meaning the number of data centers needing interconnection equals four or fewer. As they consolidate, their bandwidth requirements skyrocket, and applications increasingly reside far away from their users, making latency a critical issue.
MPLS is one solution that continues to be popular for data-center connectivity. But organizations such as financial-services firms, which require tremendous amounts of bandwidth to link data centers in relatively compact geographies, often find that MPLS offers little to no advantage over direct optical circuits, which can link sites at data rates from OC-3 (155 Mbps) through OC-192 (9.6 Gbps). Of course, optical circuits can be prohibitively expensive for many organizations, particularly internationally.
When procuring WAN services consider
Current and future bandwidth requirements
Current and future QoS requirements
The need for dynamism and flexibility (how often do sites change location or requirements
A good compromise is carrier Ethernet, which offers bandwidths from 10 Mbps through 10 Gbps. Carrier Ethernet generally is simpler to implement than MPLS, and though it lags behind on inherent support for quality of service (QoS), class of service (CoS) capability is less relevant in scenarios with very high bandwidth.
Regardless of service type selected, backup services are critical for data centers. The best practice is to work with carriers to ensure physically diverse circuits. Regardless of whether there's a single carrier or multiple providers, circuits from different carriers are often provisioned across a common physical cable run.
Distributed computing strategies
The "core" WAN is the network that connects the dozens to thousands of sites that house computing resources. These sites typically require lower bandwidth than data centers. Given the wide geographic spread of the typical WAN, service availability is usually the most critical requirement.
For these reasons, 76% of organizations use MPLS services for the core WAN. They cite any-to-any connectivity, CoS capability and cost as the top justifications for deploying MPLS.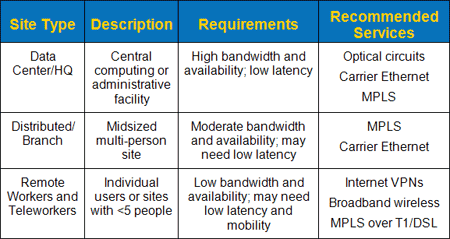 There's also a growing amount of interest in deploying Carrier Ethernet for core WAN services. A big reason is simplicity: Companies are more likely to report that Carrier Ethernet deployments are "extremely successful" than MPLS deployments (67% for MPLS vs. 79% for Carrier Ethernet). But the overwhelming driver for considering Carrier Ethernet is cost. As with data center sites, backup for distributed sites is critical. Companies rely on multiple local loops provided by the same carrier, use diverse carrier services or use other fixed-line services.
Remote access demands
Remote access services can constitute anywhere from 25% to 40% of the typical organization's WAN budget, and upwards of 60% of troubleshooting and support costs. And there's no single recommendation for supporting these remote sites. Instead, there are several options, including wired Internet-based VPNs (typically over DSL or cable modem services), MPLS and broadband wireless Internet.
The best approach when evaluating WAN services, then, is to consider a range of options, from optical circuits to MPLS, Ethernet and wireless services, and reach out to a range of providers.
Building a better SMB WAN: Think bandwidth, resiliency, service levels
When it comes to architecting the WAN, small and medium-sized businesses (SMBs) face the same challenge as their larger counterparts: Procuring the optimal service and bandwidth to support application requirements while minimizing costs.
SMB WAN requirements vary, from a small office needing nothing more than Internet connectivity for email and Web access to a bigger and more diversified company that routinely moves large amounts of data between locations and to customers. There's no generic approach to solving the challenge of deploying and optimizing WAN services for the SMB.
SMBs may require any or all components of a three-tier network architecture model that defines sites by bandwidth and resiliency requirements:
Tier-1 sites (data centers) typically require high bandwidth, high availability, and low latency between two or more locations.
Tier-2 sites (distributed offices) require a high level of resiliency but lower bandwidth than Tier 1 locations. Latency requirements vary by application.
Tier-3 sites (remote offices) require minimal resiliency and lower bandwidth than Tier-2 locations. As with Tier-2 sites, latency requirements vary by application.
Like their larger counterparts, SMBs have a variety of WAN services to choose from. Many service providers now target SMBs with their MPLS services. These offerings include relatively low-speed access to MPLS, including T1 and (more recently) DSL and cable modem access. A key advantage to MPLS-based services at low speeds is that they provide class of service (CoS) capabilities, enabling organizations to prioritize voice and data traffic. Depending on the access circuit, costs are variable. MPLS is increasingly popular. Forty-six percent of SMBs report using MPLS services vs. 58% of the enterprise market as a whole.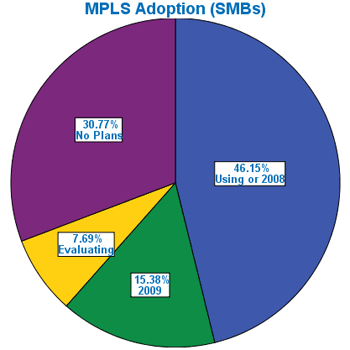 Service providers offer Ethernet access capabilities in a variety of ways: point-to-point circuits, Ethernet WAN services -- typically based on virtual private LAN service (VPLS), or Ethernet as an access technology for MPLS VPNs. A growing number of organizations are adopting Ethernet for its ability to offer higher-bandwidth services at lower costs. Availability is not as widespread as MPLS, however, and most VPLS services offer no CoS guarantees for latency-sensitive traffic.
While service providers offer Ethernet as a high-bandwidth service, SMB uptake is much lower than for the overall enterprise market, with just 27% of organizations using Ethernet vs. 53% of the enterprise market overall.
SMB WAN plan checklist
Group sites by resiliency and bandwidth requirements.
Consider WAN optimization to reduce your bandwidth requirements and gain ability to granularly manage application performance.
Determine services based on cost, capabilities and service level guarantees
Many companies are considering or using Internet-based IPsec and SSL VPNs for connecting to remote users. The primary benefit of such services is that they're available anywhere Internet access exists. Other benefits include security and cost. Often, companies can obtain Internet connectivity for remote sites at $100 per month or less.
There are two main downsides -- variable performance and the challenge of managing multiple ISPs. Variable performance means the lack of end-to-end quality of service (QoS) capability, as well as the fact that different ISPs adhere to different performance standards. For these reasons, the best fit for Internet VPNs is for truly remote sites, where Internet connectivity is the only option, or for part-time telecommuters, who can go to the office in the event of an outage.
Services such as evolution data only/evolution data optimized (EV-DO) are also viable alternatives for remote and branch offices. Such services are available nationally from a single carrier, thus eliminating the "multiple-ISP" challenge. Performance is generally consistent, since there's a single provider; but, as with wired Internet links, broadband wireless connections don't provide performance guarantees for latency-sensitive applications.
Outsourcing WAN services
When it comes to optimizing the WAN, SMBs are far behind larger organizations. Only 17% of SMBs deploy WAN optimization vs. 64.5% of all organizations. There's a reason for the discrepancy. Many of the organizations deploying WAN optimization are doing so to reduce bandwidth requirements or obtain fine-grained control and management data for business applications. SMBs tend to have less internal management capability and instead often rely on service providers for WAN-performance capabilities.
Still, the lack of SMB deployment of WAN optimization represents a potential growth market for vendors and an opportunity to reduce WAN operating costs for users.
Nemertes recommends that small businesses do the following to help ensure a successful WAN strategy:
Group sites by resiliency and bandwidth requirements. Many SMBs won't have Tier-1 locations, but some, especially those with extensive storage and bandwidth requirements, may need to design Tier-1 interconnectivity in the same manner as larger organizations.
Consider WAN optimization to reduce your bandwidth requirements while also gaining the ability to granularly manage application performance, if those are relevant issues for your organization.
Evaluate a variety of services that meet your needs. Determine services based on cost, capabilities and service level guarantees.
About the author:
Katherine Trost is a research analyst with Nemertes Research. She has expertise in hosted, managed and professional IT services, as well as channel strategies.
This was last published in
July 2009