Evaluate
Weigh the pros and cons of technologies, products and projects you are considering.
Assuaging concerns about public cloud services
In this helpful guide, cloud networking expert Amy Larsen DeCarlo delves into some of the most common concerns about public cloud services and the best ways to address them.
Are you considering jumping to the cloud? Are you tempted by the many cost and efficiency benefits, but worried about security, availability or other complications?

Download this free guide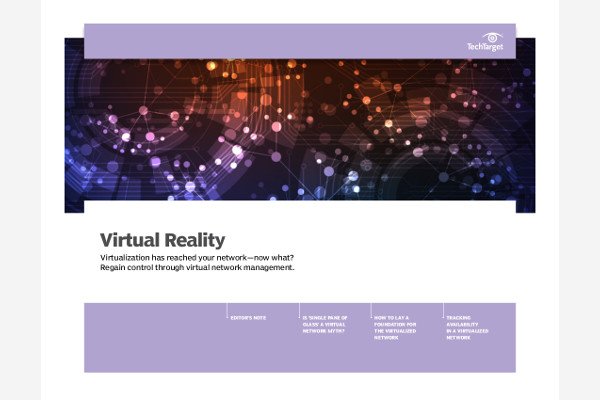 Download: Overcome Virtual Network Management Challenges
The virtualized network poses challenges to network management systems -- and as more hardware components become virtualized, that challenge becomes even greater. This handbook discusses the steps IT must take to both build and corral their virtualized infrastructure.
In this helpful guide, cloud networking expert Amy Larsen DiCarlo delves into some of the most common concerns about public cloud services and how to address them. Read now for Amy's insight into the best use cases for public cloud, when public cloud alternatives might work better, choosing a provider that's right for you, security issues, and making sure your service-level agreement (SLA) is sufficient.
What are the best use cases for public cloud services?
The idea of replacing things such as on-premises application services, compute infrastructures and storage with cloud alternatives is becoming more and more mainstream. Still, many enterprises remain concerned about security and availability issues.
This tip highlights some of the growing uses of public cloud services and how cloud providers are offering SLAs that are comparable to dedicated services.
Read the rest of this advice on the best use cases for public cloud services.
What cloud alternatives work best for enterprise-wide applications?
While a public cloud is the most economical type of cloud deployment, it's not the best option for every scenario. This tip delves into some alternatives to public cloud and the best circumstances in which to utilize them, including:
Continue reading Amy Larsen DeCarlo's advice on cloud alternatives for enterprise-wide applications.
How do I go about choosing a cloud provider for my company?
Choosing a cloud service provider can seem daunting. With so many vendors offering so many different products, how do you even begin to determine the vendor and the product that's right for your organization?
This tip can help you narrow down your choices by breaking down the strengths and weaknesses of different providers and the types of cloud services they offer (Infrastructure as a Service, Software as a Service and/or Platform as a Service).
Get more expert insight into choosing a cloud provider.
What kind of security protections does a cloud service provider offer?
Believe it or not, you can generally expect the same level of security from a cloud provider as from a traditional hosting service. However, there are certain types of data and applications that might require additional measures, such as multifactor authentication, encryption, compliance and hypervisors.
Check out this tip to learn how cloud providers are addressing these security issues.
Service-level agreements: What should I ask from my cloud service provider?
Too many cloud providers today are offering less-than-ideal SLAs. While they promise over 99% availability and application response time, you still need to make sure you're getting guaranteed end-to-end service delivery.
Learn more about cloud SLAs.
Editor's note: Do you have a question for Amy? Submit your question directly to our editors at mailto:editor@searchnetworking.com.
Dig Deeper on Cloud Networking