Manage
Learn to apply best practices and optimize your operations.
A cloud computing tutorial for WAN managers
If your company is considering cloud services, check out this cloud computing tutorial that will walk you through what wide area network (WAN) managers need to know about cloud computing technology, which cloud types work for the enterprise, the pros and cons of cloud computing, how to prepare the network for a cloud environment, and how to choose a vendor.
If your company is considering cloud services, check out this cloud computing tutorial. You'll find what wide area network (WAN) managers need to know about cloud computing technology, the different types of clouds that are available to enterprises, how to prepare your WAN for cloud adoption and much more. Use the table of contents below to navigate the guide, or scroll down to each section.
CLOUD COMPUTING TUTORIAL TABLE OF CONTENTS
Lesson 1: What is cloud computing?
Lesson 2: Types of cloud computing services
Lesson 3: Cloud computing benefits
Lesson 4: Cloud computing risks
Lesson 5: Preparing the WAN for cloud computing
Lesson 6: Choosing a cloud provider for your WAN needs
CLOUD COMPUTING TUTORIAL LESSON 1: What is cloud computing?
[Back to top ↑]
WhatIs.com defines cloud computing as "a general term for anything that involves delivering hosted services over the Internet." The website says cloud computing got its name from the cloud symbol often used to represent the Internet in network diagrams.
What is cloud computing beyond that? Yankee Group's Zeus Kerravala outlines seven essential features of a cloud computing service that differentiate it from traditional hosted services:
Scalable
Virtualized
On-demand
Internet-based
Multi-tenant
SLA supported
Usage-priced
Despite the list, cloud computing means different things to different people. Many providers claim to have cloud computing services but don't offer usage-based pricing for customers to pay as they go. Matthew Edwards, TM Forum's Cloud Services Initiative director, said: "One supplier might name things a certain way while another may use different terms for the same things -- or use the same term to mean several things. If the cloud service providers can't agree on terms, there's no way that you as a buyer can compare the services against one another to meet the needs of your company." One way or another, the industry needs to come to a consensus on the vocabulary of cloud computing in order to eliminate confusion about what cloud computing is.
Riverbed's chief scientist, Mark Day, says that a WAN manager can think about cloud computing as effectively connecting data centers to the end of the WAN.
"The difference between an enterprise WAN and private cloud is fairly small, and people are already on that blurry line," Day said. "I think a lot of people will wake up one morning and discover they used to think of themselves as enterprise WAN managers and now [see themselves as] private cloud managers, and very little of what they do will change. To be fair, I wouldn't call it a simple re-labeling, but the distance between them is not as great as people think."
→ To learn more, continue reading this Q&A: Got experience running a WAN? Cloud computing may not be so scary.
CLOUD COMPUTING TUTORIAL LESSON 2: Types of cloud computing services [Back to top ↑]
WhatIs.com explains that a cloud can be private or public. A public cloud sells services to anyone on the Internet. (Currently, Amazon Web Services is the largest public cloud provider.) A private cloud is a proprietary network or a data center that supplies hosted services to a limited number of people. When a service provider uses public cloud resources to create a private cloud, the result is a virtual private cloud, which is a major type of cloud service provided by Verizon for its enterprise customers, for example. Private or public, the goal of cloud computing is to provide easy, scalable access to computing resources and IT services.
Cloud computing services are broadly divided into three categories: Infrastructure as a Service (IaaS), Platform as a Service (PaaS) and Software as a Service (SaaS). SaaS is the most common, so much so that many people incorrectly use the terms "cloud" and "SaaS" interchangeably. With SaaS, companies can buy an application without deploying, managing or controlling it. With PaaS, a company can run its applications on a provider's platform -- to handle peak loads, for example. An IaaS provider allows an organization to run everything from an application to an operating system on its infrastructure. Security as a Service (also SaaS) is another type of cloud computing service that is gaining traction in the market.
→ View this primer to learn more about which types of cloud computing services WAN managers should consider.
CLOUD COMPUTING TUTORIAL LESSON 3: Benefits of cloud computing
[Back to top ↑]
Freelance tech writer Cindy Waxer boils down the benefits of cloud computing to these five points:
Scalability. The scalability of cloud computing is useful for enterprises that need to shrink or grow capacity during peak loads. Enterprises can also pay for what they consume rather than pay for services that went unused under rigid pay plans.
Easy implementation. Cloud computing is easy to implement because a company does not need to purchase network hardware, licenses or implementation services.
Skilled vendors. Vendors in the cloud computing space have the manpower, capacity and experience to handle your needs. Cloud service providers are often well-established companies, such as Microsoft and Google.
Available internal resources. By essentially outsourcing your server or storage needs to a provider, your internal resources have more time to focus on business-critical tasks, and money that would have been spent on in-house training can be put toward other projects.
QoS. Network outages are no longer in the hands of your own IT department. The cloud provider is responsible for any support and immediate response time.
→ For further reading, see this article on how cloud VPN services can lessen SSL VPN gateway expenses, or watch this video from SearchCloudComputing.com to learn the benefits of internal cloud computing.
CLOUD COMPUTING TUTORIAL LESSON 4: Cloud computing risks
[Back to top ↑]
While the benefits of adopting cloud computing services include saving your company time, money and resources, the disadvantages of cloud computing include the following:
Security risks. To start, cloud services that stretch across the globe can be in violation of data privacy laws because countries have varying privacy requirements. You can read the remaining security risks in this article on top cloud computing security threats. You can also learn about cloud compliance issues in this tip.
Management complications. Tracing transactions, working out data policies and figuring out who has control over what can make life harder on the WAN manager. Check out these cloud computing challenges that change your WAN strategy to get a handle on what you will need to manage.
Lack of standardization. Because cloud computing is a relatively new concept, terminology, policy and SLAs have yet to be standardized. You can view this CloudComputing.com tip to learn how to meet performance standards and SLAs in the cloud or read this guest column that discusses how the TM Forum's Cloud Computing Initiative intends to fix this.
Vendor lock-in. Once you adopt cloud computing, you need to keep tabs on your provider to make sure the company is living up to the terms of your contract. If it doesn't, when it's time to change service providers, your company is at risk of losing data or the resources invested in the cloud (like switch fabric).
Poor performance. Running services across the Internet can mean that cloud computing is left to the vagaries of Internet reliability and availability. Learn in these stories how cloud and SaaS performance may suffer in a WAN and how mobility and cloud computing alter WAN application performance.
CLOUD COMPUTING TUTORIAL LESSON 5: Preparing WANs for cloud computing [Back to top ↑]
Many WAN managers tend to think cloud computing is something the rest of the organization will use, but IT operations teams can benefit from all types of cloud computing services. For companies with highly variable IT needs, cloud computing can be an alternative to maintaining an expensive oversupply of in-house computing power. The challenge may come in ensuring that your network costs don't eat all of the savings.
→ To get more background on what cloud computing will mean for your WAN, read Cloud computing's impact on the network, or read this news article on how WAN engineers are preparing networks as cloud computing adoption rises.
A study conducted by the Information Systems Audit and Control Association (ISACA) found that almost half (48%) of the 1,800 IT professionals interviewed believed cloud computing risks outweighed the benefits.
Riverbed's chief scientist, Mark Day, said: "Access control and security are obviously in the hands of your provider, but if something fails, the ax comes down on you. If you operate a WAN, cloud computing feels like a big loss of control."
In order to secure the cloud, WAN managers must analyze their cloud computing security options to make sure the right data protection is in place before making the move. This tip explains how to balance cloud computing security risks with convenience in your WAN.
Once you've understood those security concerns, read part 2 in the WAN-cloud security tip series. Network data encryption security is the best defense for cloud computing outside the enterprise firewall, which means that all data and communications will need to be encrypted, even if other services protect it. Find out how to do it in this network data encryption security tip.
Lastly, WAN managers should look to single sign-on solutions using existing standards and processes to manage and enforce access control for employees, customers and partners. Learn how to build a secure cloud computing infrastructure with single sign-on in the last tip in this series.
How does cloud computing affect WAN bandwidth? Listen to this podcast to learn how WAN bandwidth can suffer in a cloud environment and what WAN managers can do to achieve better cloud performance.
It's true that WAN optimization technology improves cloud computing performance -- but to learn how optimization technology works and how it can be applied to accelerate cloud traffic, read this tip.
Once you get a grip on optimization technology, you can read all about how to specifically use WAN performance optimization for cloud computing environments. Then you can move on to the cloud section of our Application Delivery 2.0 guide to learn how WAN optimization controllers (WOCs) improve application traffic in cloud computing environments and how virtual WOCs will change the market.
The task of ensuring private cloud performance will fall on the shoulders of the network professional, who must be prepared to respond to user complaints about slow application response times and network performance degradation. This tip on private cloud performance assurance will help you understand how to optimize private and hybrid cloud computing environments.
Cloud monitoring across the WAN
Putting application traffic in the cloud can cause network monitoring headaches. In this tip, cloud monitoring across the WAN for virtual application delivery, learn what to ask service providers so that your cloud-based apps don't suffer from poor performance over the WAN.
CLOUD COMPUTING TUTORIAL LESSON 6: Choosing a WAN managed service provider [Back to top ↑]
Keep in mind that not every organization can turn to cloud computing today for every one of its services. According to Matt Edwards, head of TM Forum's Cloud Services Initiative, cloud adoption is most popular with the SMB market, but not as much with large enterprises. This is because bigger companies have more at stake when it comes to privacy and security, especially for verticals like banking and healthcare.
Below is a diagram from research firm Bitcurrent that highlights which tasks should remain on-premise and which can be off-loaded to a provider: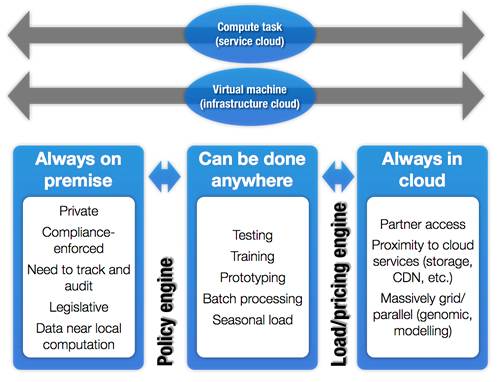 (Enlarge cloud tasks diagram.)
According to this news report, providers have broadened vendor choice in managed WAN optimization services. Although WAN managers are gaining more managed WAN optimization options, they also have more decisions to make. Everyone from Riverbed to Meraki is announcing a cloud controller for WAN managers. These steps teach you how to choose a WAN managed service provider.
In order to connect to the cloud, many enterprises will choose to integrate their WANs with Internet cloud services. Integrating this type of service blurs the line between provider and the internal network. To work around issues that arise out of this scenario, read this tip to learn how to troubleshoot problems around the WAN and Internet cloud services.
For those who want more control over their network, you may want to consider cloud access options alternative to Internet connectivity, which are described in this tip by expert Tom Nolle.
When choosing a cloud service, be wary of the terminology your vendor uses, make sure cloud resources are no more than a few hops away from your network in order to avoid latency, and don't be shy about getting what your network needs in writing. If you're wondering whether or not to dump your current provider, take a look at this article to get some perspective on when it's time to change WAN service providers.
→ For more information on cloud computing in the WAN, view SearchEnterpriseWAN.com's Cloud computing and SaaS topic page.
This was last published in
August 2010