Problem solve
Get help with specific problems with your technologies, process and projects.
Video content tops wireless services in consumer quadruple play study
A recent Stratecast study expected to find wireless services leading consumers' perception of quadruple play value, but found video content in the lead instead, which means wireless operators need to rethink their value assumptions.
Stratecast/Frost & Sullivan recently explored the impact of various service components on the consumer's perception of value. Our goal was to find out how the various components of quadruple play services (voice, video content, wireless services and data from one provider) play into customer satisfaction or the likelihood that a consumer will switch from one provider to another.
Our general hypothesis was that wireless mobility would be the most important influence on the consumer's perception of value. But we were wrong -- or at least, we weren't precisely right.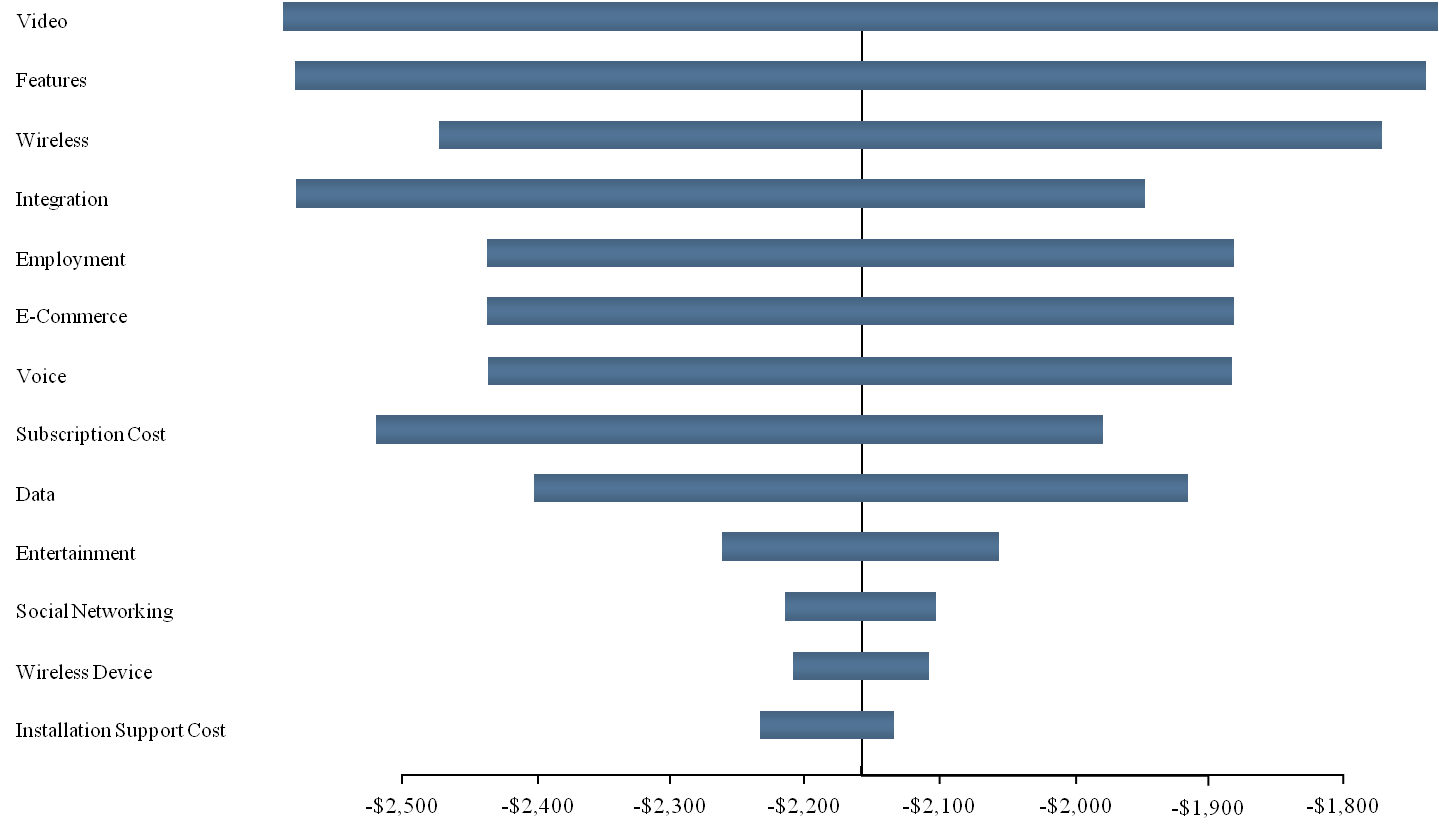 Click the image above to view the graphic in its full size.
When we plotted the influences of a customer's value perception as a Tornado diagram, wireless was high on the list but was not the most important determinant of consumer value perception. (Note: The higher the item ranks on the chart, the more important its influence).
Video content topped wireless services mobility and features ranked second, which means video services now drive consumer perception of value, followed by the overall features available in the service bundle.
As the chart indicates, the integration of service delivery ranks nearly as high as wireless, which means that services that can live across the delivery modalities are important to driving consumer satisfaction and value perception. Interestingly, the wireless device ranked very low on the consumer's perception of value, suggesting that perhaps the service rides the device rather than the device itself ultimately driving a sense of value.
Mobility must play well in video content-centric integrated services arena
The results of our study mean that wireless services will increasingly be defined by the degree to which they enable consumption of video content. How much wireless services include and enable bundled features in mobility solutions is also an important consideration.
But most important, the results mean that profit margins are largely going to be driven by how well mobility plays within a larger ecosystem of blended services. Wireless carriers must think beyond simple access, whether for data or for voice services. They must envision a service space that is highly video-centric being enabled by mobility.
The results suggest that the value of the latest and greatest cell phone/smartphone is limited and is ultimately superseded by the consumer's perceptions of what it enables -- an interesting realization for major wireless players that have been engaged in a wireless device arms race for the last several years. Perhaps a focus on what you can really do with the smartphone, rather than what the phone looks like, would pay some dividends.
In practice, this means that wireless carriers whose only service is access will be rapidly marginalized in the wireless access space. Carriers that can offer the quadruple play, either through internal assets or through partnerships, will do much better in the market.
Ultimately, smartphones enabled by an end-to-end architecture will render irrelevant many existing issues about service blending. But long before that point, consumers will be making purchasing decisions that could significantly impact many of the smaller wireless services players. Finding opportunities to build integrated service offerings with communications service providers will become essential to survival. The alternative is the dreaded price-to-cost spiral of death, where mobility is simply a wholesale service with low margins and lots of churn.
About the author: Mike Jude is a program manager at Stratecast/Frost & Sullivan in charge of the consumer communication services practice. He brings 30 years of experience in technology management in manufacturing, wide-area network design, intellectual property management and public policy. Jude holds degrees in electrical engineering and engineering management and a Ph.D. in decision analysis. He is co-author of The Case for Virtual Business Processes: Reduce Costs, Improve Efficiencies and Focus on Your Core Business, Cisco Press, 2003.
This was last published in
July 2010