 BACKGROUND IMAGE: iSTOCK/GETTY IMAGES
Get started
Bring yourself up to speed with our introductory content.
VMware certification programs: Recasting the old, developing the new
VMware has revised their cloud, data center virtualization and end-user computing programs, in addition to developing a network virtualization one.
Over the past half-year or so, virtualization giant and market-maker VMware has been busy recasting its certification program. In addition to adding a new certification category -- namely, network virtualization -- its constituent credentials under the cloud, data center virtualization and end-user computing headings are also undergoing a substantial shake-up (see their roadmap for a general layout, or download this PDF version).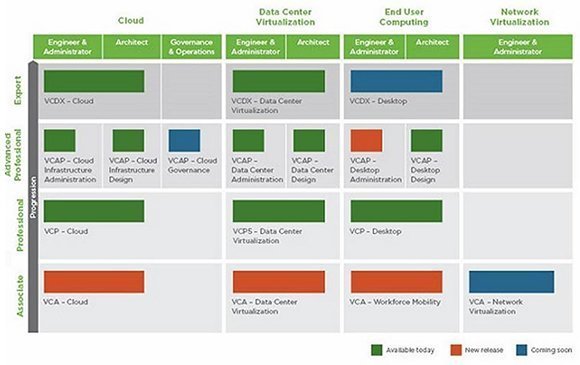 Figure 1. The Network Virtualization category is still under development, but the other three categories all have new (or renamed) credentials as well.
Let's take a tour through this roadmap from left to right and bottom to top to explore what's available in the current set of VMware certifications, and then speculate on what's sure to become available in the mostly empty network virtualization silo.
Before we tackle the individual silos or content categories, please note that VMware defines a definite certification ladder within all three of the leftmost roadmap elements. At the lowest level in all four categories, in fact, we see a single VMware Certified Associate (VCA) credential that serves as the entry level for each one. This is followed by a single VMware Certified Professional (VCP) credential for each category as well. Then, we climb onto the Advanced Professional rung, where qualified professionals have the opportunity to pursue various specialties (three for cloud and two each for data center virtualization and end-user computing). At the pinnacle level, an Expert certification combines all those specialties to recognize individuals who have truly mastered their specific categories or silos across the board. Closer inspection also reveals Engineer and Administrator specialties in every silo, along with an Architect specialty in the left three silos. A Cloud specialty will soon add another credential in the important area of governance (which embraces best practices, outright governance, and compliance issues important to providers and consumers of cloud-based services and data).
The cloud gains importance
Just as the cloud has gained such attention, cachet and investment over the past decade, so has the need for cloud-savvy IT professionals. It has also become crucial for companies and organizations to identify cloud-qualified and knowledgeable IT professionals, along with a concomitant explosion in the number and types of cloud-related IT certifications to help sort things out. VMware's coverage has expanded over the past three years to cover the entire cloud space, with a complete certification ladder in this area. I'd also suggest that its placement at the left-hand side of the roadmap shows that VMware sees the cloud as vital, if not paramount, to its future growth and success. (Here are links to VCA-Cloud, VCP-Cloud, VCAP-Cloud Infrastructure Admin, VCAP-Cloud Infrastructure Design and VXDX-Cloud.)
Standard virtualization takes up residence in the data center
The former mainstay of the VMware certification used to be known as the VMware Certified Professional for vSphere 5, aka VCP5. This credential, along with the previous core credentials from VMware, has acquired a "Data Center Virtualization" label, presumably to reflect its primary place of deployment and use in corporate, organizational and service provider settings. Thus the VCP5 has acquired the cognomen of "VCP5-Data Center Virtualization," aka VCP5-DCV. Certainly, it still remains one of the best-recognized and most sought-after certifications in the VMware collection. Design and Administration for data centers both merit coverage at the Advanced Professional level, with the VMware Certified Design Expert (VCDX5-DCV) combining both credential at this silo's pinnacle level.
End-user computing includes desktops and mobile platforms, too
VMware sees "workforce mobility" (the tag that attaches to the VCA credential in this silo, in fact) as key to proper uptake, management and security for mobile access into enterprise or organization IT infrastructures, particularly in BYOD situations. That's what their End-User Computing credentials emphasize, along with key platforms and products from the VMware product portfolio. This silo is still coming along, with brand-new credentials at the Associate (VCA-Workforce Mobility or VCA-WM) and Advanced (VCAP-Desktop Administration or VCAP-DTA) levels, and the expert-level credential (VCDX-Desktop) still in the offing. (Other credentials include VCP-Desktop, aka VCP5-DT, and VCAP-Desktop Design, aka VCAP-DTD).
Coming soon: Network virtualization and SDN coverage
VMware isn't quite ready to start talking about its network virtualization certifications just yet, but their first offering, the VCA-Network Administration, should make its debut sometime during the first quarter of 2014. It should help to flesh out the company's vision for its role in software-defined networking and will be watched with great interest for that reason. I expect to see the Professional, Advanced and perhaps even Expert levels in this silo become populated over the course of 2014 as well, possibly even going into 2015. (It takes a while to build up to any VCDX credential by meeting its pre-requisites, so the higher up the ladder one goes, the less time pressure on VMware to "cough up" new credentials right away.)
Good structure makes for a good cert program
The new VMware certification roadmap, and the elements it currently accommodates, offers up an interesting and coherent vision for its technical platforms and the people who put them to work. I have to hand it to VMware for articulating an eloquent and intelligible vision for the next few years, and I look forward to seeing new and as-yet announced elements unfold. If you work in or around VMware, you should probably feel the same way.
About the author:
Ed Tittel is a 30-plus-year IT veteran who's worked as a developer, networking consultant, technical trainer, writer and expert witness. Perhaps best known for creating the Exam Cram series, Ed has contributed to over 100 books on many computing topics, including titles on information security, Windows OSes and HTML. Ed also blogs regularly for Tech Target (IT Career Jump Start, Windows Enterprise Desktop), Tom's IT Pro and PearsonITCertification.com.
Dig Deeper on Networking careers and certifications