Problem solve
Get help with specific problems with your technologies, process and projects.
The case for IPv6: IPv6 in the world, part 3
Here's a look at the global usage of the IPv6 protocol.
IPv6 in the world
The longest-lived IPv6 network in the world is the 6Bone (www.6bone.net). It was created in 1996 and today connects more than one thousand hosts in about 50 countries all over the world. It was started as a testbed for the IETF working group that worked on the development of IPv6 and became an informal worldwide collaborative project. A special address prefix had been allocated to the 6bone, the prefix 3FFE:. Now that the official address allocation has been specified, the 6bone will be phased out and integrated into the official address space of 2001: by June 2006. The 6Bone not only proves, that IPv6 works, it provided a great infrastructure for different purposes. In the beginning it was used to test the IPv6 protocol and the first implementations, then to experiment with routing and operational procedures and finally it was used as a platform to develop and test IPv6 applications and transition mechanisms.
When we look at the global usage of the IPv6 protocol, we find different scenarios per continent. There is the International IPv6 Forum (www.ipv6forum.com) which coordinates the efforts for IPv6 deployment on a worldwide scale. There is an international IPv6 Task Force Site at www.ipv6tf.org, which connects all national and regional Task Forces. There is a US IPv6 Taskforce (www.nav6tf.org), a European Task Force (www.eu.ipv6tf.org) and different Task Forces in Asia. They each coordinate the activities of national or regional task forces in their region/countries.
Asia
In Asia, IPv6 is alive and used widely. The people in Asia had no choice. With the small percentage of IPv4 address space allocated to Asian countries (less than 20 % of the global address space), people that wanted to connect to the Internet, would sometimes sit behind multiple layers of NAT (up to four or five layers). And this in a situation, where most people wouldn't even have Internet access yet. Today the growth rate for Asian ISP's is very high and they had no choice than to start using IPv6.
Japan has taken the lead in promoting IPv6 back in 2000. They have announced to build the largest IPv6 network by 2005. Their decision was followed by Korea, China, Taiwan, Malaysia, India and other countries. Most countries offer government support for organizations that support the introduction of IPv6, because it is vital for their economy. As a consequence you will find most examples and richest variants of implementations in Asia.
If you are a European or US-based company, watch out if you buy companies in Asia. The day may come soon, where you buy a company that has an IPv6 network, which you will have to integrate somehow.
Europe
In Europe, the European Commission has taken a lead and promotes IPv6 since the year 2000. They have funded many IPv6 research projects such as 6net (www.6net.org) and Euro6IX (www.euro6ix.org). They believe that IPv6 is vital to the European economy and competitiveness.
There is a European IPv6 Task Force (www.eu.ipv6tf.org) which coordinates the activities throughout Europe, with many countries having their own national Task Forces. Currently there are nine European countries very active, Belgium, Denmark, France, Germany, Luxembourg, Portugal, Spain, Switzerland, and UK.
Telia Sweden was one of the first ISPs starting to offer IPv6 POPs (Point of Presence). This started back in the year 2001. Today, one can say that, although most ISPs do not announce it officially yet, they have worked on scenarios and tests to offer IPv6 services and are sort of ready. The number of backbones and IEX (Internet Exchange Points) with IPv6 access/transport is growing. On the 6Net website, there is a map that shows the layout of the 6Net backbone and it connects most countries in Europe. The Euro6IX backbone also connects many European countries and the two backbones are interconnected.
North America
Initially it was expected, that the US would be the last part of the world interested in IPv6, because, due to historical reasons, they own the largest part of the IPv4 address space. This has changed in summer 2003, when the DoD (Department of Defense) surprisingly announced, that they would migrate the whole DoD network to IPv6 by the year 2008 and starting October 2003, would only buy hard- and software which supports IPv6. With their annual IT budget exceeding $30 billion, this has a major impact on the market and will greatly accelerate the introduction of IPv6.
The US IPv6 Task Force can be reached at www.nav6tf.org. The Moonv6 Project (www.moonv6.com) was started, which is a collaborative effort between the North American IPv6 Task Force, the University of New Hampshire-InterOperability Lab, the Joint Interoperability Testing Command (JITC) and various other DoD agencies, and Internet2. Taking place across the US at multiple locations, the Moonv6 project represents the most aggressive collaborative IPv6 interoperability and application demonstration event in the North American market to date. It will serve as an opportunity for equipment and application vendors to demonstrate the maturity and robustness of their IPv6 implementations to prospective users and adopters of IPv6.
NTT/Verio, a US/Japan-based ISP, recently announced the extension of their global IPv6 services in all areas, tunneling, native IPv6 and dual-stack.
Here's a recent picture of international IEX points and how the NTT/Verio backbone connects to them: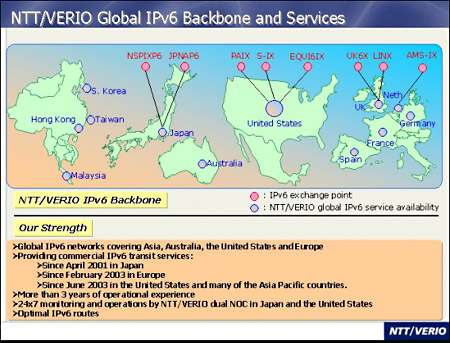 This is not all there is, just an example. And it shows that IPv6 transport is much more than a new standard on paper.
IPv6 status and vendor support
IPv6 works on the infrastructure level (packet structure, routing, integration, transition, DNS). DHCPv6 was standardized in summer 2003 and first implementations will show up soon.
Work in progress: QoS, Security Implementation, IPv4/IPv6 MIB integration, Mobile IPv6
Missing tools: Network Management, Firewalls, Proxies- all in the pipeline. HP, Cisco, Checkpoint, only to name a few, are working on it and implementations are available which will be extended soon.
Applications emerging
For the status of IPv6, the main thing to be said is that the announcement of the DoD will greatly accelerate the vendor market to work for IPv6 support, so this area is changing very fast these days. Major announcements have been made at the US IPv6 Summit in December 2003 (www.usipv6.com), which took place in Arlington. To get a feeling for the vendor support available, visit the Web site where you can also download the presentations by different vendors.
IPv6 will be everywhere soon, worldwide development is moving beyond infrastructure these days. IPv6 is available today in Gaming Devices (Sony), Mobile Phones (Nokia, Sony Ericsson), Digital Cameras (Sanyo, Canon), Cars, Refrigerators, TVs, Internet Phones and many more devices. IPv6 is specified as IP of choice for 3GPP networks. Did you know that most car vendors are heavily developing for IPv6? They are all involved in projects and say that a car in the future will have some 15 IP addresses.
A Gartner Group report in 2002 (before the DoD announcement!) estimated, that by the year 2006 approximately 50 % of the ISPs will offer commercial IPv6 services. So in the beginning, IPv6 packets will travel over the IPv4 Internet tunneled within IPv4 packets. At some point the number of IPv6 links in the Internet will exceed the number of IPv4 links. The amount of IPv4 traffic, which will be tunneled within IPv6 in order to traverse IPv6 links, will then increase.
Continue to part four: Is there a business case?
For greater insight into IPv6 we recommend Silvia's latest publication, 'IPv6 Essentials' published by O'Reilly in late 2002.
---

Silvia Hagen, owner and CEO of Sunny Connection AG is the author of a number of books. She regularly speaks at international conferences like Brainshare US and Europe, NUI Events, IPv6 Summits and other technical conferences. Sunny Connection AG (www.sunny.ch) is a leading IT consulting and education company based in Zurich Switzerland. Our main expertise is in directory services integration and in network analysis and protocols like TCP/IP and IPv6. We have more than ten years of experience in consulting middle and large sized companies, mainly in the area of industry, banking and insurance.