Evaluate
Weigh the pros and cons of technologies, products and projects you are considering.
Software-based routing on its way to displace the branch router
The rise of software-based routing and SD-WAN could jump-start the displacement of traditional branch routers, as more organizations realize the benefits of moving to software.
Enhanced silicon performance and improved routing software -- like software-defined WAN, for example -- have combined...
Continue Reading This Article
Enjoy this article as well as all of our content, including E-Guides, news, tips and more.
to make the multibillion-dollar branch router market ripe for disruption. Increasingly, distributed organizations are deploying software-based routing and displacing traditional branch router architectures.
Typical branch routing requirements are easily handled by virtual router software. The rise of SD-WAN applications and the demand for centralized branch management will also fuel virtual routing adoption at the branch. In the future, Doyle Research expects branch network functionality to include software-based security, routing, SD-WAN, WAN optimization and other services. All this functionality could be managed by the enterprise, a channel partner or as a managed service. Enterprise spending on branch routers has peaked and started to slowly decline.
As for SD-WAN, 2017 has been a breakout year for the technology, with a large number of organizations beginning or continuing their SD-WAN deployments. SD-WAN provides significant benefits in terms of WAN performance, reliability and manageability. Doyle Research forecasts the worldwide SD-WAN market to exceed $2 billion by 2020.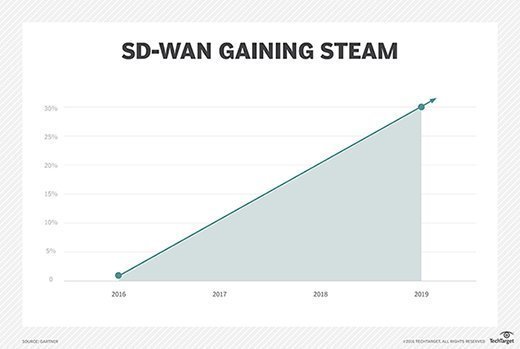 Software-based routing benefits
Software-based routing leverages the increased price and performance of commercial silicon and can run on a variety of platforms, including standard servers. Software routing performance will continue to improve as Intel and ARM introduce new, faster silicon platforms. Software provides the advantages of flexibility and the ability to easily update on the fly. Some of the advantages include the following:
Routing can be placed anywhere;
Easily updated routing functionality; and
Flexible pricing models and lower costs -- 30% savings or more.
Software routing displaces branch routers
Here are some examples of service providers with customers that have deployed software-based routing or SD-WAN in place of traditional router architectures at branch locations.
Versa Networks. A large U.S. bank with hundreds of sites deployed Versa's Cloud IP Platform to enhance branch network performance. The company replaced Cisco Integrated Services Routers and Adaptive Security Appliance firewalls with two Versa boxes at each location. The Versa option provides multiple layers of WAN security, application prioritization and network segmentation, and it offers enhanced reliability with circuit failover.
VeloCloud. Devcon Construction Inc., a $1 billion construction firm based in Milpitas, Calif., required reliable WAN connectivity between its headquarters and its large construction projects. The company replaced its legacy Cisco routers with the VeloCloud Edge SD-WAN service. Deployment benefits included rapid deployment, simplified administration and the ability to leverage a variety of mobile and internet WAN connections.
As SD-WAN and software routing mature, organizations will increasingly displace legacy branch routers.
128 Technology. A Midwest construction company with several dozen sites installed the 128T Networking Platform software from 128 Technology. It has deployed a mix of Long Term Evolution and internet connections at its remote locations, and MPLS and broadband at larger sites. The company benefits from the ability to mix and match multiple connectivity types, combined with SD-WAN reliability and circuit failover.
Silver Peak Inc. Casco Products Corp., a global manufacturing company with 1,500 employees, recently replaced its Cisco routers with the Silver Peak's Unity EdgeConnect SD-WAN service. The company, based in Bridgeport, Conn., is enhancing the reliability of its critical ERP application by migrating to a mix of MPLS and internet links to connect a dozen or so global locations. The company's IT director said its SD-WAN reduces costs and makes it easier to remotely manage remote branch locations.
Masergy. A leading managed services provider, Masergy deploys a 1U server that runs software-based routing, as well as security -- firewall -- and SD-WAN, functionalities for customer premises. These functionalities can be centralized or distributed. Masergy's family of managed network functions, which includes routing, provides the flexibility to deliver essential network functions on premises or in the cloud. Masergy lets customers mix and match platforms to deliver the right choice to the right location.
Software-based routing to displace legacy branch routers
Software-based routing is in its early stages of deployment. SD-WAN adoption is growing rapidly, but many IT organizations with large MPLS networks have opted to operate SD-WAN in parallel with existing branch routers. As SD-WAN and software routing mature, organizations will increasingly displace legacy branch routers and WAN optimization. Software-based routing offers significant advantages in terms of flexibility, ease of management and the ability to converge branch network functionality onto a common platform.
This was last published in
July 2017
Dig Deeper on Software-defined networking