Problem solve
Get help with specific problems with your technologies, process and projects.
Selecting a WAN service provider: Keep an eye on SLAs
Adding new layers on your WAN for application monitoring and optimization can easily increase costs and complexity, which can take a toll on organizations struggling with limited budgets and short staff. The solution may be a managed service provider (MSP), which in many cases is a carrier.
Part 2 of a three-part series
A number of important trends have emerged that are changing the way organizations think about wide area networks (WANs), bandwidth, and application traffic management on the network.
First is the increasingly distributed enterprise. Today, 89% of organizations support virtual workers, a group that includes anyone who works away from his supervisor or workgroup. These virtual workers conduct business from branch offices, partner and client sites, hotels and coffee shops and, increasingly, at least part of the time from home. Nemertes' latest research finds 86% of organizations plan to increase the number of teleworkers they support, which means this trend shows no signs of subsiding, at least for the immediate future.
Second, this increasingly virtual workforce is driving the growing adoption of unified communications (UC) and collaborative applications such as unified messaging, video conferencing, Web conferencing, and document sharing. Almost 60% of organizations are implementing UC, up from 47% just last year, and another 17% are piloting or evaluating the technology. UC applications require high network availability and predictable performance and have stringent quality of service (QoS) requirements.
This leads into a third trend: an increasing reliance by network managers on optimization tactics and application monitoring and management to deliver higher performance and reliability on WANs and related data pathways. Optimizations include compression, acceleration and traffic shaping, while third-party or vendor-specific monitoring tools help IT track and remediate application performance issues.
Managed WAN services: Carriers rule
One of the inherent problems with adding new layers for application monitoring and optimization is an increase in costs and complexity, which can take a toll on organizations that are struggling with limited budgets and a shortage of qualified staff and expertise. Consequently, a growing number of companies are turning to third-party experts, or managed service providers (MSPs), to address some or all of network and application management. These MSPs can include wireless carriers, vendors, systems integrators, value-added resellers and traditional outsourcers, which provide a range of services on a packaged or a la carte basis.
Not surprisingly, when it comes to managed routers and network services (adopted by 46% of organizations that use managed services), the carriers dominate and are the choice of 78% of these organizations. Carriers are also the provider of choice for optimization services, cited by 74% of organizations, although fewer than 6% of the organizations polled currently use optimization managed services. Looking forward, however, 26% of companies that use managed services say they plan to outsource WAN optimization, which again can include a range of services from compression to acceleration and traffic shaping.
When it comes to managed security, it is the systems integrators (SIs) that dominate, with 42% of organizations choosing them, compared with 37% that will use a carrier. This makes sense, as SIs and specialty providers were the first to lead with security services, although we may see a shift as carriers expand their security offerings.
There is a direct correlation between the size of an organization and the type of service provider it will select. For example, 60% of SMBs will use a regional VAR or SI for IP telephony (IPT) management, and only 20% will use a carrier, compared with only 36% of enterprises as a whole that will use a regional VAR or SI. Smaller companies like the personal touch of a regional VAR or smaller SI and often view them as an extension of their IT team.
Provider selection: More services portfolio than price
When choosing a provider, most organizations do not base their decision strictly on cost. Many organizations look first at the types of services offered by an MSP and then consider pricing options, according to recent surveys that ranked services a 4.6 on a scale of 1 to 5. What is interesting is that the cost of these services was secondary to the range of services (4.3 ranking out of 5), despite the continued challenges of being in the midst of one of the deepest and broadest global recessions in several decades.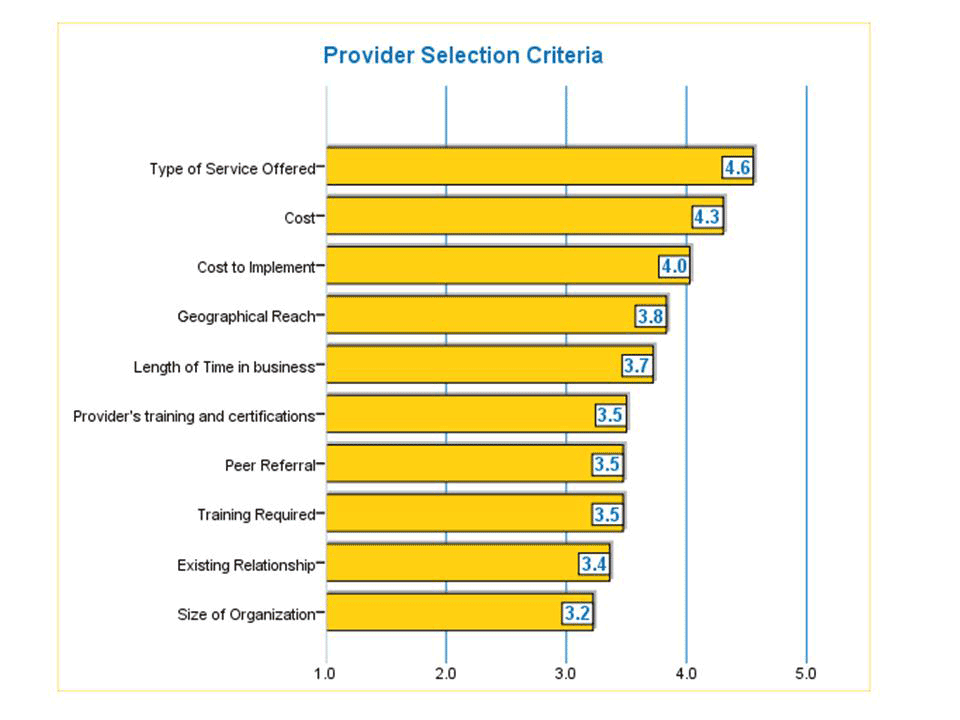 Given that service portfolio is most important, expect providers to expand their offerings to stay competitive. Smaller, regional MSPs and specialty providers will need to form partnerships with carriers and other providers to offer the end-to-end network and application management that UC users require. The winners will be those that offer expertise in multiple disciplines, including voice, security, LAN/WAN networking, optimization and application performance.
Less important to provider selection is the size of the provider organization or whether there is an established relationship. Although training and certifications are important, they are not something organizations typically look at as a critical differentiator.
Well-planned SLAs key to MSP success
Sixty percent of organizations that use outsourcing rate their services engagement as either successful or very successful. In order to ensure success, however, organizations should expect to devote some on-staff resources to managing the relationship, in most cases an average 1% of staff. High-level oversight is key, which is why 75% of organizations task a senior-level IT person to oversee the relationship.
When it comes to success metrics, a properly structured service-level agreement (SLA) is key. Almost equally important is having a properly structured contract. Negotiating contracts for any service is extremely time consuming, but organizations realize it's imperative to spend that time upfront, including all stakeholders in the process. Services contracts typically run between one and three years.
Also important are selecting the right vendor and making sure the lines of communication are open between management and the technicians performing the service. This, again, highlights the importance of assigning someone from IT the task of overseeing the relationship to ensure that the lines of communication stay open and that there are no misconceptions or miscommunications in developing and executing the MSP relationship.
About the author: Katherine Trost is a research analyst with Nemertes Research. She has expertise in hosted, managed and professional IT services, as well as channel strategies
Next in the series: A deep dive into WAN optimization: In-house vs. outsource.
Read Part 1 of the series on managed WAN service options

This was last published in
September 2009