Evaluate
Weigh the pros and cons of technologies, products and projects you are considering.
SDN and NFV are the heart of the 'new IP'
What exactly is the 'new IP'? In a nutshell, it's the use of SDN and NFV to build highly virtualized IP networks that will allow carriers and operators to monetize new services. Here's how it works.
With the success of over-the-top (OTT) companies like Amazon, Facebook and Netflix, communications service providers (CSPs) are under extreme pressure to deliver faster, more agile networks.
The "new IP" -- the term now being used in the telecom and large enterprise markets to describe a highly virtualized IP network -- has the potential to transform large transport networks. It will not only run OTT applications better, but it could also allow CSPs to lower their overall costs and create new services themselves. The hope is that the new IP will offer new ways to monetize networks.
The market drivers for a changing transport network are clear. People need to be connected to their personal data and company files 24 hours a day, there is an insatiable demand to download extremely large media files, and users want access to all of this from any device, in any location.
This phenomenon is propelling the need for increased bandwidth and data rate connections throughout both LANs and WANs, and in both public and private networks. In order to support such demands, networks themselves must evolve.
Transport networks remain primarily hardware-centric, but they're on the brink of transformation. The following is a diagram of today's transport network.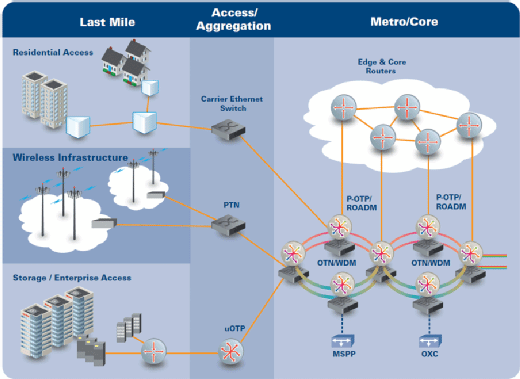 While these networks have largely been updated from SONET to optical transport networks (OTNs), and from circuit-switched to packet-switched, they remain hardware-oriented. But in 2014, this is starting to change. Network function virtualization (NFV) is in proof-of-concept (PoC) phase and SDN is emerging in production environments. These technologies support a more agile network that enables seamless distribution and transport of content and applications. Some network experts call these technologies the ultimate enablers of cloud architecture.
SDN vs. NFV
Proponents of virtualization sometimes use SDN and NFV interchangeability, but they are different and are used in different parts of the network. SDN was born in the campus network where researchers wanted to be able to test applications without having to manually update software on every network device. Instead, they developed a "programmable" network by separating control and forwarding functions, centralizing control and using well-defined interfaces -- called application programming interfaces (APIs). This concept was then extended to the data center where server virtualization had already taken hold. Real implementations of SDN have started -- and are expected -- to become mainstream within the next year.
NFV was developed by service providers in order to accelerate the introduction of new services on their networks. The proprietary hardware elements that CSPs have used made it cumbersome to quickly provision new services. The ultimate goal of NFV for the transport network is to consolidate network equipment types into standard servers, switches and storage in order to leverage simpler open network elements.
NFV is being standardized in the European Telecommunications Standards Institute (ETSI), while SDN is being standardized in the Open Networking Foundation (ONF) and in OpenDaylight. These technologies will certainly work together to make an overall programmable network where SDN virtualizes the network and NFV virtualizes the appliances. It is important to note that SDN really requires a totally new network configuration, while NFV can be implemented on top of existing networks.
The following diagram shows the power of implementing both.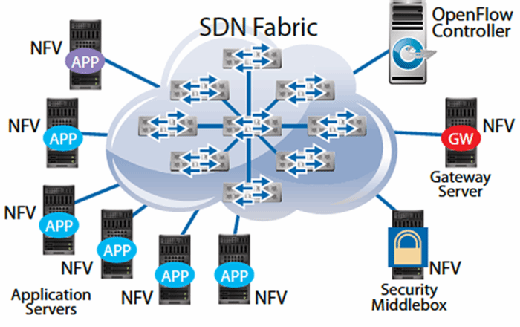 The new IP development cycle
The keys to implementing the "new IP" network are developments of open platforms and open source innovation. Even though historically both transport and local networks have had standards technologies like Ethernet, SONET and now OTN, implementations of these standards have inherently been proprietary, with each network device having its own controller and operating system.
With standardization of SDN and NFV, this is starting to change. The first SDN innovations have materialized as OpenFlow devices in campus and data center networks. ETSI is expected to release the NFV specification in 2015, but in the meantime, several equipment vendors claim to be in POC phase with devices. The enabler for NFV may come from two different camps -- those using OpenStack or those following the Linux Foundation's new consortium known as the Open Platform for NFV Project (OPNFV). This group consists of a combination of CSPs, NEMs and software providers. Each of these solutions is targeted to run in a cloud environment.
Both CSPs and network equipment manufacturers seem to be embracing the "new IP" concept. The market has seen a number of mainstream SDN implementations, as well as announcements of early NFV products from top network infrastructure vendors, such as Cisco and Brocade. In addition, both top U.S. CSPs, AT&T and Verizon, have announced new initiatives to move to a SDN and NFV network – AT&T with its Domain 2.0 and Verizon using OpenStack. AT&T has publically released its plan to re-architect its network based on openness, simplicity and scalability. Its goal is to "meet evolving customer requirements, including traffic growth, diversity of traffic types, and diversity of performance and reliability expectations." Its ultimate goal of Domain 2.0 is to make its network just another cloud service. This is shown in the diagram below.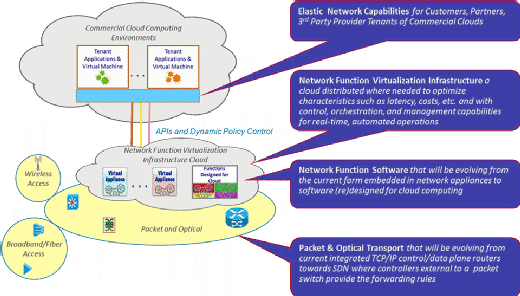 Not only will the above network enable fast and easy services to be delivered, it will reduce both capital and operational expenses. Providers will no longer need multiple network elements for functions, such as message routing or WAN acceleration. These functions all become software running on off-the-shelf servers. And, because the functions are now software, turning up services can be done with a click of the mouse instead of a truck roll.
The new network paradigm is emerging now and it is software-driven, open, and designed to be built on merchant silicon to enable fast innovation. It helps network managers move their networks at the speed of their business. This is the new IP.
About the author:
Lisa Huff is Principal Analyst at Discerning Analytics, LLC. Lisa is a Certified Data Center Professional (CDCP) and degreed electrical engineer with almost 30 years of experience in the data center and electronics industries. In addition to being Principal Analyst at DA, she is Chief Technology Analyst for DataCenterStocks.com and Telecom Director for Bishop & Associates, Inc.
This was last published in
December 2014