Problem solve
Get help with specific problems with your technologies, process and projects.
Open source network monitoring: Monitor your routers with Cacti
Learn how to configure the open source network monitoring tool Cacti to poll your routers, gather network data, and provide graphs based on what you configured. Cacti is a free open source tool with a Web interface. Cacti can be used to complement other open source tools such as Nagios.
In a recent article, Using VMware to test open source network analysis tools, I pointed out reasons why it could...
Continue Reading This Article
Enjoy this article as well as all of our content, including E-Guides, news, tips and more.
be beneficial to try a new open source networking tool. One of my favorite open source network tools is Cacti network performance monitor. In this article, I will demonstrate the easiest way to download and demo Cacti network performance monitor for free. Let's take a look…
What is Cacti?
Based on RRDTool, Cacti is "a complete network graphing solution." That means that Cacti polls your devices, gathers the data, then provides graphs based on what you configured. Cacti is a free open source tool that offers an easy-to-use Web interface. Cacti can be used to complement other open source tools such as Nagios (for instance, using Cacti to monitor performance of devices that are being monitored by Nagios).
Cacti's main functions are:
Defining and configuring data sources (what you are monitoring).
Creating and viewing graphs (based on how you configure the graph).
Managing users (so that different users can do different things).
Cacti doesn't try to do it all when it comes to network monitoring, but it does what it claims to do very well.
You can learn more at the Cacti website.
What is the easiest way to demo Cacti?
Believe it or not, trying out open source networking tools like Cacti can be quick and painless.
I recommend downloading VMware Player (for free) and then downloading preconfigured, pre-installed versions of Cacti, inside a VMware Guest OS. You would do this, of course, from the VMware Virtual Appliance Marketplace. Let me show you how.
1. Download and install VMware Player.
2. Run VMware Player and click on "Download Virtual Appliances," below: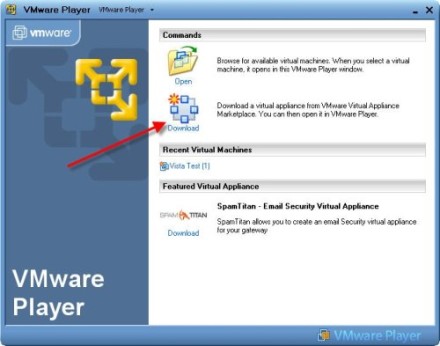 3. Do a search for Cacti (or any of the other open source network applications that interest you).
4. Download one of these Cacti virtual appliances. I recommend the virtualappliances.net Cacti Appliance site only because I used it and it worked as promised.
5. Once downloaded, start it up in VMware Player, get your IP address from the console window and log in with your Web browser to the IP, using the default username and password.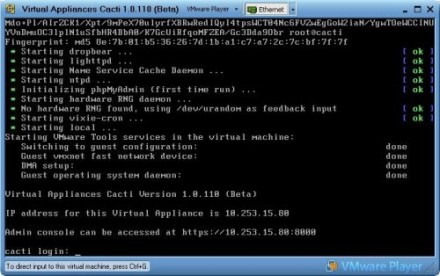 6. From there, I configured Cacti to monitor my core router and start creating graphs of the local Cacti virtual server performance and the core router's bandwidth usage.
To do this, I just needed to know the IP address and SNMP public community string for my core router. You can read about what to click on to configure Cacti to monitor a new host and to create graphics. Specific instructions can be found in the Cacti user manual.
After adding the host and creating the graph for the router's interface, I waited a little while for data to be collected and my Cacti services to pick it up.
This is what they looked like: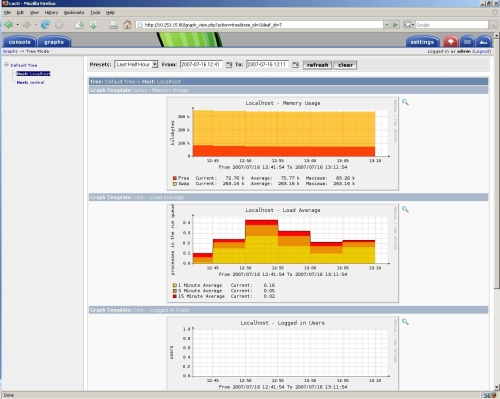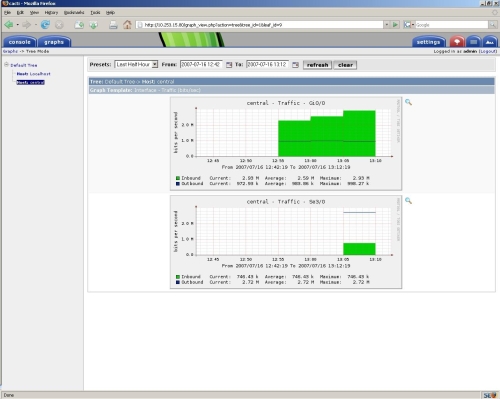 I can see using Cacti to monitor hundreds of my routers and switches -- all for zero cost.
If you have already tried Cacti, here are some other recommendations for open source networking tools:
Many of these open source networking tools are available from the VMware Virtual Appliance Marketplace.
In summary, Cacti is a free open source network performance monitoring graphing application. I recommend it to just about every network admin I meet because it does what it claims to do very well. It has an easy-to-use Web interface and it is even easier than normal to get running if you use a VMware virtual machine to do it.
About the author:
David Davis (CCIE #9369, CWNA, MCSE, CISSP, Linux+, CEH) has served as an IT manager for more than 15 years. He has a number of certifications, including CCIE #9369, MCSE & VCP. In addition, David has authored more than 100 articles and a number of video training courses, including Windows XP, Wireless Networking, Linux Administration, Microsoft Virtual Server, VMware Server and Workstation, and VMware ESX Server. David writes a blog, David's Cisco Networking Blog, on the IT Knowledge Exchange and publishes Cisco networking how-to articles and videos at his website, HappyRouter.com.
This was last published in
January 2008