Problem solve
Get help with specific problems with your technologies, process and projects.
Mobile directory search takes hold with integrated presence
An upcoming Frost & Sullivan study on evolving mobile directory assistance trends shows integrated presence capabilities, and smaller form factors put mobile search on a growth trajectory.
Editor's note: Mobile search services and evolving mobile directory search and applications are the focus of an upcoming Frost & Sullivan study on emerging market trends. In this column, study author Mike Jude, program manager for the consumer communication services practice at Stratecast/Frost & Sullivan, discusses the preliminary findings of "Pervasive Yellow Pages: The Evolving Directory Assistance Market."
Wireless has come a long way since the primitive first-generation cell phone. Not only has the form factor improved considerably but many cell phones now have characteristics and applications that a few short years ago would have classified them as "smartphones." As a result, wireless devices are beginning to morph into all-purpose information utilities that consumers increasingly think of as a way to access immediately useful information.
Enter mobile search services. People on the go are utilizing their cell phones as surrogates for printed directories. As the figure below shows, mobile search capabilities depend on and interlink with existing search capabilities, accessing listings produced by the print directory industry, and integrating operator assistance and Internet search.
Within this integrated directory environment, no element can stand on its own, but in combination can extend information access even to mobile devices.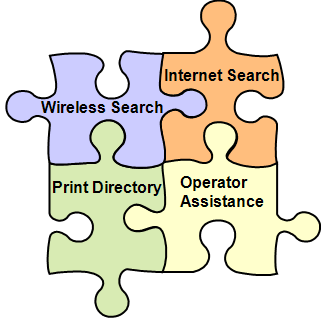 Projected mobile search revenue on five-year growth trajectory
Mobile search is becoming more popular as intelligent mobile devices and data services become more widespread. Measured by the amount of paid advertising revenue these services generate, this is a growing market. As our upcoming Frost & Sullivan study on the evolving mobile directory/search market shows, estimates of total U.S. revenue for mobile search range from $200 million this year to between $1 billion and more than $1.3 billion by 2013 (see Figure 2). This is hardly a minuscule amount. And as noted above, because pervasive directory services are synergistic, the mobile search function is actually leveraging much higher revenues for other components in the directory space.
The value of this growing source of revenue isn't lost on information service providers. Not only has the race for Internet browser dominance heated up, with the recent partnership between Microsoft and Yahoo an example of the maneuvering taking place, but search engines like Yahoo, Bing and Google all have search applets optimized for mobile devices.
This quick evolution of mobile search has not run its course. Current search capabilities are not terribly fast and are somewhat difficult to use. And embedding ads in desktop browsers is hard to do in the small form factors of cell phones. These issues are being addressed and improvements are coming, however, especially as GPS functions enable presence integrated with search and as networks evolve to support higher data rates.
Mobile directory services poised to take off
As mobility integrates presence, expect to see a complete collection of mobile directory services. Searching for a restaurant will be enabled by the user's location, for example, including a map of all of the restaurants close to the user's location.
Tapping on a location on the map will bring up the menu and the telephone number and will even allow users to make online reservations. True, some of these mobile search services are already available, but to date, search engines have had a hard time figuring out how to monetize these services. We can expect this to change as devices evolve with form factors optimized for search. The new-generation smartphones come close, but there is still a lot of work to do to make them really simple to operate for the casual user.
Of course, anything that approaches conventional advertising copy also requires a high enough data bandwidth rate that downloads won't involve a painful wait. The keynote of mobility is speed, so any mobile search function that incorporates advertising or large graphical files like maps must be supported by a network capable of fairly fast downloads. This is happening as GSM-based carriers are deploying 3G technologies like HSPA, and as CDMA-based carriers deploy EV-DO Rev A and above. Ultimately, 3.5G and 4G networks, which will probably be built on an LTE platform, will support data rates comparable to those available on a WAN.
Ultimately, mobility will be a preferred modality for acquiring directory information. It will, at the very least, represent a required capability for any directory publisher and will be expected as an adjunct to printed directory listings by prospective advertising clients. As pervasive directory assistance evolves, expect hybrid services that allow you to search for something on your desktop, hold the results, transfer them to your mobile device and use the device to contact and find your preferred selection. At that point, directory assistance will be truly pervasive and will be a background to all communication services.
About the author: Mike Jude is a program manager at Stratecast/Frost & Sullivan in charge of the consumer communication services practice. He brings 30 years of experience in technology management in manufacturing, wide-area network design, intellectual-property management and public policy. Jude holds degrees in electrical engineering and engineering management and a Ph.D. in decision analysis. He is the co-author of The Case for Virtual Business Processes: Reduce Costs, Improve Efficiencies and Focus on Your Core Business, Cisco Press, 2003.