Evaluate
Weigh the pros and cons of technologies, products and projects you are considering.
Compare the leading SD-WAN vendors before you buy
This SD-WAN vendor comparison chart is a useful starting point to get information about SD-WAN deployment options, pricing, cloud connectivity options and more.
Preparing for software-defined WAN deployment requires substantial research to determine what organizations need...
Continue Reading This Article
Enjoy this article as well as all of our content, including E-Guides, news, tips and more.
from their WANs. But, with a growing number of options in the market, choosing which SD-WAN vendor to go with can be overwhelming. To help out, the chart below provides readers with an SD-WAN vendor comparison.
Our editors focused on enterprise SD-WAN technology and only included vendors that directly offer an SD-WAN service to customers -- no middleware or resellers. This vendor comparison does not include fully managed SD-WAN options offered by service providers.
In the chart below, you'll find a side-by-side comparison of 13 SD-WAN vendors -- listed alphabetically -- that addresses a variety of important features to consider, including security, WAN optimization, deployment options, public cloud connectivity and available pricing.
SD-WAN requirements considered fundamental are not broken down in the vendor comparison. These include the following:
The SD-WAN offering should create a network overlay that abstracts the existing WAN.
It should enable dynamic bandwidth allocation for traffic efficiency.
It should be transport-agnostic and support multiple types of connectivity -- like MPLS, Ethernet, cellular and broadband, for example.
SD-WAN vendors
The chart below compares individual SD-WAN vendors and their offerings. The section about deployment options explains how each vendor's SD-WAN offerings are available to customers, such as physical appliances, virtual appliances, cloud-based instances, universal customer premises equipment and more.
The cloud extension section details which SD-WAN vendors enable connectivity to public cloud providers -- like AWS, Microsoft Azure and Google Cloud Platform -- and various SaaS applications.
The security section provides a quick rundown about each vendor's security features, such as stateful firewall capabilities, web filtering and integration with various security vendors.
The WAN optimization section discusses whether an SD-WAN vendor offers integrated WAN optimization capabilities.
Finally, the pricing section lists all available pricing details -- including subscription-based offerings and appliance costs -- as provided by the vendors.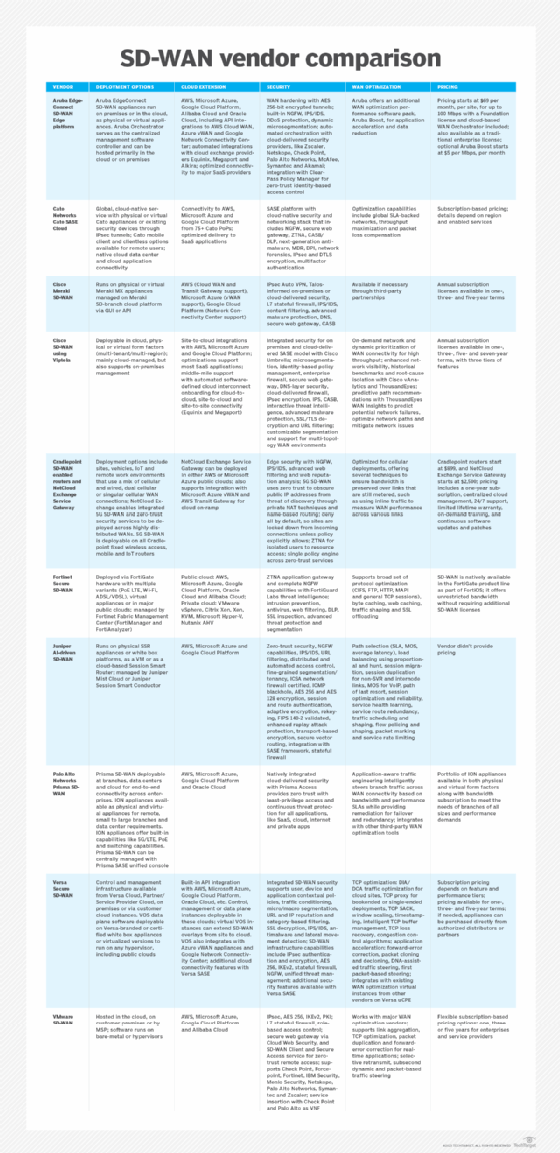 Additional questions to ask about SD-WAN technology
When looking for the right SD-WAN option for your company, it's a good idea to add the following questions to your vendor comparison list.
How easy is SD-WAN deployment and provisioning? The majority of SD-WAN vendors say they offer zero-touch provisioning. But, even with that, configuration for any organization's deployment will take time. It's a question of how much and how easy. Some options may require a few more steps before the SD-WAN connection is established, compared with plugging cables into an SD-WAN device that automatically begins provisioning.
What routing and other protocols does the SD-WAN technology support? Check with each prospective SD-WAN vendor to determine which routing protocols it supports, such as Border Gateway Protocol, Open Shortest Path First and static routing.
Also, factor in IPv6 support, if that is an important consideration for your organization. Versa Networks, for example, supports IPv6 addresses, while Silver Peak supports IPv6 forwarding. CloudGenix uses an approach that eliminates the need for routing protocols, but it supports standard routing protocols during a customer transition.
Does the SD-WAN platform require specialty edge devices? Are those devices available in both virtual and physical hardware options? Is the hardware proprietary, or can you use commodity hardware? Also, ask how the vendor's SD-WAN equipment integrates with existing routers and legacy networks. This is valuable information for organizations with multiple distributed branch offices.
What are the monitoring, management and reporting capabilities? SD-WAN uses software-defined networking technology to establish centralized control and management across the entire network. This enables SD-WAN to better monitor and prioritize network traffic, which improves application performance, packet loss and security.
Most SD-WAN vendors include management and monitoring capabilities with the SD-WAN platform. Others work with third-party management tools, and some offer additional, more comprehensive software for customers to purchase. Ensure the SD-WAN option you select provides the management support and network insight you will need for proper troubleshooting.
What partnerships does the SD-WAN vendor have in place? Many SD-WAN vendors have established partnerships with security providers, like Zscaler and Palo Alto Networks, to integrate their security services with SD-WAN technology. Also, take into consideration any potential SaaS integration and partnerships the SD-WAN vendor might have. Most SD-WAN vendors have also partnered with managed service providers to offer their SD-WAN technology via managed SD-WAN.
This was last published in
August 2019