Problem solve
Get help with specific problems with your technologies, process and projects.
IPv6-ready cloud providers have edge over competitors stuck in IPv4
IPv6-ready cloud providers offer technology advantages to enterprises planning to deploy public or hybrid cloud services, according to an IPv6/cloud analysis.
Planning an enterprise migration to the cloud in tandem with an IPv6 migration has significant benefits -- and cautionary downsides if carried out separately. Cloud providers should be aware that organizations may be scrutinizing their IPv6 capabilities alongside their cloud services.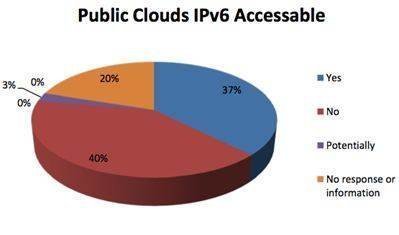 The major advantage of simultaneous IPv6 and cloud deployment is that IPv6 provides specific technological benefits when deploying a scalable, easy-to-manage cloud infrastructure. Therefore, an effective cloud strategy should be executed in the context of using next-generation infrastructure, which by definition should include IPv6.
In addition, companies that include both cloud and IPv6 migrations in their strategic and tactical planning find the similarities of the two -- in terms of roadmap and lifecycle -- lead to more efficient execution and minimize duplication of effort. As for cost benefits, early planning for IPv6 migration helps avoid rework and ensures IPv6 readiness through regular refresh cycles.
IPv6-ready cloud providers
After their analysis, the authors found that the following 16 cloud providers truly offered native IPv6 on their networks, which benefits enterprises moving to cloud-based services.
(Listed in alphabetical order):
Bluelock (IaaS) (Gartner IaaS Magic Quadrant leader, December 2011)
Brightbox Systems (IaaS)
CloudFlare (PaaS)
Dropbox (IaaS)
Gigatux (IaaS)
HP (IaaS, PaaS, and SaaS)
Linode (IaaS)
NTT Communications (IaaS)
Oxygen Cloud (IaaS)
Rackspace (IaaS and PaaS) (Gartner IaaS Magic Quadrant visionary, December 2011)
SoftLayer Technologies (IaaS) (Gartner Magic Quadrant niche player, December 2011)
Tata Communications (IaaS and SaaS)
Virtacore Systems (IaaS)
Windows Azure (PaaS)
Windstream Communications (IaaS)
XO Communications (IaaS and PaaS)
For all of these reasons, enterprises developing a cloud plan and assessing cloud service providers should do so with an eye on IPv6-ready providers and IPv6-based capabilities. Enabling IPv6-based services is more relevant for cloud service providers that offer Infrastructure as a Service (IaaS) than those offering Software as a Service (SaaS) or Platform as a Service (PaaS).
Nevertheless, to be considered for enterprise public or hybrid cloud delivery models, cloud providers must offer their services over IPv6 on an equal or better footing than services offered over IPv4. At a minimum, they must produce clear roadmaps for their IPv6 plans to customers working on cloud strategies.
Assessing the IPv6-ready cloud service providers
In preparation for the North America IPv6 Summit in April 2012, we analyzed the IPv6 readiness of a variety of cloud service providers. We identified providers that claim to offer IaaS, PaaS and SaaS natively via IPv6. Our analysis was based on publicly available information and individual inquiries we sent to providers.
We looked at 41 cloud providers to assess their native IPv6 access support. If information was not available on their websites, we contacted them directly. Of the total group, 16 said they were accessible natively via IPv6 (see sidebar); 16 admitted that they were not available natively via IPv6 (or stated that it will be available soon); and eight either did not respond to email or phone inquiries or did not have the information readily available on their websites.
Enterprise public cloud strategies require IPv6 support
Enterprises developing a cloud strategy that includes a public or virtual private cloud dimension need IPv6 support for all services delivered by cloud providers.
At a minimum, providers should commit to a roadmap that will help enterprises plan for IPv6 and mitigate the risks related to the transition.
About the author:
Ciprian Popoviciu, PhD, is the president and CEO of Nephos6, a cloud and IPv6 consulting services company with extensive experience in developing strategy, planning and implementation for cloud deployments and IPv6 transitions. An industry-recognized subject matter expert in IPv6, Ciprian has co-authored two books (Deploying IPv6 Networks and Global IPv6 Strategies) in addition to writing multiple RFCs and patents. Visit nephos6.com for more information, or follow him on Twitter @zamolxesv6.
This was last published in
October 2012