Manage
Learn to apply best practices and optimize your operations.
How cloud computing challenges an IT manager's enterprise WAN strategy
Understand how cloud computing challenges your enterprise wide area network (WAN) strategy and see how a WAN manager's job functions and responsibilities will change during a cloud computing implementation.
Learn in this tip how cloud computing challenges your enterprise wide area network (WAN) strategy, and see how an IT manager's job functions and responsibilities will change during a cloud computing implementation.
By now, most enterprises have realized that cloud computing is here to stay. Reality has set in: Clouds are a useful tool in the IT toolbox thanks to their flexibility and cost-effectiveness. At the same time, clouds aren't an all-or-nothing decision. For the foreseeable future, companies will rely on a strategic blend of on-demand and on-premise computing.
This means that tomorrow's enterprise IT is likely to consist of three kinds of computing workload:
Tasks that must be done in-house for compliance or technical reasons.
Tasks that can be done internally or externally.
Tasks that are best handled by public, elastic, pay-as-you-go infrastructure.
IT managers will have to set policies that decide which tasks are performed where. Some of these policies will stem from privacy and governance concerns and challenges, while others will be driven by the cost of computing and by the performance and user experience the application requires.
Figure 1 shows this model of in-house, portable and on-demand computing, along with the policies that dictate what happens where.
Figure 1: Cloud computing business model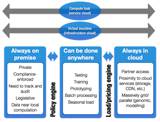 Click thumbnail to enlarge image.
If you're in charge of an enterprise WAN strategy, here are five cloud computing challenges that could change the way you do your job:
Connecting legacy systems to clouds: WAN access will be about tying on-premise systems to on-demand services while maintaining acceptable performance and security on those links. Today's WAN acceleration companies will be tomorrow's cloud gateways, linking enterprise data centers to utility computing while hiding translation and masking complexity.
Deciding what can go where: Management will focus on enforcing the policies around which cloud-based services such as storage, message queues and content delivery networks (CDN) can be used. These policies will control how much of a service can be used and what kinds of data are permitted to cross the WAN.
More pay-as-you-go, fewer contracts: Cloud computing is all about elasticity. Already, Amazon has a no-contract CDN (CloudFront) and a spot market for pricing of its EC2 offering. This is putting pressure on incumbent service providers to replace locked-in contracts with open, on-demand services.
Consumer mobility: The ubiquity of clouds means workers can connect from anywhere. Mobile consumer products fronting cloud-based applications will be a major challenge to enterprise IT: Mobile is the new dial-up, offering many new sources of latency and forcing IT to work more closely with mobile providers.
The distributed data center: The future of application development is composed designs whose components live throughout the Internet. Processing might happen in-house, but the user interface might live on one cloud, with storage on another. Diagnosing problems across distributed applications -- particularly when you don't control many of the components -- will be a real challenge. Expect a resurgence of SOA-style management and transaction tracing as WAN managers struggle to get a grip on performance issues.
Cloud computing promises efficient operations and a more agile, effective organization. But if you manage a WAN, expect to be troubleshooting new kinds of problems and renegotiating contracts as you struggle to deliver on-premise performance and security in a distributed world. View my follow-up to this article to understand how SOA-based management is required to help IT managers troubleshoot cloud application performance.
⇒ For more information, read our cloud computing tutorial for WAN managers.