Manage
Learn to apply best practices and optimize your operations.
Centralization, smaller budgets drive demand for managed WAN services
As efforts like unified communications (UC) and collaborative applications take flight, enterprises are relying more on application performance monitoring and management tools, network optimization solutions, and even WAN- managed service providers (MSPs) as a way to shift costs away from capital expenditures and eliminate management and control burdens from IT departments.
Part 1 of a three-part series
Prior to converged networking, most companies operated separate networks for each type of traffic, and some even ran separate wide area networks (WANs) for each application. By doing so, they were able to effectively monitor and manage the performance of each application. Now, with the move to multiprotocol label switching (MPLS) and Carrier Ethernet in full swing, most companies have converged an astounding number of applications over a single IP network.
At the same time, a number of other significant changes have taken place. The virtual workplace has skyrocketed, with 89% of organizations supporting virtual or remote workers (defined as anyone who works away from their supervisor or workgroup) . The concept of all employees sharing the same physical office and collaborating across a conference room table has disappeared. Now, virtual collaboration takes place across time zones, languages and organizational barriers.
"In just three years – from 2006 to 2008 – managed services adoption at the branch office grew from 27% to 64%."

Nemertes Research
A majority of companies are also adopting unified communications (UC) and collaborative applications, not only to support the virtual workforce, but to reach partners and clients as well. These applications require high network availability and predictable performance and have stringent quality of service (QoS) requirements. UC performance issues become highly visible to users (there's nothing more visible than the quality of rolling video, for example) and since the applications are critical to new modes of collaboration and customer service, organizations cannot overlook any degradation in quality.
The shift to managed WAN services
To meet these requirements, enterprises of all sizes are using a mixture of application performance monitoring and management tools and network optimization solutions. There is also more interest in contracting all or at least a portion of these solutions from managed service providers (MSPs). That way, they can shift costs away from capital expenditures and eliminate the burden of management, updates and control from IT departments that may be working with a reduced staff.
In fact, Nemertes Research Group's latest research finds nearly 73% of organizations currently deploying some WAN optimization that allows them to more effectively use the bandwidth they already have. Optimization encompasses many technologies, including bandwidth compression, application acceleration, caching and load balancing, all of which can be mixed and matched to create an effective and customized solution.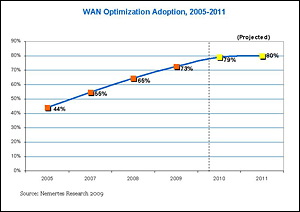 Data center consolidation is clearly one of the leading trends today as organizations with multiple data centers work to reduce the number to save costs and increase efficiencies. As a result, these organizations provide applications and IT services out of fewer and fewer locations. More than half (57%) of the number of organizations are committed to a fully centralized delivery model, and another 32% deliver most applications centrally, even though they retain some distributed servers. About 90% of users receive enterprise applications over the WAN because of this increased centralization and consolidation and also because more of them are telecommuting.
Until now, the vast majority of organizations handled both application management and network optimization internally. Falling budgets and staffing cutbacks may soon change that. Eighty-five percent of organizations are working with decreased or flat budgets this year, and the average decrease was 22%. Unfortunately, the outlook for next year is not much better. Budget cutbacks not only affect capital expenditures, but operational expenditures as well. Already-lean IT departments are shrinking right along with IT budgets. Sixty-seven percent of organizations are decreasing their IT departments by an average of 17%.
That, coupled with an IT-skills deficit for some specialties, is driving more organizations to seriously evaluate third-party managed WAN service providers.
MSPs expand from VPNs to virtual collaboration
Nemertes has found that, increasingly, enterprises leverage managed service providers to support some or all aspects of application and WAN network management. In just three years – from 2006 to 2008 – managed services adoption at the branch office grew from 27% to 64%. Organizations that would not have considered managed services a year ago are now evaluating them, and those who do use them are extending them to more locations or adding additional services for all the reasons discussed above.
At the same time, there has been an evolution in the field of managed network services. Initially, providers just delivered connectivity between locations, offering basic router and network management. As the virtual workplace became increasingly virtual, however, providers started offering secure, remote Internet access and VPN services. More recently, with the increased adoption of real-time, rich-media collaboration applications, providers evolved to offer network- and application-specific optimization, security and performance management.
With the proliferation of managed services comes a proliferation of managed services providers. Managed services are no longer dominated by carriers and systems integrators. New entrants are flooding in and competing directly across multiple market segments. Although carriers still dominate some of the core communications services, competition is increasing across the board.
Obviously, providers that offer expertise in multiple disciplines, including voice, security, LAN/WAN networking, and application performance and optimization, are best-positioned to perform advanced management and troubleshooting for the most complex rich-media collaboration rollouts.
About the author: Katherine Trost is a research analyst with Nemertes Research. She has expertise in hosted, managed and professional IT services, as well as channel strategies.
Next in the series: Selecting a managed WAN provider. Best practices to ensure a successful outsourcing relationship.
This was last published in
September 2009