Network virtualization technology
Enterprises are deploying network functions virtualization within their operations to improve efficiency and cut costs. Get expert guidance and read case studies to find out how services like firewalls, routing and WAN optimization are being virtualized, and understand the benefits and challenges associated with network virtualization services.

Download this free guide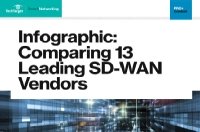 Free SD-WAN Infographic: Cisco vs. FatPipe vs. 11 More
Preparing for SD-WAN deployment requires substantial research to determine what your organization needs from your WAN. And the growing number of options on the market can make the decision-making process overwhelming. To help, dive into FAQs about SD-WAN deployment, and the important features to consider, such as security, cloud connectivity, pricing and more.