Five venture capitalist firms that invest in the SDN market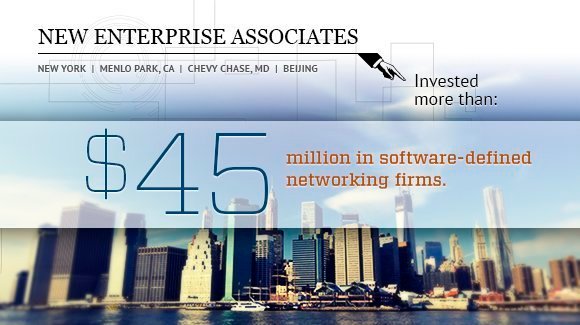 Source:
graphic by Brian Linnehan; image: Fotolia
Venture firm New Enterprise Associates (NEA) has invested more than $45 million in software-defined networking firms Embrane, Nicira and Pluribus Networks, all of which tackle network virtualization and network services.
Pete Sonsini, partner at NEA, said that New Enterprise Associates looked to Embrane because the company would help both cloud service providers and enterprises provision network services on demand, enabling complete cloud adoption.
"While most of the attention around building cloud infrastructures has focused on virtualizing compute and storage, the network has been long overlooked," wrote Sonsini on a company blog. "Until now, the network has been far too rigid, expensive and limited in its ability to deliver multi-tenancy options at scale -- particularly when it comes to network services. Embrane has tackled this," he said.
Meanwhile, Nicira, which delivers virtual networks and network services on top of the physical fabric, may have proven to be the biggest payback for NEA. In 2012, Nicira was acquired by virtualization and cloud infrastructure company VMware, making clear that SDN and network virtualization weren't disappearing any time soon.
Within the three companies, New Enterprise Associates has been part of a $44 million series C investment for Pluribus, an $18 million series B investment into Embrane, and a $50 million investment into Nicira.
View All Photo Stories