bluebay2014 - Fotolia
News
Stay informed about the latest enterprise technology news and product updates.
New, branded open network hardware model emerges
Hyperscale data center operators have radically altered their infrastructure with open network hardware that runs a range of operating systems. As this strategy trickles down into the enterprise, vendors are unveiling branded-but-open technology.
I believe that all of us in the networking industry will look back on the last couple of years as a renaissance. Rapid innovation -- in the form of bare metal switching, SDN software and core-and-pod designs, to name a few -- have generated more impactful new products in the past two years than in the last 10.
Many of these trends have been led not by vendors, but by the networking teams at hyper-scale Web companies like Facebook, Google, Amazon and Microsoft, which have used in-house efforts to usher in a modern era of networking.
Three announcements over the last few weeks stand out as markers of this new era, where hyperscale R&D is trickling down to the broader market.
Juniper's open networking switch. In December, Juniper Networks Inc. announced the OCX1100, a hardware platform based on Facebook's Open Compute networking design, which is open to run third-party operating systems like Big Switch's Switch Light OS and Cumulus Linux.
This move makes Juniper the second vendor to have an open hardware strategy, alongside Dell. It is a noted response to the needs of hyper-scale data centers. At the same time, it brings the hardware within reach of a much broader audience looking for designs inspired by hyper-scale data centers but concerned about going "all the way" to an unbranded OEM model for switching hardware.
Gartner's "brite box" theory: Also last month, Gartner published research that we'll look to as a key milestone in the networking ecosystem. The research brought transparency to the large pricing differences between legacy, all-in-one networking models and the hyperscale-inspired model of disaggregated hardware and software.
In contrast to white-box switching from ODMs, Gartner describes a new, branded open hardware ecosystem, like Dell's open networking products and Juniper's new OCX. Specifically, Gartner analyst Andrew Lerner coined the term "brite box" to refer to the "branded white-box switch," which is part of a category of hardware expected to accelerate the trickle-down effect of hyperscale networking technologies to the broader data-center community.
Facebook's Altoona open network hardware data center. In November, Facebook published details of its Altoona data center design (pictured below), showing how it's using highly redundant, one rack unit bare metal switch hardware that's fully automated by centralized controllers to build one of the most resilient data center fabrics in the world.
While Facebook built in-house software specific to its needs, aspects of its design are readily applicable to data centers worldwide.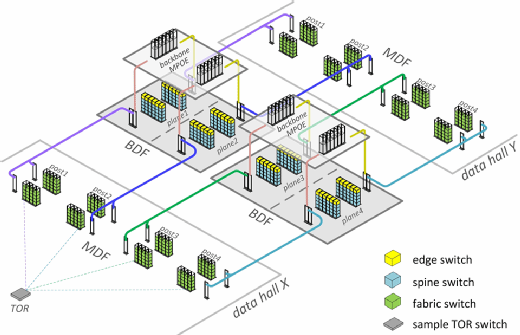 The disaggregation of hardware and software in networking shown by these announcements is driving faster innovation in both the hardware ecosystem and the software ecosystem. On the hardware side, Juniper's announcement comes only nine months after Dell's -- a short period in a world of three- to five-year hardware lifecycles.
On the software side, innovations like SDN controllers that manage data center fabrics are advancing the field as a complement to the more traditional FTOS (Force10 OS) or stripped-down Junos OS options. These new management approaches are equally critical as modern designs embrace a tier of simple hardware devices, replacing a few large chassis and highly automated operations. Inspired by hyperscale operations, the fundamental ways in which engineers interact with networking equipment at data center scale is changing.
This is an exciting time to be in networking.
Let us know what you think about the story; email: James Maimonis, Associate Editor, SearchSDN.com.
Next Steps
Dell switches power Big Switch SDN
Dell NFV is starting point for service providers
Midokura open sources software, aligns with OpenStack
This was last published in
January 2015