News
Stay informed about the latest enterprise technology news and product updates.
Survey: Security tops networking priority list
SearchNetworking.com's annual Networking Report Card survey finds that security is the top priority of many IT professionals. IP telephony is becoming more popular, but wireless LAN hype isn't translating into enterprise implementations.
According to a recent survey conducted by SearchNetworking.com, security products are at the top of many networking pros' wish lists.
Forty-seven percent of respondents to SearchNetworking.com's 2003 Networking Report Card survey said that network security would be among the initiatives that receive the greatest resource commitments from their organizations next year. Network and operating system upgrades finished second, with 34%, and virtual private networking (VPN) was third, with 26%.
The results of the survey were unveiled at this year's Networking Decisions conference, which is organized by TechTarget, the publisher of the family of Web sites that includes SearchNetworking.com; 349 randomly selected SearchNetworking.com members took the online survey this summer.
Zeus Kerravala, a vice president with the Boston-based analysis firm Yankee Group, said it's likely that a combination of factors are making companies realize they can no longer "skimp" on security, not just the recent string of viruses and worms.
"Those dangers are always out there. [Companies] are trying to get their security implementations up to a specific point where they can start to feel comfortable," Kerravala said.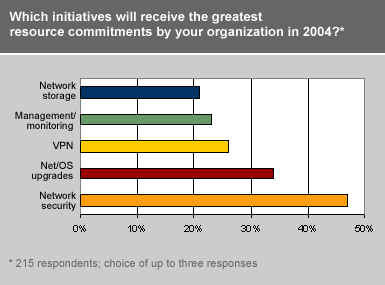 He added that the results parallel a recent Yankee Group study in which three-fourths of IT professionals said that they were uncomfortable with their company's level of network security.
Gregg Nicholas, a network manager for Michigan's Berrien County and a respondent to the survey, said his organization plans to "find money for VPN upgrades sometime in 2004." Money is tight in local governments, but Nicholas said that upgrading security is important, even though it's unlikely that he'll be able to afford top-of-the-line security products.
In a similar survey conducted last year by SearchNetworking.com, 34% of respondents listed security as one of their two most difficult networking-related challenges, but 45% said their companies had significantly improved security during that year.
WLAN hype
Though the growing popularity of wireless LANs has taken the networking industry by storm during the past 18 months, networking professionals aren't caught up in the hype. Of the 215 respondents who answered the question, 71% said that wireless LANs would still be in limited use -- or used and trusted only in niche areas -- by the end of 2004. Just 24% said wireless LANs would be a commonly used and trusted enterprise technology.
Further illustrating that point, 83% said that no more than one quarter of their companies' network traffic would travel over wireless LANs by the end of next year. In last year's survey, 37% percent of respondents said they were investigating wireless LANs, but not yet deploying them, mainly due to security concerns.
Nicholas said that while his organization has considered wireless LANs, it doesn't feel the technology is secure in and of itself. "Proper management requires expensive utilities and hardware," he said, which isn't feasible in today's difficult economic environment.
Kerravala said that the large amount of publicity surrounding wireless LANs has far exceeded the number of companies implementing them. He said many firms see them simply as an unnecessary way to extend their existing wired networks.
"At most companies, workers stay at their desks. They don't need that level of mobility," Kerravala said. "You're also talking about dropping the network's speed from the gigabits down to 11 Mbps. So I think it's going to be a long time before we see the wireless enterprise."
VoIP's second wind
Attitudes may be shifting in favor of Internet Protocol (IP) telephony. Fifty-six percent of respondents said they believe that IP telephony will be used by more companies by the end of 2004 because of either financial or technical benefits. Only 12% called the technology unreliable, difficult to implement or unnecessary.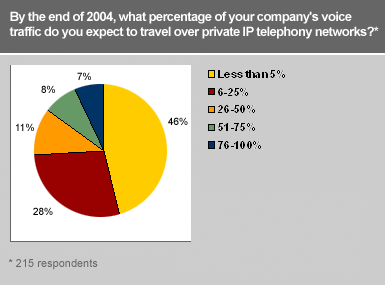 However, most of those people won't likely be rushing out to purchase IP telephony products. When asked how much of their own companies' voice traffic would travel over private IP telephony systems by the conclusion of 2004, 74% of respondents said it would be 25% or less.
Rob Enderle, principal analyst for the Enderle Group in San Jose, Calif., said IP telephony is an up-and-coming technology with a solid value proposition, but nobody knows when it will be ready for widespread implementation.
"Current products have been less than thrilling. Latency has been high, and with your phone service, you just want it to work," Enderle said.
Doug Porter, a systems analyst with Apex Microtechnology Corp. in Tuscon, Ariz., and a respondent to the survey, said his company isn't interested in moving to voice over IP systems right now because of the need to maintain a local carrier-to-telco connection for its local long-distance service.
"The VoIP carriers we've looked at so far haven't been able to provide that 'last mile' connection to the telco or been able to cover both the local and local long-distance connection," Porter said.
Here are a few other notable findings:
Fifty-three percent said that they expect to update or replace only up to one quarter of their networking equipment and software by the end of next year.
Thirty-six percent said that they envision that, by the end of 2004, the primary role of network management technology will be to alert staff to network problems before they occur, but 34% said that it would be most commonly implemented to tie network and applications functions to business processes.
Twenty-eight percent said that Gigabit Ethernet would be the most crucial upgrade to their enterprise infrastructures between now and the conclusion of 2004, while IP VPNs came in second with 22%.
FOR MORE INFORMATION:
See the results from the 2002 SearchNetworking.com Report Card survey.
Read more of our coverage of Networking Decisions 2003.
Dig Deeper on Network Security Best Practices and Products