News
Stay informed about the latest enterprise technology news and product updates.
Survey results show networking spending will rise
Spending on networking-related technology will rise slightly next year, according to new research from SearchNetworking.com.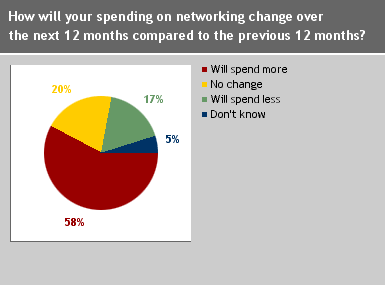 A recent survey conducted by SearchNetworking.com uncovered some encouraging news for the networking industry.
In the next year, 58% of the nearly 1,000 respondents to the Networking Report Card survey said their spending on networking would increase; 20% said it would remain at current levels. Security is an increasing priority. New technologies that companies are considering but are not yet doing large deployments with included wireless local area networks and voice over Internet protocol (VoIP). Overall, IT professionals seemed to cautiously indicate that things are looking up.
Dave Passmore, research director at Midvale, Utah-based Burton Group, said that he expects to see a mild increase in spending next year. "From the enterprise equipment vendor point of view, the enterprise market is healthy," he said.
Survey respondent Brent Barker, a network systems security analyst at the Carlsbad, Calif.-based wireless product company ViaSat, said he has seen some increase in budgets for spending on security and also for network hardware. Some of that is for replacing 3Com switches that are being discontinued.
While a few years ago the booming economy allowed companies to invest in new technology and experiment with innovations, today those investments are being held up to tougher standards, the survey found. Thirty-five percent of respondents said cutting costs was the most important networking priority.
Respondent Chuck Talk, a senior technical trainer with Austin, Texas-based relational database provider Pervasive Software, said return on investment has become the key criterion for deploying new technology.
Passmore is seeing the same thing in the market. Though most people do no have the time to produce actual numbers, he said they are going on their gut feelings about whether investments will pay for themselves.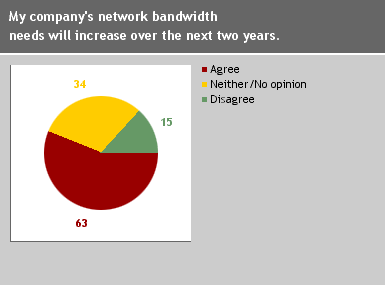 Security seems to be helped in this environment because companies are beginning to see it as an important priority. Barker has seen his security budget grow. "They are finally starting to see the light," he said.
Despite the buzz about wireless local area networks (WLANs), the technology is not faring as well as the chatter might suggest, according to the survey. Thirty-seven percent of those responding to the survey said they were investigating it but not yet deploying it. Many other companies have only small deployments in place.
Respondent Beth Weibusch, director of computer support at the University of Wisconsin, Madison, said she has done limited rollouts of wireless in student unions and other areas around campus. More areas will be covered in the coming years.
Thirty-one percent of participants listed security as a central reason for avoiding the technology. It has been a major concern for Barker. He said the company has a limited WLAN system but that it is a standalone system that does not connect to the company's own network.
Voice over Internet protocol faces similar problems. Talk said quality is not really there yet. Passmore said VoIP is mostly limited to new installations where companies have not yet put in a PBX.
Editor's note: A detailed presentation of the survey findings will be given by TechTarget's vice president of editorial, Paul Gillin, in a live webcast on Oct. 22 at 1:00 pm EDT.
Networking report card: A SearchNetworking.com research report