Fotolia
News
Stay informed about the latest enterprise technology news and product updates.
Biggest SDN and SD-WAN news and trends of 2017
Check out the top SDN and SD-WAN news and trends stories from 2017 to prepare for what comes next in 2018.
It can certainly be said that 2017 was a year of disruption.
The disruption, of course, refers to the major SDN and SD-WAN news and trends that occurred throughout the year. If you want to review the highlights from a software-defined perspective, the SearchSDN 2017 timeline below can help you refresh yourself on what happened and get prepared for what happens next.
But first, to set the stage, SD-WAN news continued to steal the show in terms of market attention, vendor moves and new services announcements, as SD-WAN adoption increased throughout the year. SD-WAN global revenues surpassed $300 million, and the number of operational SD-WAN sites passed 90,000, according to a Frost & Sullivan study released in October. Analysts expect SD-WAN to continue growing throughout the next few years.
As predicted in 2016, vendor consolidation disrupted the SD-WAN market in 2017. The first major announcement came from networking vendor Cisco, who set its acquisition sights on Viptela, a leading SD-WAN vendor. VMware followed a few months later with its intention to acquire VeloCloud. Speculation continues about which vendors will be next to move.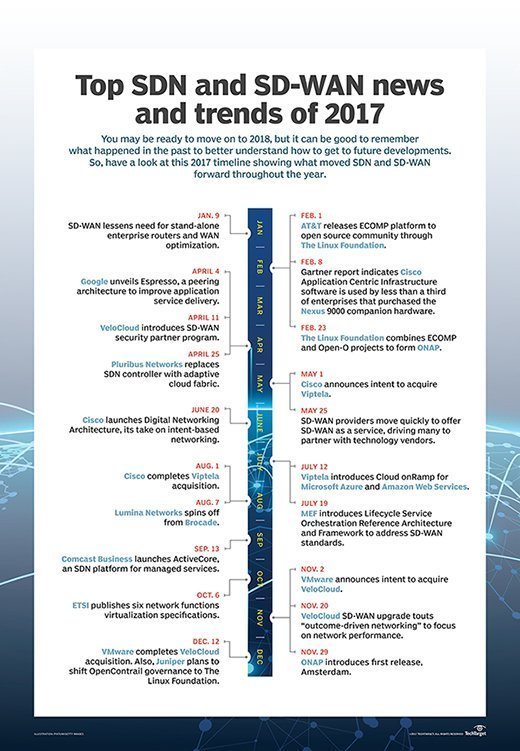 While the SD-WAN vendor market might have started shrinking in 2017, service providers looked to grab their piece of the SD-WAN pie. In hopes of remaining competitive within a changing industry, a slew of service providers formed partnerships with SD-WAN vendors to offer their own managed services to customers. A short list of managed SD-WAN service providers includes AT&T, Sprint, Verizon, Windstream, MegaPath, Global Capacity, Orange Business, Masergy and Telefónica.
What about SDN? It has garnered its own share of hype in the past few years. While SDN might not be living up to its originally defined expectations in some aspects, it can be credited with spurring interest in SD-WAN technology, policy-based networks and a broader software-based networking initiative.
Now, here are the SDN and SD-WAN news stories that grabbed our attention this year.
For further reading, view some of the top stories below: