News
Stay informed about the latest enterprise technology news and product updates.
SolarWinds' AppOptics melds network device monitoring, app behavior
SolarWinds launches new network device monitoring, AppOptics, with app behavior analysis; Ruckus deploys new switches; and a new report pinpoints a worrisome rise in the number of DDoS attacks.
SolarWinds has beefed up its cloud monitoring platform with tools that allow managers to track both application...
Continue Reading This Article
Enjoy this article as well as all of our content, including E-Guides, news, tips and more.
performance and infrastructure components in a single view.
The upgrades to SolarWinds' Cloud software-as-a-service portfolio include a new application, as well as updates to two existing products.
The new network device monitoring application, AppOptics, uses a common dashboard to track application performance metrics and network component health -- both within the enterprise network or throughout a public cloud provider's network.
The software combines two existing SolarWinds cloud monitoring apps, Librato and TraceView, into a single network device monitoring product, said Christoph Pfister, executive vice president of products at the company, based in Austin, Texas. Initially, AppOptics will support both Amazon Web Services and Microsoft Azure; support for other providers could be added at a later date, Pfister said.
"Infrastructure and application monitoring are now in separate silos," he said. "We are trying to integrate them. The digital experience has become very important. But behind the scenes, applications have become very complex, making monitoring and troubleshooting challenging."
AppOptics uses downloaded agents to collect tracing, host and infrastructure monitoring metrics to feed a common dashboard, through which managers can keep tabs on network device monitoring and application behavior and take appropriate steps in the wake of performance degradation.
In addition to launching AppOptics, SolarWinds added a more powerful search engine and more robust analytics to Papertrail, its log management application. And it added capabilities to Pingdom, a digital experience measurement tool, to allow enterprises to react more quickly to issues that might affect user engagement with a website or service.
Both AppOptics and Papertrail are available Nov. 20; SolarWinds will release Pingdom Nov. 27. All are available as downloads from SolarWinds. The cloud monitoring platform is priced at $7.50 per host, per month.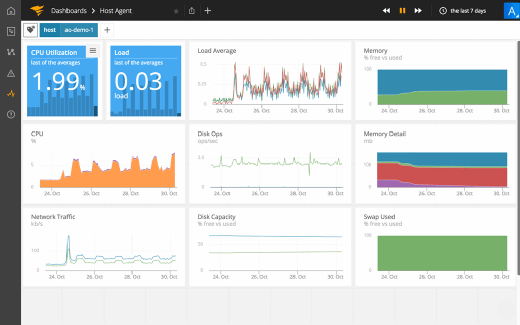 Ruckus launches high-speed WLAN switches
Ruckus Wireless Inc. introduced a new group of wireless LAN switches engineered to support network edge and aggregation functions.
The new switches, the ICX 7650 series, come in three models, including a multi-gigabit access switch that supports both 2.5 Gbps and 5 Gbps throughput; a core switch with Layer 3 features and up to 24 10 Gbps and 24 1 Gbps fiber ports of capacity; and a high-performance gigabit switch that can be deployed as a stack of up to 12 switches.
"As more wireless users access cloud and data-intensive applications on their devices, the demand for high-speed, resilient edge networks continues to increase," said Siva Valliappan, vice president of campus product management at Ruckus, based in Sunnyvale, Calif., in a statement. "The ICX 7650 switch family captures all these requirements, enabling users to scale and future-proof their network infrastructure to meet the increasing demand of wired and wireless network requirements for seven to 10 years," he added.
The switches, available early next year, are priced starting at $11,900, Ruckus said.
DDoS attacks on rise, thanks to IoT
Distributed denial-of-service, or DDoS, attacks have risen sharply in the past year, according to a new security report from Corero Network Security.
The firm, based in Marlborough, Mass., said Corero enterprise customers experienced an average of 237 DDoS attempts each day during the third quarter of 2017, a 35% increase from the year-earlier period and almost double from what they experienced in the first quarter of 2017.
The company attributed the growth in attacks to DDoS for-hire services and the proliferation of unsecured internet of things (IoT) devices. One piece of malware, dubbed the Reaper, has already infected thousands of IoT gadgets, Corero said.
In addition, Corero's study found that hackers are using multiple ways to penetrate an organization's security perimeter. Some 20% of attacks recorded in the second quarter of 2017 used multiple attack vectors, the company said.
Finally, Corero said ransom-oriented DDoS attacks also rose in the third quarter, attributing many of them to one group, the Phantom Squad, which targeted companies across the United States, Europe and Asia.
Dig Deeper on Network application performance