momius - Fotolia
News
Stay informed about the latest enterprise technology news and product updates.
SteelCentral NPM upgrades to bolster SD-WAN portfolio
Riverbed releases upgrades to SteelCentral NPM to enable customers to apply network performance metrics to their SD-WAN connections. Also, Riverbed adds Zscaler security.
Riverbed Technology Inc. has introduced enhancements to its network performance monitor and integration between...
Continue Reading This Article
Enjoy this article as well as all of our content, including E-Guides, news, tips and more.
its SD-WAN product and cloud-based security provider Zscaler Inc.
This week's announcements are related because the SteelCentral NPM is used on cloud-based business applications served by the SteelConnect SD-WAN. The latter routes traffic from a company's branch to online software, the corporate data center or the internet.
A SteelCentral NPM module called Insights integrates with SteelConnect and provides information on usage and availability of the SD-WAN. "As time goes on, we're going to have more and more functionality from the SteelCentral side into SteelConnect and other appliances in the Riverbed portfolio," said Milind Bhise, the senior director of product marketing at Riverbed.
SteelCentral improvements
The SteelCentral platform is best suited for large networks requiring application performance analysis across WAN connections. New features in the latest version of the SteelCentral NPM software include integration between its Aternity module and ServiceNow's online customer service management product.
Aternity monitors the performance of applications running on the web, virtual desktops and mobile devices. The integration makes it possible for ServiceNow to generate trouble tickets automatically when performance thresholds are not met.
Other enhancements include the ability to add SteelCentral monitoring of containers without changing them. A container is an OS-level virtualization method for deploying and running applications. The feature works alongside container orchestrators, including Kubernetes and Docker Swarm.
The latest SteelCentral iteration adds log messages from network devices to application performance data to assist developers and support troubleshooting. Starting with the log data, engineers can trace application activity to locate the source of the problem. The feature eliminates the need for a separate log analytics tool, Riverbed said.
Finally, Riverbed introduced a 40 Gbps network interface card for Riverbed appliances running SteelCentral and other products. The NIC doubles the traffic flow capacity.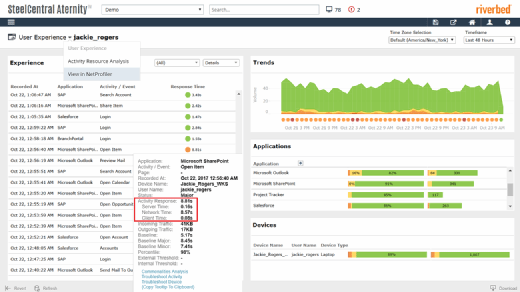 SteelConnect with Zscaler
The SteelConnect-Zscaler integration makes it possible to use the former to direct internet traffic to the cloud-based security service. Zscaler products include a secure web gateway, firewall and data loss prevention tools.
SteelConnect customers would buy Zscaler separately, but access its portal through the SD-WAN product's console.
SD-WAN vendors are adding services to their core products to make them an all-in-one networking product for branch offices. Along with security, vendors are tacking on WAN optimization and edge routing.