Sergey Nivens - Fotolia
News
Stay informed about the latest enterprise technology news and product updates.
SD-WAN-only devices disappearing as market matures
Companies want SD-WAN to become a piece of a multifunction network appliance for the branch. Therefore, SD-WAN vendors are adding WAN optimization, firewalls and IP services.
SD-WAN is evolving from stand-alone technology to just another feature within WAN edge appliances that deliver...
Continue Reading This Article
Enjoy this article as well as all of our content, including E-Guides, news, tips and more.
multiple application-centric services to remote and branch offices.
The trend is due to an alignment between the interests of SD-WAN vendors and enterprises. The former sees revenue potential in SD-WAN's rising popularity while the latter wants consolidation of network infrastructure for the branch.
In a survey scheduled for release next month, the Enterprise Strategy Group, based in Milford, Mass., found that 60% of IT organizations in medium to large companies preferred SD-WAN as a feature within a broader package of branch network services. Only 36% of the 300 respondents thought of the technology as a stand-alone product.
SD-WAN vendors that deliver the traffic-routing software the way customers want will have access to a fast-growing market. IDC estimates revenue from SD-WAN infrastructure and services will increase nearly 70% annually to more than $8 billion in 2021.
SD-WAN's attraction
Enterprises are turning to SD-WAN-only appliances to lower the cost of connecting branch offices to cloud-based business applications. Rather than backhaul all traffic to the corporate data center, companies can separate packets marked for the cloud and send them directly to the internet -- a faster and less expensive option.
Startups selling SD-WAN appliances that plug into an enterprise's network infrastructure have dominated the market for the last few years. Today, companies are looking for more versatile hardware that incorporates SD-WAN, WAN optimization, firewalls and IP services such as voice over IP.
"With time, you'll see SD-WAN products shift from dedicated single-function hardware to software loads on multifunction appliances," said Andrew Lerner, an analyst at Gartner.
Suppliers on that path include Cisco, CloudGenix, Nokia-owned Nuage Networks, Riverbed, Silver Peak, VeloCloud Networks Inc. and Versa Networks. The vendors, however, are not equal.
"They might architect their solutions differently, use different nomenclature, have different approaches to building a partner ecosystem, and be further or lesser along the path to bringing the vision to fruition," said Brad Casemore, an analyst at IDC.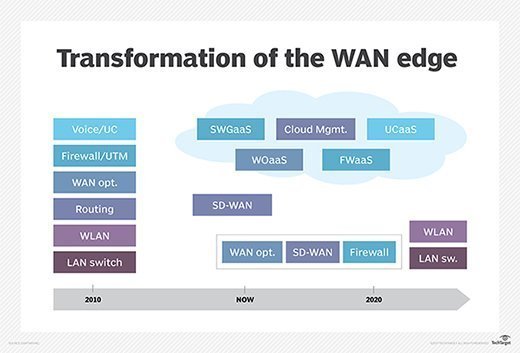 Choosing the right SD-WAN vendor
More than 40 companies sell WAN edge infrastructure, including SD-WAN, so trying to separate those with products that match an organization's needs will take work. In a recent market report, Gartner had recommendations for making the right choice:
Everything should begin with the applications served by the network. Technologies that meet their requirements are the best candidates for the shortlist.
Choose an SD-WAN vendor with products that are in line with the organization's long-term WAN and application architecture. Purchases shouldn't operate in a silo.
Companies ready for an edge router refresh or replacement should consider SD-WAN alternatives.
Do not assume that a single set of WAN edge functionality will fit the needs of every business unit and branch office. Create a list of requirements for each location.
Finally, because SD-WAN favors the use of broadband for internet connectivity, do not assume legacy MPLS connections for applications are dead. Gartner expects a mixture of internet and MPLS connections to provide enterprises with the needed performance, reliability and security for the next three years.
Dig Deeper on Software-defined WAN (SD-WAN)