tasssd - Fotolia
News
Stay informed about the latest enterprise technology news and product updates.
InfoVista Ipanema 9.2 supports WAN trend toward internet connectivity
InfoVista releases Ipanema 9.2 as more enterprises transition to internet-only sites or hybrid WAN with MPLS connectivity. Also, Versa Networks teams up with CA Technologies.
InfoVista this week upgraded its Application Aware SD-WAN service to support enterprises moving away from high-priced MPLS to connect their branch offices. The Ipanema 9.2 release, available now, is intended for companies transitioning from MPLS to hybrid WAN or internet-only connectivity for their WANs.
Ricardo Belmar, InfoVista's senior director of worldwide enterprise product marketing, said many InfoVista customers are interested in adding internet links directly to their branch locations, so "internet traffic doesn't have to be routed through the MPLS network and back out." By adding internet links, customers can avoid potential performance issues.
As a result, Belmar said customers are combining MPLS with internet connections like DSL, cable, fiber, 4G Long Term Evolution (LTE), Ethernet over copper or through a virtual private network (VPN).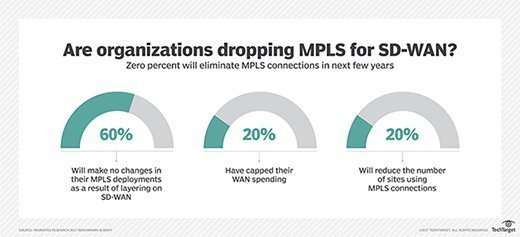 More and more enterprises -- especially manufacturers, retailers and banking services -- are realizing the benefits of these internet options, said John Burke, analyst at Nemertes Research in Mokena, Ill. With connectivity like LTE, new site locations can be spun up more quickly.
"Even if LTE is not the go-ahead choice, as an initial -- and ongoing backup -- option, it can get network provisioning entirely out of the way of the business processes involved in launching a new branch," he said.
Belmar said InfoVista has seen its customers move in this direction.
"The main thing [with Ipanema 9.2] is the ability for the enterprise to mix its environment with these internet-only types of branch location [connectivity] -- and doing that without the need for an extra internet router," Belmar said.
Not only does InfoVista's SD-WAN appliance replace the functionality of an internet router, it also has the ability to originate and terminate VPNs on both ends of the connection, so there is no need for an extra device, Belmar said. InfoVista's appliance is available as both physical and virtual appliances with built-in functionality.
The Ipanema 9.2 release also includes a new high-availability feature for enterprises that require redundancy in their networks. By using multiple connected appliances, customers can eliminate single points of failure related to hardware.
VeloCloud promises ISPs 30-day activation time for its SD-WAN technology
VeloCloud this week revealed a program it contends will let service providers roll out managed SD-WAN services more quickly to their customers.
The program, Ready Set GO, is designed to allow providers to launch services within 30 days, said Mike Wood, VeloCloud's vice president of marketing.
"We've turned [the process] into a formula that creates a model where we can get you up and running -- and we know we can -- in 30 days if you follow this set of steps, this prescription," he said.
Ready Set GO focuses on legal aspects, operations, logistics, sales, marketing and bringing the service to market. In addition, VeloCloud informs the service provider which team members will be needed throughout the process, their responsibilities and who they'll correspond with at VeloCloud, Wood said. Since many of these requirements continue after the SD-WAN service goes to market -- like marketing and campaign support -- VeloCloud continues to work closely with the service provider, he added.
According to IDC, the SD-WAN market -- including vendor and service provider services -- will reach $8 billion by 2021. With Ready Set GO, Wood said VeloCloud is attempting to satisfy the growing demand by service providers to offer SD-WAN services to their own customers to remain competitive.
Service providers are automatically included in the program and Wood said there are no fees or licensing required to participate in the program.
"We activate the program even before we have a final contract signed with the carrier, so we don't require them to have all the master agreements signed," he said. "We kick all this off, prime the pump with them, so when all this is signed off with them, they're ready to go."
VeloCloud also said it is serving 50 service providers and more than 1,000 enterprise customers through its SD-WAN channel partner program. Current service providers using VeloCloud to power their SD-WAN service include AT&T, EarthLink, Global Capacity, IBM, MegaPath, MetTel, Mitel, Sprint, Vonage and Windstream Communications. Additionally, Wood said he expects another two dozen service providers will be releasing SD-WAN services through Ready Set GO before the end of the year.
Versa adding visibility in pact with CA Technologies
Versa Networks is integrating its SD-WAN technology into CA Technologies' network management software to let users access application performance management data from both their SD-WAN and network infrastructures.
The combination of Versa's Cloud IP Platform and CA's Network Operations and Analytics platform will expand monitoring capabilities across an organization's entire network infrastructure, while adding more thorough real-time visibility into application performance and potential problem points in the network, the companies said.
CA Technologies previously partnered with Viptela to combine its network performance management with Viptela's SD-WAN services. Cisco finalized its acquisition of Viptela earlier this week.
Meantime, China Telecom Global Limited said it would use Versa's SD-WAN and software-defined security services to underpin its managed SD-WAN offerings worldwide. China Telecom joins other service providers, including CenturyLink, Colt Technology, Comcast Business, Tata Communications and Verizon, which have partnered with Versa Networks.
Dig Deeper on Software-defined WAN (SD-WAN)