Denys Rudyi - Fotolia
News
Stay informed about the latest enterprise technology news and product updates.
Ethernet switch market shows growth, IDC report says
IDC's quarterly report shows continued Ethernet switch market growth; Cisco says global IP traffic will almost triple by 2021; and CenturyLink launches managed Wi-Fi service.
Global sales in the Ethernet switch market topped $5.6 billion during the first quarter of 2017, an increase of...
Continue Reading This Article
Enjoy this article as well as all of our content, including E-Guides, news, tips and more.
3.3%, according to IDC's most recent Worldwide Quarterly Ethernet Switch Tracker.
At the same time, the enterprise and service provider router market posted $3.35 billion in revenue, a decrease of 3.7%. Despite posting a 3.5% decline in Ethernet switching sales, Cisco retained its market lead, with a share of 55%, IDC said. Hewlett Packard Enterprise's share of the market rose from 5% to 6%, while Arista Networks grew its market share from 3.9% to 5.1%. Juniper also performed well, with a 39.2% increase in Ethernet switch market revenue, IDC said.
Africa and the Middle East notched the strongest growth in the Ethernet switch market, while Western Europe and Asia-Pacific recorded growth rates above the overall market. On the other hand, North America, with a sales growth of 2.5%, lagged the market.
"The Ethernet switch market, across the enterprise and data center segments, is characterized by two competing forces: faster speeds and increased standardization," said Rohit Mehra, IDC's vice president of network infrastructure, in a statement. "Both forces drive port shipments up, but price erosion from standardization and product maturity means that improved price performance becomes more important across regions," he added.
Ethernet port revenues reflected the shift data centers are making to higher-speed connectivity. Switch revenues for 10 Gigabit Ethernet fell 1.6% in the period between the first quarter of 2016 and Q1 2017, while 10 GbE port shipments jumped 24% to 10.7 million. Switch sales for 40 GbE fell 7.2%, as port shipments dropped 22%. But 100 GbE sales more than tripled, and port shipments jumped sevenfold, IDC said, as data centers deployed the emerging standard.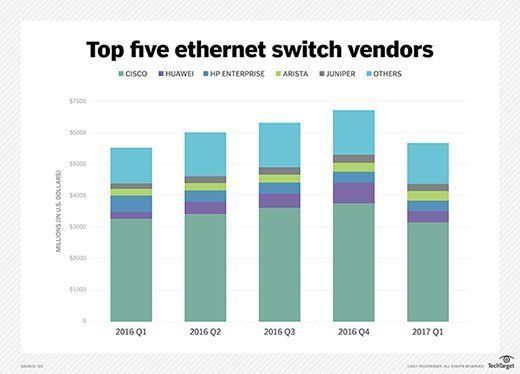 CenturyLink and Meraki team for managed service
CenturyLink has announced the launch of a new managed monitoring and Wi-Fi service that uses technology from Cisco's Meraki wireless unit.
The new offering is aimed at enabling customers to efficiently deploy, monitor and manage Wi-Fi networks, software-defined WAN, security systems, phones and video surveillance. The system is designed for single or multisite customers and is monitored, maintained and configured by CenturyLink on a monthly, per-device pricing model. It is designed to integrate with other CenturyLink systems, such as Fiber+, Managed Office and Location-Based Analytics. The new service comes as research from IDC indicates cloud-managed Wi-Fi could reach $3.3 billion in revenue by 2021.
"CenturyLink Managed Enterprise with Cisco Meraki leverages our deep expertise in networking, communications and managed services to deliver Cisco Meraki solutions spanning wireless, analytics, video, network switching, SD-WAN and video surveillance," said Troy Trenchard, vice president of product management for CenturyLink, in a statement. "This enables customers to minimize the number of devices on site and easily access information through a single, cloud-based interface," he added.
Report: Global IP traffic to soar
Global IP traffic will continue to soar over the next half-decade, surpassing 3 zettabytes by 2021, up from 1.2 zettabytes in 2016. The number of internet users is also expected to balloon, reaching 4.6 billion people, which is 58% of the world's population. The rapid increase in traffic will result from growing adoption of M2M devices and personal devices, increased broadband speeds and higher video viewership.
The findings, released as part of Cisco's 2017 Visual Networking Index, predicted that machine-to-machine connections needed to support the internet of things will comprise half of the 27.1 billion devices in service, although the traffic from M2M may only account for 5% of global IP traffic.
Video is expected to continue to dominate global IP traffic, generating as much as 80% of internet traffic in the early 2020s -- an increase from the 67% video content accounts for today. Cisco projects that live streaming videos will account for 13% of internet video traffic, with a growing role for virtual reality, which may approach 1% of the projected global IP traffic dedicated to entertainment by 2021.
Next Steps
How global networks are changing IT
The science of virtual routers
SMBs grow more reliant on technology