Fotolia
News
Stay informed about the latest enterprise technology news and product updates.
New Aruba core switch addresses large campuses, IoT
The first Aruba core switch provides the performance, analytics and automation for supporting large campus networks with IoT deployments.
Aruba has launched a core and aggregation switch that has the necessary throughput, network automation and analytics for large campus networks that support internet-of-things applications.
Aruba, a Hewlett Packard Enterprise company, introduced the 8400X series this week at the company's Discover Conference in Las Vegas. The modular Aruba core switch fills a gap in the company's product line, which had only covered the campus access and distribution layers.
Aruba moves up the food chain with the 8400X, which has 19.2 terabits per second of switching capacity in an 8U chassis. The switch supports a maximum of 256 ports of 10 Gigabit Ethernet each, 64 of 40 GbE or 48 that are a combination of 40 GbE and 100 GbE.
By comparison, Aruba's previously largest switch was the 5400R, which came in a six- or 12-slot chassis and could push frames and packets up to 960 Gbps. The 5400R is built for midsize distribution or collapsed-core campus architectures.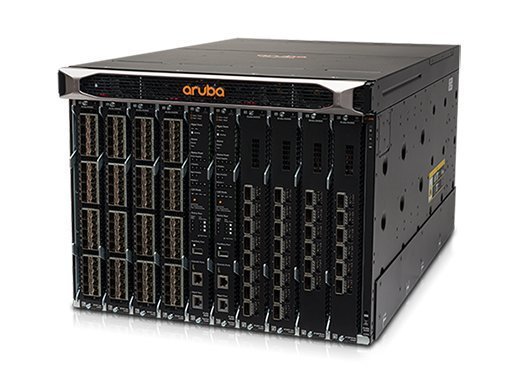 Aruba core switch intelligence
Along with throughput, the 8400X comes with the intelligence and programmability needed to address the complexity of large campuses and internet-of-things (IoT) deployments. The hardware's ArubaOS-CX operating system has built-in Python scripts for automating network tasks and REST APIs for accessing configuration statistics and other data.
"This switch is actually designed from ground zero, so everything is available through a REST API," said Christian Gilby, product marketing director for the Aruba core switch.
Data drawn from the switch can be integrated with other Aruba products, such as its ClearPass security software, AirWave management system for access points and the Niara security analytics engine.
Also, Aruba has built into the 8400X an analytics engine for monitoring the network and troubleshooting problems. The engine has a built-in time series database that developers can tap when making, for example, software modules that use historical trends to predict future problems.
Overall, the Aruba core switch will appeal to companies with large campus networks that support data-intensive IoT applications, said Rohit Mehra, an analyst at IDC. Those organizations could have applications for tracking equipment, running surveillance cameras or powering video conferencing systems.
"The deployment scenarios they [Aruba] can now address are certainly broader than they've been able to do in the past," Mehra said.
Hewlett Packard Enterprise is the second-largest Ethernet switch manufacturer behind Cisco. In North America, HPE is one of Cisco's biggest competitors in the campus switch market. The company differentiates itself from its larger rival by taking a more open source approach to networking software.