isoga - Fotolia
News
Stay informed about the latest enterprise technology news and product updates.
Low-cost Aerohive Connect manages more access points, switches
Aerohive Connect, a low-cost management option for small WLANs, is available across the vendor's access points and switches. Aerohive also cut hardware prices by as much as $600.
Wireless LAN vendor Aerohive Networks is making an aggressive push into the low-end of the market by lowering the prices of access points, or APs, and making its barebones cloud-based management software available across the product portfolio.
The company announced this week that Aerohive Connect was supported in all APs. Also, the vendor recently dropped the price of its mid-tier and high-end APs and switches by $200 to $600, depending on the model.
Aerohive has increased the monthly subscription price of its cloud-based Select software for managing WLANs big enough to require enterprise-class features, such as security, load balancing and application controls. However, the vendor claims the lower hardware prices amount to a 10% reduction in the total cost over three years.
Aerohive introduced Connect in January and made it available only with the AP122 and AP130 access points, which sold for $229 and $299, respectively. The APs are for WLANs that serve up to 500 devices.
The latest announcements add APs that cost as much as $1,129 each and can be used in WLANs that support more than 1,000 devices. Aerohive has also built Connect support into access switches that range in price from $649 to $1,189, depending on the number of ports.
Connect and Select are based on Aerohive's HiveManager NG, which is available in the cloud or on premises as a virtual or hardware appliance. Connect users can access community support through Aerohive's HiveCare customer portal at no charge. Support that provides access to Aerohive technicians costs $80 annually per AP.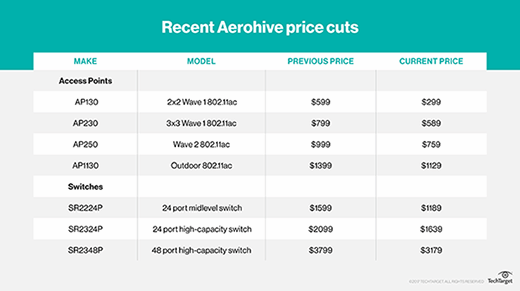 Aerohive Connect competitors
Cisco and Ruckus Wireless, which ARRIS International recently acquired, also have entry-level products that compete with Aerohive Connect. The vendors sell the products to attract small companies that could upgrade to more expensive wireless gear in the future.
Aerohive, which is strongest in education, retail and hospitality markets, is particularly aggressive on price, said Nolan Greene, an analyst at IDC. "There is an opportunity to draw the customer in on the price of Connect, upsell them during the sales process or at some point in the future when the customer's requirements heighten."
Featurewise, WLAN vendors are finding it harder to differentiate, said Maribel Lopez, founder of Lopez Research based in Healdsburg, Calif. Therefore, Aerohive is cutting prices and expanding the availability of Connect to show "it's easier to do business with."
The enterprise WLAN market grew by 7.2% last year to $5.4 billion, according to IDC. WLAN upgrades drove the growth as companies sought to support the increasing number of mobile devices and business initiatives, such as the internet of things.
Next Steps
WLAN testing from planning to documentation
The WLAN architecture for a mobile workforce
Reducing security risks in the WLAN