News
Stay informed about the latest enterprise technology news and product updates.
Data center forecast for 2017 focuses on SD-WAN, infrastructure management
Eric Hanselman, 451 analyst, cites interconnect technologies and deployment of infrastructure management techniques as key data center forecast trends.
Cloud computing -- along with the World Series champion Chicago Cubs -- drew a ton of attention in 2016. But to all of those who believe enterprises are now ready to abandon their own data centers for ones operated by Amazon, Microsoft and Google, 451 Research chief analyst Eric Hanselman has three words of advice: Not so fast.
Hanselman, a longtime observer of the trends shaping data center management and networking overall, said the notion of "cloud taking over everything" in 2017 is, at best, premature and, at worst, misguided.
"There are a lot of data centers out there," Hanselman said, sharing his 2017 data center forecast with SearchNetworking. "When you talk about the cloud, it still represents a very small percentage of the overall IT capacity that is out there."
Cloud adoption shift will take time
That said, 2016 did mark the first time enterprises spent more on computational services than they did on purchasing data center hardware. "But there remains a lot of installed equipment out there," Hanselman said. "We are not in an all-cloud world, and while we may be moving down that road, there are so many aspects opposed to that momentum that have to be overcome."
Chief among them, staffing and legacy infrastructure. Ensuring people are trained and processes are in place to make the shift to cloud networking will take time, Hanselman said. In addition, retooling the data center will be a significant challenge. "There are all these core systems that have this very sturdy chain attached to slow the shift in which businesses are managed."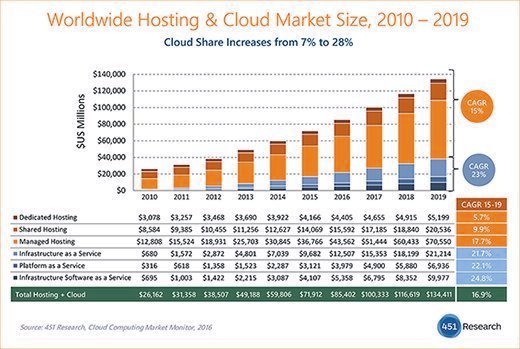 Even as that process occurs, enterprise data center managers in 2017 will be focusing on more prosaic -- yet critically important -- issues, Hanselman said. Wide area networking and interconnection have taken a leap forward, propelled in large part by the development of SD-WAN services. "SD-WAN is something that enterprises can understand, and it has a direct and measurable impact," Hanselman said. "You can dip your toe in the water to derisk the transition [to software-defined networking, or SDN]."
Data center forecast: Microsegmentation takes root
SD-WAN is something that enterprises can understand, and it has a direct and measurable impact.

Eric Hanselmanchief analyst, 451 Research
The growth in enterprises using either VMware's NSX or Cisco's Application-Centric Infrastructure to anchor their SDN initiatives is also beginning to make an impact. VMware said it has more than 1,700 NSX customers, while Cisco now counts some 2,700 companies as using its hardware-centric version of SDN. Among the most telling outcomes of these deployments: More enterprises are examining advanced microsegmentation, a valuable weapon in the ongoing battle to shore up network security, Hanselman said. At the same time, enterprises are becoming more familiar with virtual network functions encompassing firewalls and load balancers, enabling them to see how these functions work in a virtualized infrastructure.
Leaf and spine architectures, meantime, will also gain ground next year. "Last year, they were a relatively new concept; this year, there is an understanding of where they fit and the capabilities leaf and spine provide in a data center," Hanselman said. Among other benefits, leaf-spine architectures flatten networks and eliminate traffic bottlenecks.
Data centers will also be evaluating higher-speed Ethernet technology, as interface costs on 100 Gigabit Ethernet continue to drop and the 25 GbE standard receives formal ratification. The latter will allow the use of higher-speed lanes that will help further reduce the cost and quantity of optics needed to support 100 GbE speeds. "I see a lot of potential there," Hanselman said, in his data center forecast.
Finally, Hanselman said he sees more attention paid among data center managers to overall infrastructure management as an extension of application performance management, which is primarily server-based. "This is a key transition for the year ahead, getting organizations to the point where they aren't just managing the network piece, but all of the management pieces. There are too many things that still run through manual paths, and we have to get much better becoming an automated environment."
Dig Deeper on Data Center Networking