Sergey Nivens - Fotolia
News
Stay informed about the latest enterprise technology news and product updates.
IT's biggest challenge? Preventing a network breach
TechTarget purchasing intentions survey reveals that security remains the top networking challenge for IT pros in 2015.
At a time when anyone from Anthem Inc. to the Internal Revenue Service to JP Morgan Chase is vulnerable to a network breach, it's no surprise that maintaining network security is a high priority for organizations around the globe.
Indeed, according to TechTarget's 2015 purchasing intentions survey, network security is the biggest challenge most enterprises say they face. More than half, or 56% of the 1,560 networking pros worldwide polled in the SearchNetworking study, identified it as their main hurdle. Network security was also the No. 1 networking priority for 43% of respondents and the top area of investment, up from the 31% who gave the same answer in 2013, the last time TechTarget measured purchasing intentions.
"Security is dominating network discussions today," said Zeus Kerravala, founder and principal analyst of ZK Research, who consulted for TechTarget on the survey. "I haven't seen security have this much momentum in a long time."
Gone are the days of lone wolf hackers merely looking to flaunt their skills or break into a network for fun. Data breaches are often carried out by organized crime or state interests, with purloined information advertised through flourishing online marketplaces where crooks sell sensitive data for profit. There were 2,122 confirmed data breaches in 2014, according to Verizon's 2015 Data Breach Investigations Report.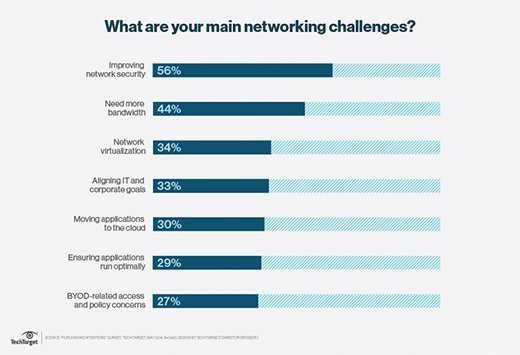 Thomas Holt, a criminal justice professor at Michigan State University, found in 2013 that stolen bank account information, on average, fetched $187.44 per account on the black market. A single "data dump," which typically includes a debit or credit card number along with some of the cardholder's personal information, was worth $102.60 on average. A card verification value -- the three- or four-digit security code on the back of credit cards -- went for an average of $26.21.
Multiply those prices by the millions of compromised accounts in even one large data breach and it's easy to see why this black market is thriving -- and why networking pros subsequently feel a greater sense of urgency to better protect their assets.
Vendors that didn't traditionally emphasize security in their networking are now eager to get in on the game, said Kerravala.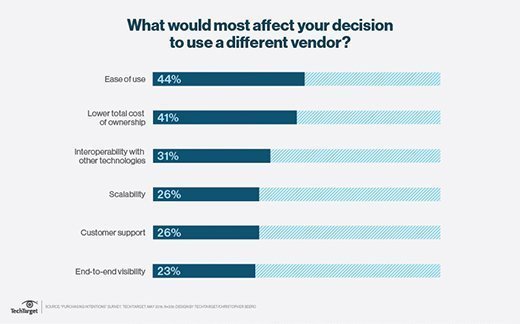 "Look at a company like Gigamon, who is a network management vendor historically. Most of their leads are coming in through security," Kerravala said. "You're going to see more and more of that, even with the wireless vendors trying to position themselves as security vendors."
The need to boost security permeates every angle of networking with 37% of respondents saying they plan to purchase some type of network security and threat detection product over the next 12 months. On the mobile front, 28% of respondents plan to buy security products to shore up their wireless LAN protection. And of the 171 respondents planning to buy routers this year, 36% said the move is driven by a need to integrate security in the wide area network.
But the efficacy of traditional network security products against today's threats is in question as end users' susceptibility to phishing scams and social engineering becomes a more attractive attack vector. Experts say this shift has put a greater emphasis on context-aware security and threat intelligence.
Networking trends to watch in 2015
While network security remains the biggest area of focus for enterprises today, it isn't the only one networking pros are setting their sights on in the coming year. Among the most significant trends:
Enterprises hunger for bandwidth. The need for more bandwidth ranked as the second-biggest challenge this year, with 44% of respondents citing it as one of their main obstacles. When asked to identify their networking priorities for the next 12 months, 32% pointed to their plans to obtain additional bandwidth and telecom services.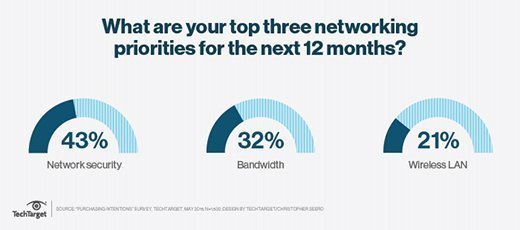 Most networking budgets have been increasing. More than half of the survey respondents (52%) said they received a bigger networking budget this year, up from 42% in 2013. Among the remaining respondents from this year's crowd, 27% said their networking budgets were staying the same, while 14% didn't know and 7% said theirs had decreased.
Read more 2015 networking survey insights
Enterprises show interest in SD-WAN but few actual deployments
Three out of four not changing vendors. Respondents seem happy with their current suppliers, with 74% reporting no plans to switch out their networking vendors over the next year.
In WLAN, 802.11n still reigns. Despite the abundance of faster 802.11ac access points (APs) becoming commercially available, only 38% of respondents investing in their wireless LAN (WLAN) plan to deploy them over the next 12 months. APs using the previous wireless standard, 802.11n, will be deployed over the next year by 49% of respondents. When asked why they weren't upgrading to 11ac, the top reasons cited were expense (30%), no need for that much capacity (17%) and lack of an easy upgrade path from existing 11n APs (17%).
Network management remains fragmented. A third of respondents (33%) said they intend to purchase network monitoring and management software in the next 12 months. But despite pleas for a single pane of glass that would allow ubiquitous monitoring of all network components, that all-in-one platform doesn't yet exist, according to Kerravala. The lack of a de facto leader also complicates the market. "There are so many network management vendors that do things well [and] they get lumped into the same bucket, so it's difficult for customers to understand one tool versus the others," he said. Pricing models are also changing, resulting in increased traction for freemium models, which enable customers to use a vendor's app for free with limited functionality and/or for a limited time.
Data center is hot, but fabric education needed. The ballooning growth of east-west traffic is driving new demands for systems designed to support the flow of data traffic between data center servers. That said, organizations remain slow to deploy technologies such as fabrics and network functions virtualization (NFV) until they get more comfortable with the concept. "Fabrics are attractive because they make networks agile," Kerravala said. "But for companies not deploying them, it's because they don't know enough about them. I would argue that vendors haven't done a good job explaining what [a fabric] is and how it works." In a similar vein, Kerravala said enterprises are leery about NFV until they get more solid information. "There is a lack of knowledge out there," he said about the use of NFV. "Where we see traction is in the carrier space."
Next Steps
Look ma, no firewall: How disabling a firewall can improve network security
Want to improve network security? Go back to the basics
Dig Deeper on Network Security Best Practices and Products