ekostsov - Fotolia
News
Stay informed about the latest enterprise technology news and product updates.
Cisco Live: Robbins promises simplicity as Cisco CEO
As Cisco CEO, Chuck Robbins says he will make deploying and using the company's products easier for customers.
SAN DIEGO -- While acknowledging the complexity of IT networks, incoming Cisco Chief Executive Chuck Robbins promises to simplify how customers deploy and use the company's technology.
Robbins joined CEO John Chambers in a freewheeling question and answer session with reporters at this week's Cisco Live user conference. The executives have been attending events as a team since last month, when Robbins was chosen to succeed Chambers. Chambers steps down July 26 after nearly 20 years at the helm.
As CEO, Robbins promises "operational rigor," which is code for cost cutting through efficiency. He also plans to simplify how customers deploy networks and how the company develops and markets its technology.
"What we do is incredibly complicated, but we need to simplify everything," he said. "We need to simplify all that we do internally and externally."
Robbins has said that "prioritization" would be a difference between him and Chambers. At the news conference, Robbins, Cisco's former head of global sales, remained vague on the term's meaning, but hinted that strategic changes are possible, given that the "opportunities are so rich for us."
Ripe for prioritization are the many market directions that have opened up from new technologies developed by engineering head Pankaj Patel. These advancements will force Cisco's executive team to prioritize options, said Robbins. Among the major products developed under Patel is the Application Centric Infrastructure (ACI), the company's software-defined networking platform. The company released ACI last year.
"The challenge we're going to have is trying to place our bets on the different areas, and (choosing) which ones are going to be the best opportunities in the future," Robbins said. He and his recently named executive team are thinking about where "we believe our customers want us to be two, three years out."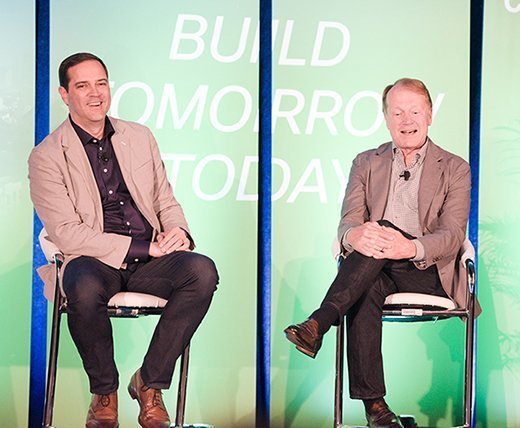 Robbins' executive leaders include Patel, who will become chief development officer, and Rebecca Jacoby, who will be senior vice president of operations. Jacoby had been chief information officer.
Future partnerships
Robbins plans to look for partnerships as the company chases business in the emerging Internet of Things (IoT) market. Company executives at Cisco Live acknowledged that selling Internet-based technology for monitoring the wear-and-tear on factory equipment, for example, is a lot easier if Cisco partners with the maker of the machinery.
"We think a lot of the next generation IoE (Internet of Everything) opportunities are going to require some really deep partnerships," Robbins said.
We need to simplify all that we do internally and externally.

Chuck RobbinsIncoming Cisco CEO
Moving into new markets like SDN and IoT will likely push Cisco into making acquisitions. Robbins plans to look for candidates in security, data-analysis and collaboration tools.
"You'll see us continue in that strategy with small, strategic acquisitions," he said.
Future of Cisco security
On security, Robbins reiterated the company's strategy of using its SDN architecture to push policies out to firewalls, intrusion protection systems and other tools used to identify threats and to stop infections from spreading.
"We think that's going to be a core element of how our customers ultimately have to secure their environments," Robbins said.
After Robbins takes over as CEO, Chambers will remain with the company as executive chairman. He will also work part time as an adviser to Robbins.
As CEO, Chambers said he regrets those times when "I haven't moved fast enough, or too fast without process behind it." Chambers was most proud of Cisco's ability during his tenure to bounce back after his missteps, which included a failed attempt at entering the consumer electronics market.
Chambers also defended those decisions, saying, "Any company and any CEO who doesn't take risks can't lead their company." He continued, "And by definition, when you take good business risks, not all of them are going to work out."
On Robbins, Chambers remained unequivocal in his praise. "I think he'll take us to be the number one IT company."