imelamory - Fotolia
News
Stay informed about the latest enterprise technology news and product updates.
What users need from an open networking ecosystem
There's plenty of talk about open networking, but the definition of that term changes depending on which vendor or standards body you ask. This week at the Open Networking User Group meeting in NYC, network pros outline their specific needs.
Members of the Open Networking User Group (ONUG) aren't any closer to implementing production-level SDN and NFV than they were a couple of years ago when the group first formed, but they have firmed up a clearer idea of what they'll require from vendors in their programmable strategies.
ONUG is primarily comprised of network managers from super-sized enterprises in industries like financial services and health insurance where there is a desperate need to bring agility and improved performance to enormous data centers and global WANs. Essentially they need an alternative to traditional networking, and their only feasible answer is SDN and programmability -- technology that is not quite ready yet.
These companies, which will make up the second wave of SDN vanguard (the first were Web-scale companies like Google and Facebook), are either in the review or pilot phases of the technology. According to research by ONUG co-founder Nick Lippis, 42% of ONUG members are reviewing the technology compared to 56% in 2013; 33% are piloting the technology, compared to 28% in 2013 and 25% are in limited deployment, compared to 16% in 2013.
The notable difference is that the length of review time is significantly shorter. Now 75% of ONUG members say they'll do open networking pilots in about six months, while last year 90% said that would take a full year.
"If you look at three-year bar, we are getting into more normal review cycles," Lippis said.
In the meantime, as a group, ONUG has whittled down priority use cases for SDN and programmability, building working groups around SDN WAN, overlays and network services virtualization. But across each area of the network, ONUG members have identified six key elements to any open networking ecosystem.
Some of these elements are obvious and have been hot conversation topics for a while -- common controllers, for example. Others are newer concepts, including the need for a common policy layer that sits atop a federation of centralized controllers. There is also a heavy emphasis on DevOps or NetOps.
The six open networking ecosystem elements as defined by ONUG members include:
1. Common automation tools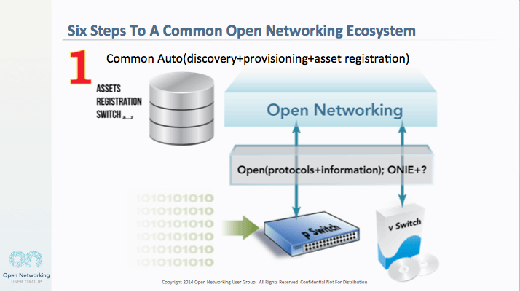 2. DevOps/NetOps tools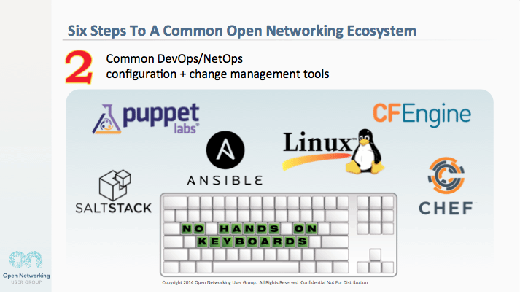 3. Controllers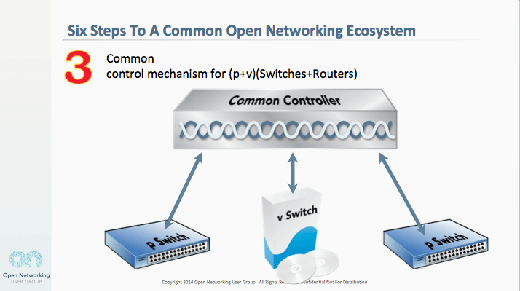 4. Policy layer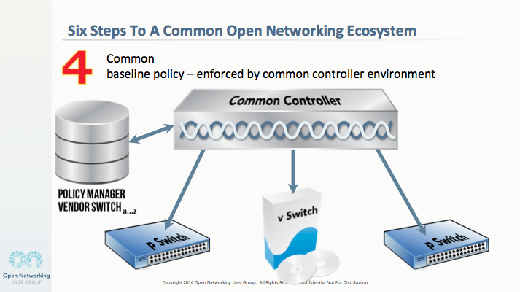 5. State management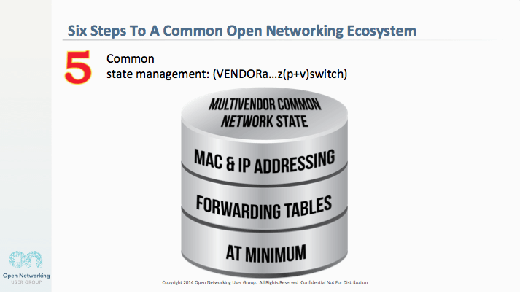 6. Integrated monitoring