News
Stay informed about the latest enterprise technology news and product updates.
Security, Wi-Fi top network technology purchasing survey for 2014
Network security, Wi-Fi and data center upgrades top IT's 2014 wish list, according to new TechTarget network technology purchasing survey.
Network security, Wi-Fi and data center network architecture upgrades top the list of networking priorities enterprises and organizations say they will tackle in 2014.
These deployments -- along with virtualizing network devices and laying the groundwork for software-defined networking (SDN) -- are among the key action items that organizations are planning in terms of network technology purchasing over the next year, according to TechTarget's 2013 networking purchasing intentions survey.
Much of the innovation we are seeing in networking is in wireless and in support of emerging technologies.

Zeus Kerravala,
principal, ZK Research
Almost a third of respondents cited security as their key area of concern, with 27% picking wireless and 25% naming data center upgrades as priorities.
That's a marked shift from the 2012 survey, in which network monitoring tools, LAN access and switching -- along with Wi-Fi -- attracted the biggest investments.
More than 2,700 key networking and IT executives and professionals worldwide responded to the survey, which measured the financial investments companies intend to make in the next year in networking technologies that range from LAN hardware and 40 Gigabit Ethernet to network monitoring and WAN optimization.
The 2013 survey reflects an IT industry that will continue to invest in the traditional equipment that drives today's networking even as it investigates next-generation protocols and topologies.
Indeed, spending on networking technology is slated to grow in 2014, the survey said, with 42% of respondents reporting they will spend more next year to bolster their infrastructures. Almost 30% said their budgets will remain unchanged, and 11% forecast a cut in network spending in 2014. That said, 34% say they are concerned their budgets aren't keeping up with demand.
Trends mirror technologies most important to businesses
"When you examine trends in computing, what you are seeing is that the technologies being funded are the ones that tend to be higher in the stack, the ones that impact the line of business at the C-level," said Zeus Kerravala, founder and principal analyst with ZK Research in Westminster, Mass., discussing the survey's results.
To that end, cloud and mobile computing are getting a lot of attention, particularly as the bring your own device (BYOD) trend continues to accelerate. "Much of the innovation we are seeing in networking is in wireless and in support of emerging technologies," Kerravala said. That said, he added that networking and IT execs are still cautious in their adoption of evolving concepts such as network virtualization and SDN because they are changing so quickly.
"There are still so many options," Kerravala said of SDN, "that the industry is subject to a bit of analysis paralysis. [Virtualization] will remain an incredibly hot topic, but most of the focus will be on research and testing."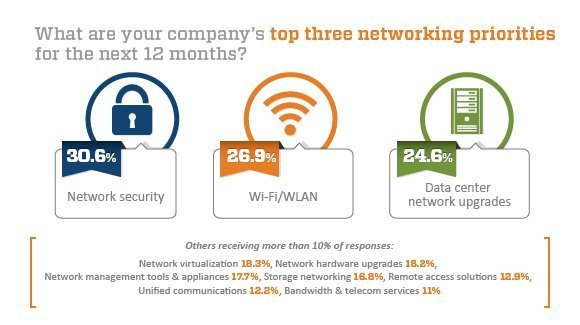 Indeed, 18% of respondents noted that network virtualization will be a priority in 2014, with 5% specifically labeling SDN a top priority.
That level of interest is a sharp increase from the 2012 survey, in which only a tiny percentage of respondents said they planned to invest in SDN and network virtualization technologies -- indicating the rapid change that has washed over that segment of the networking business.
Top 10 networking technology findings for 2014
The next 18 months will bring a palette of changes for administrators and executives, from overseeing ever more complex networks to understanding the impact of new network topologies and technologies. The following are among the top issues that will keep IT busy in 2014:
1. Being one with the C-level. Approximately 40% say aligning IT and corporate goals is their main technology challenge. Business issues are also driving network investments, in particular around security and tools and platforms aimed at boosting employee productivity. As IT becomes more of a strategic resource, companies are moving quickly to erase any gaps that threaten to distance IT from corporate objectives.
2. Prevailing network designs dominate workday. LAN, wireless LAN and network security remain the most important areas in which the majority of networking professionals spend their time. Not surprisingly, 70% said they work with LAN hardware, 65% with WLAN and 59% with security. Forty percent said they work with virtualization technologies, and 35% selected mobile devices and architecture.
3. Network virtualization and SDN research continues. The majority of networking professionals aren't ready to invest in SDN, but of those who are, 34% say they're looking to purchase virtual switches, and 28% said they will buy hypervisors or other network virtualization software.
4. Don't take my 10-gig away. Most users say they are happy with 10 Gigabit Ethernet, with more than half reporting that 10 GbE is all they need at this time. Those considering 40 GbE say they will need it for next-generation data center trends, including network virtualization, converged networking and data center fabrics. For now, 100 GbE remains on the horizon.
5. IP addressing limits no barrier, yet. Just a third of survey respondents are actually using IPv6 technologies, with 50% saying their network topologies are built around the IPv4 protocol. Of those migrating to IPv6, most have deployed dual-stack platform software and hardware. IPv6 proponents maintain that the industry needs to upgrade to the v6 standard to accommodate an expected explosion in IP-aware devices.
6. Slow progress on private cloud. Only 32% are making network modifications to support private and hybrid cloud deployments; of those who are making the switch, the majority will spend money buying virtualization software, as well as new network management tools.
7. A fan of WLAN. Although a majority has no plans to replace traditional LANs with WLAN connectivity, IT and networking execs still anticipate beefing up their wireless infrastructure in 2014. Most of the money spent will go toward access points and controllers. WLANs will anchor email, guest access and employee communications, but they won't -- at least not yet -- be upgraded to support 802.11ac, with only a third saying they plan to move to the higher-speed protocol. Reasons for delay include concerns that the technology is not yet mature enough and satisfaction that current standards are robust enough for current needs. Organizations moving to 802.11ac say their migration is fueled by the need to handle video and multimedia delivery and the continued growth of BYOD.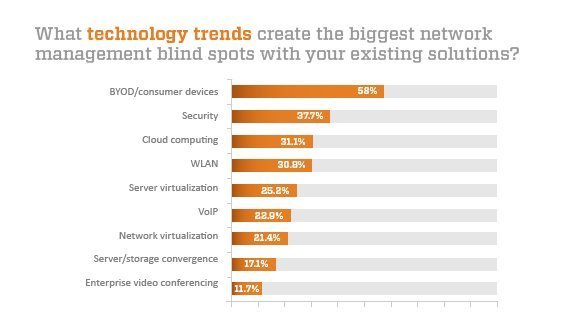 8. Blind spots in network management persist. As the number and type of mobile devices continues to percolate, keeping track of mobile device usage is a persistent battle. Almost 60% of respondents said BYOD is by far the biggest blind spot they grapple with in network management, with security a distant second. Despite that, most say network management tools are evolving quickly enough to support a more mobile, virtual and cloud environment.
9. Adding bandwidth is a WANderful thing. Although only 24% of respondents said they plan to invest in their WAN infrastructure, the one area in which they'll spend money is adding bandwidth, which is good news for switch providers.
10. Whither Ethernet DIA? Ethernet-dedicated Internet access, a new technology through which enterprises can connect their LANs to the public Internet, has a long way to go; more than eight out of 10 respondents aren't even familiar with the protocol; 55% want more information.
Dig Deeper on Network Design