News
Stay informed about the latest enterprise technology news and product updates.
World Launch Day: IPv4 to IPv6 conversion proves 'business as usual'
The Internet Society and content providers share the results of their IPv4 to IPv6 conversion, results from World IPv6 Launch Day.
IPv6 Launch Day saw the new Internet address system go live across thousands of websites without a hitch, but the IPv4 to IPv6 conversion is still a work in progress. With global deployment of IPv6 still in its infancy, every effort must be made to support the protocol that aims to provide IP address elbow room as the number of endpoints increases.
The organizations that participated in World IPv6 Launch Day aimed to allow users to access IPv6-enabled sites without any reconfiguration or performance problems -- and to some degree that happened. World IPv6 Launch Day 2012 saw more than 3,000 organizations turn IPv6 on for good, and over 60 participating access providers have noted a significant increase in IPv6 traffic across their networks since Launch Day. What's more, since last year's World IPv6 Day, many equipment manufacturers have begun shipping IPv6-on components across their product lines, noted Leslie Daigle, chief internet technology officer of the Internet Society.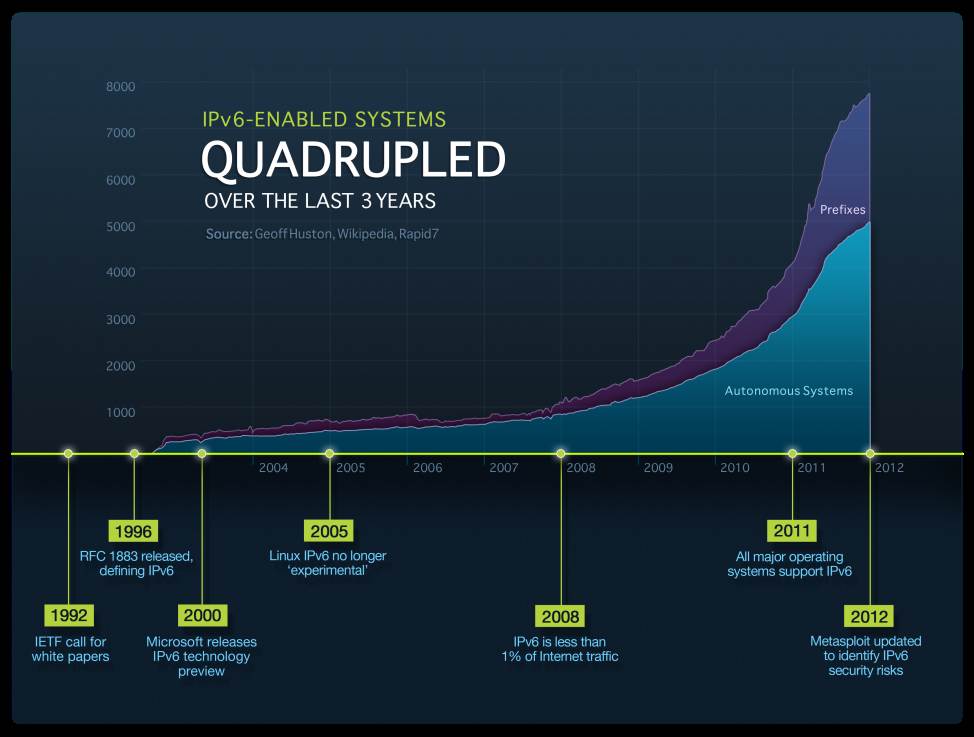 Source: Rapid7
Cisco, which supports IPv6 as both a content provider and equipment manufacturer, noted no incidents attributable to the emergence of IPv6 post World IPv6 Launch Day "with the acceptance of a lot more traffic moving on IPv6 than beforehand," said Mark Townsley, Cisco fellow.
Philadelphia-based service provider Comcast enabled 1.5% of its overall customer base with IPv6 on Launch Day. Call center volumes for Comcast were average for the day, indicating a seamless transition, said John Brozozowski, engineer and chief architect for IPv6 for Comcast. IPv6 traffic has now increased by 3.75% and Comcast will "keep the ball rolling," Brozozowski added.
While these initial transitions have been smooth, they represent only a small fraction of what's to come. "While we are very comfortable in saying that this is the new normal, it really is just the beginning," Daigle said. Enterprises have a ways to go in making sure all of their equipment is IPv6 ready and many organizations are still working with translation systems for their IPv4 addressing.
IPv4 to IPv6 conversion: Baby steps toward the transition
While a full IPv6 transition will take time, users should begin by implementing IPv4 and IPv6 in tandem, said Vinton Cerf, Google vice president and chief Internet evangelist, during an IPv6 roundup webcast the Internet Society hosted. Running the two protocols in tandem will allow organizations to switch back to IPv4 on specific applications if they experience problems in IPv6, for example.
More on the IPv4 to IPv6 conversion:
Converting from IPv4 to IPv6: A network architect's view
How to make the IPv4 to IPv6 transition without changing your network
Are your WAN devices ready for an IPv6 migration?
Google has reported an increase of 150% in IPv6 growth in the year since World IPv6 Day in June 2011, noted Eric Kline, IPv6 software engineer for Google. But IPv6 support doesn't happen overnight. Though most Google services already supported IPv6 since last year, Google also noted a 75% increase in IPv6 Web traffic since World IPv6 Launch Day 2012. "We encountered no major issues on the day," Kline said, noting that several minor ad partner concerns were resolved quickly during Launch Day.
"Google helps its users by creating an IPv6 adoption regiment and made an application for the World IPv6 Launch which showed participants if they already had IPv6 traffic running across their network and measured trouble spots on the Internet," Kline said. "We wanted to warn users who may have a problematic or broken connection on the launch day."
In bracing for the "new normal," enterprises, as well as consumers, must investigate what their current IPv6 status is, Daigle noted. "Consumers should find out if they are already running IPv6, or learn if they can get access from their service provider."
"[IPv6] is ready for business. It's a bigger Internet, but we still have work to do in making sure all deployments work across everyone's environments," she said.
Organizations feeling the pressure of the IPv4 to IPv6 conversion
Last year's World IPv6 Day proved to be an effective event promoting IPv6 awareness for many service providers, enterprises and consumers. But this year's World IPv6 Launch Day should be thought of as more of a deadline, noted Tom Coffeen, chief IPv6 evangelist at Infoblox.
With so many devices and organizations supporting IPv6, others may feel pressure to take on the conversion from IPv4 to Ipv6, said Google's Cerf. "Public embarrassment may be our friend," he quipped.
World IPv6 Launch Day further reading:
Let us know what you think about the story; email: Gina Narcisi, News Writer.
Dig Deeper on Network protocols and standards