AT&T: Cloud must be glued to the network to win hybrid cloud customers
You could compete on price, but why race to the bottom? Like many cloud providers, AT&T is trying to differentiate. The secret weapon in the AT&T cloud: the network.
Editor's note: Although you could compete on price, why race to the bottom? Many cloud providers are chasing higher profit margins by differentiating their cloud portfolios with custom, managed services or by specializing in a geographic region or vertical market. Then there are the carriers that have another unique angle to exploit: their network assets.
AT&T, which recently refreshed its Infrastructure as a Service (IaaS) line, Synaptic Compute as a Service, is making its global backbone central to the AT&T cloud strategy. After receiving the VMware vCloud Datacenter Services certification -- a distinction shared with only a handful of other providers -- AT&T announced a new "virtual private cloud" service designed to make it easier to support hybrid cloud customers that also use AT&T for MPLS virtual private network (VPN) services.
John Potter, vice president of As A Service Solutions at AT&T, recently spoke with SearchCloudProvider.com about the network's role in the AT&T cloud.
We hear a lot of cloud providers use the term "virtual private cloud," but few agree on a definition. What does it mean in terms of the AT&T cloud?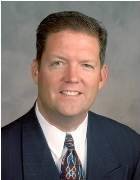 Potter: Bringing together VMware and AT&T gave us the opportunity to hit squarely on this enterprise hybrid cloud, and virtual private cloud is a hybrid deployment. In essence, it's got a couple of key characteristics. One is, naturally, it's hybrid -- it's a shared, multi-tenant deployment as an extension of a private network. And when we talk about private network, I'm not talking about IPsec over the Internet. I'm talking about our virtual private network -- our MPLS-based private network. What that brings, we believe is a couple things: One is an enterprise-grade experience. I define that as bringing the security, the performance and the reliability of what we have in our virtual private network. It also brings simplicity and ease of use to the customer through our partnership with VMware … and their market share position. They debate whether it's 82% or 84%. Whatever it is, it's big.
What we're announcing is we're mirroring that [VMware] software stack up in our virtual private cloud deployment, and we're using the same toolsets that folks are comfortable with and used to using. That translates to about 350,000 customers. What [customers] used to deploy virtualization in the private cloud is now extended up into the virtual private cloud. We make it simple, secure and enterprise-grade by virtue of extending it as part of that private network.
What do you mean that the AT&T cloud becomes an "extension" of the customer's network?
Potter: We've got over a 40% market share position in virtual private networking -- in MPLS-based private networks -- and that 40-plus percent puts us in as the market leader in the VPN space. What we're doing with this approach, and what's key to AT&T's deployment versus others', is that we're, in essence, breaking open that private network and incorporating compute and storage endpoints, and then re-closing that network.
The differentiation there is a couple-fold. One is that you get the inherent security benefits. You're not dealing with malware; you're not dealing with DDoS; you're not dealing with any of the Internet threats that come with being open or exposed. The second piece is that in our [cloud], we deploy unique intellectual property from AT&T Labs -- a feature we call Cloud Network Enablement, or CNE. What that does is allow us to scale the network resources in tandem with scaling the [AT&T] cloud -- the storage and compute endpoints.
Let me give you an example. A customer is running an application, sees the need to go create another 10 virtual machines and issues the request to do that. [CNE] will then scale up bandwidth, performance and availability of that network in tandem, just based on the request and through VMware's tools. That's unique in the industry. It ties together the benefits of network and cloud. Cloud to us is more than just a data center and a set of racks and blades. It's really a networked application.
Tell us more about AT&T Cloud Network Enablement. How is it built? What's going on in the background?
Cloud to us is more than just a data center and a set of racks and blades. It's really a networked application.

John Potter
Vice President, AT&T
Potter: We have software and physical hardware "pods," if you will, deployed throughout the network. When a compute request is issued, not only is the orchestration taking place across the compute environment itself, but overall service orchestration is taking place that puts a request into the network orchestrator through CNE. The service orchestration layer is what in fact is controlling both the compute orchestration … as well as the network orchestration.
We call it "Cloud In" because cloud is in our network, versus other players that layer cloud on top of a network. I think the difference is that we see benefits in three areas in terms of security. We go behind the firewall up to the virtual machine directly. It's the same network they use to connect their corporate backbone.
[Another benefit here] is really the cost [savings] because in many cases, some of the complaints around some of the public cloud [providers] are that their network or bandwidth costs are very high. That's because they don't have the scalability advantage. They have to build their network environment to peak because they don't have the inherent ability to scale the same way [AT&T does]. You're only paying for what you use -- not only on the compute side, but the network side as well.
Why was AT&T Cloud Network Enablement developed in-house? Was it because your suppliers didn't have the features you wanted or because it would integrate better with other custom systems?
Potter: It was really a combination of both. We didn't see it available in the market itself. We knew we had the expertise to deliver uniqueness within the network as an extension to what we did, and candidly, we took advantage of this technology that we leverage today in the network … to control routing in the data network. What we did was just extend that to include the cloud itself.
What does the VMware vCloud Datacenter Services certification mean for the AT&T cloud? Does it improve your service-delivery capabilities, or is it brand assurance for customers?
Potter: It's extending off our Synaptic portfolio. It's the new direction we're taking or a continuation of the direction we're taking with [the AT&T] cloud, but it's really focused on that enterprise hybrid cloud. And we highlight "enterprise" and "hybrid" because it's the enterprise-grade experience and hybrid is the network-based extension.
We believe that if we can focus on really simplifying that private-to-hybrid cloud transition -- by leveraging AT&T's strength in VPN and … VMware's virtualization stack and management console -- then we're ultimately providing customers with a very simple and straightforward way to bring workloads into the hybrid model and transition them back and forth. That's what we think the power of the offer is. It's a brand play with two industry leaders ... and as I mentioned, we think the opportunity is really directly focused on solving the two biggest inhibitors to cloud, which are security and complexity.
To establish a hybrid cloud [with AT&T], it's literally a five-step process if you're using VMware today. That flattens a lot of the hurdles. I should mention we did go through rigorous certification to be part of their vCloud Datacenter program, and we are the first to run the latest versions of their vSphere and vCloud Connector software since we spent the time integrating that, which is what gets us to that five-step process.
What [all of this] allows folks to do is go and get a standardized plug-in for free, or they could run it on premises, if they're up to the latest software spec. Then from the management console of VMware they're used to [using] every day -- managing how workloads are deployed in virtual machines of their private cloud -- there's another option or another folder, if you will, that comes up in there that's [AT&T's] virtual private cloud. You click on that, establish the account with AT&T, and you drag and drop workloads between on-prem or up in the [cloud].
Let us know what you think about the story; email: Jessica Scarpati, Site Editor.
Dig Deeper on Telecommunication networking