News
Stay informed about the latest enterprise technology news and product updates.
Ipanema Technologies revs up cheap WAN optimization trend with nano|engine line
Ipanema Technologies pioneers a nano|engine line that promises cheap WAN optimization solutions for small branch offices at a price 10 to20 times less than average boxes.
While WAN optimization adoption rates steadily rise, even under economic difficulty, cost keeps enterprises from deploying WAN optimizers at every branch office. Vendors will chart up persuasive WAN optimization ROI calculations to explain how a $10,000 device pays for itself in as little as a year, but deploying a large number of those boxes still carries a high capital cost. Ipanema Technologies is trying to attack this math problem in another way with its new nano|engine family of broadband branch office boxes priced at less than $1,000.
"WAN optimization's penetration into the market has been limited by the price point. In general, when the lowest cost devices per branch office are at the price range of $2,500 to $3,500 list price, that limits the number or locations where you can justify installing it. When you get it down [to] under $1,000, that makes a big difference," said Gartner Research vice president Joe Skorupa.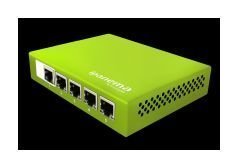 What is Ipanema Technologies' nano|engine product line?
The nano|engine family of WAN optimization controllers (WOCs) begins with the nano|2 and nano|5. The nano|2 and nano|5 are built to meet the needs of small offices, targeting branches of up to 20 and 50 users, respectively. The low-end device is priced at $595, while the more powerful device costs $995.
In the first release of the nano|engine family, Ipanema has limited the device capabilities to path selection, Quality of Service (QoS), monitoring and visibility. Yet, the devices allow you to make up to three different network connections. Using Ipanema's Autonomic Networking System (ANS) technology, the nano|engine family of devices (like all other product lines) dynamically chooses the best available connection to send network packets.
This gives enterprises a much-needed disaster recovery capability for branch offices that are likely underprepared and understaffed. Disaster recovery expert Paul Kirvan explains branch offices have a greater chance of losing connectivity than at headquarters due to a lack of on-site monitoring devices and experienced personnel to proactively monitor network health. An "autonomic" device is therefore a welcome reprieve to typical branch office conditions.
"We're able to control the individual flows of every end user, [and from that] we are able to guarantee the performance," said Ipanema Technologies' chief technology officer Thierry Grenot.
Does WOC size matter?
As the name suggests, the devices are much smaller than comparable WAN optimization devices. These neon green devices fit into the palm of your hand. At such a small size, some heavy-duty WAN optimizing capabilities are lost, such as compression. Enterprises with a globally distributed WAN, prone to very high-latency connections, would need a more serious WAN optimization controller.
"They limited what they're doing on the device in the first release … So if you need latency mitigation, it won't solve the problem. It absolutely won't," Skorupa said.
Then again, the nano|engine has path selection, visibility, QoS and control that most WOCs -- even Riverbed appliances -- don't have. According to Skorupa, these devices are ideal for enterprises that are less geographically dispersed -- like European or Asian companies -- where latency is less of an issue.
In the end, the question of smaller WOCs comes down to cheap WAN optimization. Skorupa said that "it's not a question of size that's a big deal; it's price point."
"The fact that we are able to reduce the size allows us to make it much cheaper … between 10 to20 times cheaper than the typical WOC," said Grenot.
Ipanema Technologies expects to add higher-powered devices to its nano|engine line in the next year -- aiming for a nano|engine that can support 100 end users at a branch office.
"This is at a price point that is dramatically below what the competition is offering, and if there's a promise for more features [to be] added to it later, I think it should get people's attention. We believe that other WAN optimization vendors over the next six months will be forced to deal with these types of price points to grow their market. And I think it was a really good move on Ipanema's part to get out there out front," said Skorupa.
Why not virtualize software for cheap WAN optimization?
There's nothing that would prevent Ipanema Technologies from virtualizing its WAN optimization software. In fact, it already has. Ipanema announced its "Cloud Ready Networks vision" at Interop Las Vegas this spring. It consisted of partnerships, a new virtual ip|engine appliance and a roadmap to today's nano|2 and nano|5 appliances.
"At the price point that they're talking about, you can't buy a server and put the virtual software on it. If you just want to roll out an on-premises box … it's going to be really hard to beat that price point. You can't even buy a cheap PC [for that much]," Skorupa said.
As of Oct. 17, 2011, the nano|engine family has been available through service providers and VARs.