Share this item with your network: Building the infrastructure for the changing face of IT

iSTOCK/GETTY IMAGES
News
Stay informed about the latest enterprise technology news and product updates.
Virtualization for disaster recovery offers flexibility
Utilizing virtualization for disaster recovery may solve issues quicker. One team tried disaster recovery with server virtualization to cut processes and increase productivity.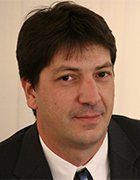 By
Technical architect Steve Hannah originally began deploying server virtualization to reduce demand for physical servers in a data center that was running out of floor space. But Hannah and the IT team at School Specialty Inc., a Greenville, Wisconsin-based provider of supplemental learning products, realized that the agility and flexibility of virtualization for disaster recovery could also reinvent the company's standard approach.
School Specialty's original disaster recovery strategy depended on a traditional hot site service provider that would spin up physical servers using backups of the servers in the company's primary data center.
"With a recovery of physical servers, we had to be continually aware of the exact hardware, including model types and BIOS levels, to make sure it was replicated in the hot site," Hannah said.
But getting the traditional hot site up and running required the physical transfer of backup tapes from the company's data center. Hannah estimated that it would take a week to recover School Specialty's systems with this method.
"Running to someone else's site with backup tapes is simply not going to cut it anymore," he said. "Virtualization gives us a boost in speed not possible with tapes and bare metal server restores."
Server virtualization adds an abstraction layer to server hardware, allowing a virtual machine to move between physical servers without the need to change hardware drivers or ensure software compatibility, Hannah said.
Virtualization for disaster recovery unveils a new strategy
School Specialty is about a third of the way through planning and implementing its new disaster recovery with server virtualization plan, which will entail building a new, secondary remote data center to take advantage of the mobility of server virtualization. Hannah has identified 50 of the company's 600 virtual machine images as mission-critical workloads that must be synchronized to the remote data center. School Specialty uses VMware's vCenter Site Recovery Manager to manage the virtual environment, and he uses the deployed virtualized storage solution to replicate virtual machines from the primary and remote storage networks. The remote site holds a subset of the server blades and hardware of the primary data center, and is designed to spin up the critical virtual machines in the event of a disaster.
Hannah determined that the remote site only needed to be 30 to 50 miles away from the primary data center. "We are fortunate to live in an area that is not impacted by large, regional natural disasters like hurricanes or earthquakes, so we can keep our remote site relatively close," he said.
Making the hot site useful beyond disaster recovery with server virtualization
Unlike a traditional hot site that is only available during a disaster recovery event, School Specialty can use the infrastructure of the new remote site continuously. The company's developers and administrators use the remote data center as a staging environment for updated business applications. Performance testing, user acceptance testing and any final quality checks are done on new and updated applications in this staging environment before being pushed in the production environment of the primary data center. In the event of a disaster, the company can spin up the latest production virtual machines at the remote site without restoring from tape or other backup media. If necessary, both the production and staging environments could operate in parallel.
"During the spin up process in a disaster event, we can make the decision as to whether or not to shut down the staging instances to free up capacity," said Jason Seymour, Unix system administrator at School Specialty, who also noted, "We actually like the idea of our staging and disaster recovery environments sharing the same hardware. Basically, we are running a continual test on our disaster recovery hardware."
With a live environment running on their remote site, the administrators can utilize the same monitoring and management tools as the production environment to detect and troubleshoot any issues that may arise, such as failed hardware or processes. This is in a sharp contrast to relying on a third-party hot site vendor to have all its hardware ready during a disaster.
Since School Specialty has complete control over the secondary environment, it can always choose to move production workloads over to that environment during times of heavy load. In this way, the disaster recovery site becomes another component of the virtualized environment, rather than a service used for annual tests or rarely in a crisis.
Dig Deeper on Network Infrastructure