News
Stay informed about the latest enterprise technology news and product updates.
MPLS, Ethernet services more critical as network habits, strategies change
Reliable telecommunications services, including Multi-Protocol Label Switching (MPLS), Ethernet, and Internet access, are becoming even more critical as the way workers use the network changes dramatically.
Migration to MPLS reduces the cost of WAN bandwidth, with IT practitioners on average reporting a 17% drop in the cost of bandwidth as a result of MPLS.
,
Reliable telecommunications services are of growing importance to network staffs, as they must address the proliferation of branch offices, remote workers, and the need for access to centrally provided data and applications.

Telecommunications services, including Multi-Protocol Label Switching (MPLS), Ethernet, and Internet access, are becoming even more critical because the way employees work is changing dramatically

For most medium to large enterprises, MPLS has become the de-facto standard for site-to-site connectivity. A whopping 74% of Nemertes research participants say their companies are using MPLS in their WANs. The move to adopt has accelerated quickly, with an increase of more than 175% in a little more than two years.

Why the move to MPLS? There are three key reasons:
To provide guaranteed performance for real-time, IP-based applications such as voice and video
To flatten networks away from hub and spoke designs
To save money
Of these three, the any-to-any architecture and support for IP quality of service optimization were most important for justifying an MPLS migration.
MPLS CoS and effect
Operating numerous, separate networks for voice, data, video and other applications is not an innovative approach towards an effective communications infrastructure. Forty-eight percent of organizations run at least three traffic types—typically voice, data and video—over their MPLS WANs and use both internal and provider-provisioned class-of-service to prioritize different application types to meet performance requirements. Besides the three main traffic types, other applications on MPLS include imaging, streaming audio, and streaming video. The remaining 52% run either two traffic types (typically voice and data), or one (just data).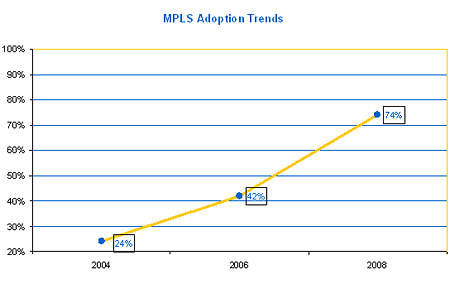 With most organizations running multiple traffic types, you would expect the majority are taking advantage of MPLS class of service (CoS) services. But, the reality is that only half do. Instead, they rely on the traffic-management capabilities provided by WAN optimization products rather than CoS offerings from their MPLS providers.
Evaluating telecom services: Best practices
Optimize for IP: Your application requirements should drive your WAN service selection, not the other way around. If you must support latency-sensitive applications, such as voice, video, virtual desktops or transaction-processing systems, make sure you buy a WAN service that can prioritize and manage your applications.



Take advantage of Ethernet: Ethernet services offer significant potential for lower costs, higher bandwidth, and increased network flexibility. Leverage Ethernet technologies where available, work with your providers to understand their service offerings and road-maps, and don't be afraid to consider emerging providers.


Evaluating SIP trunking: SIP trunking offers significant potential to reduce costs and improve voice call-routing flexibility. Work with your service providers to understand emerging offerings and implementation architectures.
They have not yet deployed applications such as VOIP or video that require prioritization, or their average utilization is a small percentage of total bandwidth, so prioritization isn't an issue.

Migration to MPLS reduces the cost of WAN bandwidth, with IT practitioners on average reporting a 17% drop in the cost of bandwidth as a result of MPLS. But many roll those savings into additional bandwidth to support new applications.

Ethernet services take flight

Ethernet adoption is also on the rise, and telecommunications service providers are delivering via three approaches:
As an access technology for Layer-3 MPLS services
As a point-to-point Layer-2 service
As a point-to-multipoint Layer-2 service (often branded as Virtual Private LAN Service, or VPLS)
It is the second and third scenarios that are gaining in interest from those looking to reduce network-operating costs, gain control over routing architectures, and/or support non-IP protocols. Organizations are actively deploying Ethernet services, with 53% using and 9% planning to deploy this year.
Network staffs typically implement Ethernet to supplement rather than replace Layer-3 MPLS services. Enterprises deploy Ethernet in metropolitan areas to connect large facilities to each other and to data centers, as well as between data centers separated by a large distance (using VPLS services).
The biggest attraction to Ethernet is cost, as it's often a fraction of the cost of alternatives such as leased lines. Another rationale is flexibility to support non-IP protocols, such as custom applications for monitoring systems or internal applications, as well as the desire to maintain control over enterprise routing protocols.
Network managers say the biggest limiting factor in their use of Ethernet isn't technical. It's the availability of Ethernet services. The lack of Ethernet services from Tier-1 providers has led some to deploy services from emerging providers such as Cogent Communications, Reliance Globalcom (formerly Yipes), and Time Warner Telecom.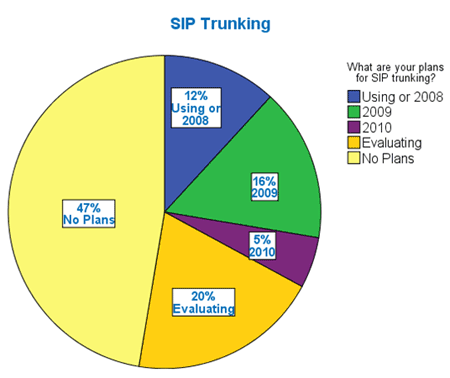 SIP trunking also has gained interest, as 53% percent of organizations are using, planning to use, or evaluating the services. SIP trunking has significant potential to reduce telecommunications costs and improve service flexibility. It eliminates the need for on-premises gateways that connect enterprise telephony systems with the Public Switched Telephone Network (PSTN), essentially moving the gateway into the carrier network.
Access between the carrier network and the enterprise telephony system is via a direct SIP connection. By leveraging SIP trenching, organizations can reduce PSTN access costs by 20% to 60%. They also can take advantage of emerging services to enable incoming and outgoing call routing based on policies or call load, and they can use virtual number services to provide local dial-in numbers outside of operating regions.