News
Stay informed about the latest enterprise technology news and product updates.
Telecom carrier spending up worldwide
Telecom carrier capital spending and revenue will increase worldwide this year as providers focus on video services like IPTV and mobile video.
Telecom carrier capital expenditures are up around the globe for the third year in a row and are expected to hit nearly $225 billion by year's end, according to a recent report from Infonetics Research.
According to the report, the jump in capex is fueled by carrier network transformation and migration projects, swelling numbers of mobile and broadband subscribers, and increasing demand for personal broadband services and high bandwidth video services like mobile TV, mobile video, IPTV and video on demand.
For more information
Check out why IMS and FMC are on carrier roadmaps

Find out why service providers are turning to video
The study found that public service providers worldwide spent a combined $216.2 billion on capex last year, up 13% from the year before. By the end of this year, capex spending is expected to rise an additional 4% to $224.6 billion. Between 2006 and 2007, providers spent most heavily on mobile radio access, voice, optical and broadband aggregation equipment, according to the report.

Along with increased capital spending, service provider revenue is also up globally. The study indicates that new services launched by carriers are boosting revenue.

"For the third year in a row, carrier capex has increased in all regions of the world, but we expect this investment cycle to plateau in 2009 and decrease in 2010," said Stephane Teral, Infonetics principal analyst and the report's lead author. "However, service providers in most regions are operating at a sustainable capex-to-revenue ratio in the 15% range, which should carry the market in these regions through the plateau without much disruption."

The study found that service providers globally combined to earn $1.2 trillion in annual worldwide revenue last year, up 8% from 2005. That revenue is expected to jump another 4% by the end of this year.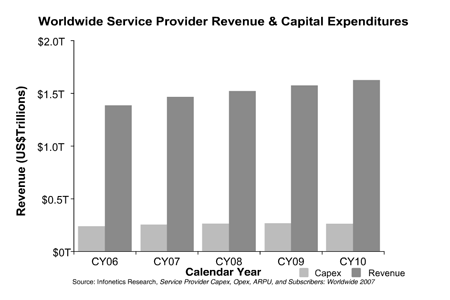 Overall, the report indicates, the world's top 15 service providers account for about half of worldwide carrier capex spending. In North America, the top spenders in 2007 are AT&T, Sprint Nextel and Verizon. In Europe, the Middle East and Africa (EMEA), Deutsche Telekom, France Telecom, BT, Telecom Italia and Telefonica are leading expenditures. China Mobile, China Telecom and NTT are leading in Asia Pacific. And in Central America and Latin America, America Movil, Telmex and Telefonica are leading the charge.
The report shows that Asia Pacific's share of worldwide telecom capex spending will peak at 34% this year, followed by EMEA with 31% and North America with 29%. Teral said the numbers in Asia Pacific could be seen as troublesome.
"The Asia Pacific region is worrisome because the average capital intensity rate there is a high 21%, fueled by China's rapid growth," he said. "If that rate doesn't come down, we could be looking at the beginning of another telecom bubble in that region."
Dig Deeper on Telecommunication networking