Manage
Learn to apply best practices and optimize your operations.
define remote office structure to simplify branch IT management
One way to simplify remote management is to consolidate the number of individual point products at the branch into "all-in-one" or "branch-in-a-box" products. Their prime advantage is consolidation of remote management functions. Find out which other branch office technology choices are available to wide area network (WAN) managers.
Individual branch offices often become islands from the perspective of a corporate wide area network (WAN) manager. This can be overcome by implementing a model that organizes branches into a manageable structure. Branch IT management can be tricky. See what you can do to manage your office branches, in Chapter 1 of this e-book, Simplifying Branch Office Management. Continue reading about defining a branch IT management structure, or skip to other chapters in this e-book using the table of contents below:
Table of contents

Chapter 1: Branch IT management: Defining remote office structure
It is a time of great flux for branch IT management. Overall, Nemertes Research projects 17% growth in the number of branch offices in the average company in 2010, based on Nemertes' 2009 Communications and Computing Benchmark. Notably, only 20% of participants are projecting growth, while 25% project reductions. This means that where there is growth, it is major growth. Also, 17% growth is a significant jump from 2009's -3%. In addition, telecommuting—typically, a branch IT manager support function—is on the rise, resulting in more branches of one. Approximately 86% of organizations are increasing the number of telecommuters in 2010.
Branch IT management follows a maturity process with four major phases that help gain control over branch management.

Ted RitterNemertes Research Senior Analyst
Along with the growth of branches and expansion of telecommuting, there is continual pressure to support a more diverse group of applications and services. In some cases, it is branches requesting new applications from central IT; in other cases, branches wind up directly "testing" new software as a service (SaaS) applications, given their low technical and financial barriers to entry. Over time, this can lead to a heterogeneous make-up of branch applications, including doing the same thing with different applications.
The end result: All this flux can lead to every branch being its own island and branch IT management requiring the support of an entire archipelago!
The branch IT management model
To make a distributed enterprise productive and successful, IT must provide a uniform set of services so that employees working remotely don't feel they're on isolated islands. Establishing uniformity and dealing with situations outside the norm requires strong branch IT governance.
Overall, we find that branch IT management follows a maturity process with four major phases (see Figure 1). The first phase is characterized by standardization of products and services at the branch to optimize maintenance, support and training costs. In this phase, it's critical to establish roles and chain of command for key branch IT management decision makers and business stakeholders. The second phase is the development of a branch tier structure along with the establishment of a governance board. Phases III and IV involve centralization of branch applications and desktops followed by outsourcing to third-party managed services, hosted services and, eventually, cloud computing. Together, these steps help to give central IT more control over branch management, with the ultimate goal being achievement of branch SLAs.
Figure 1: Branch IT management process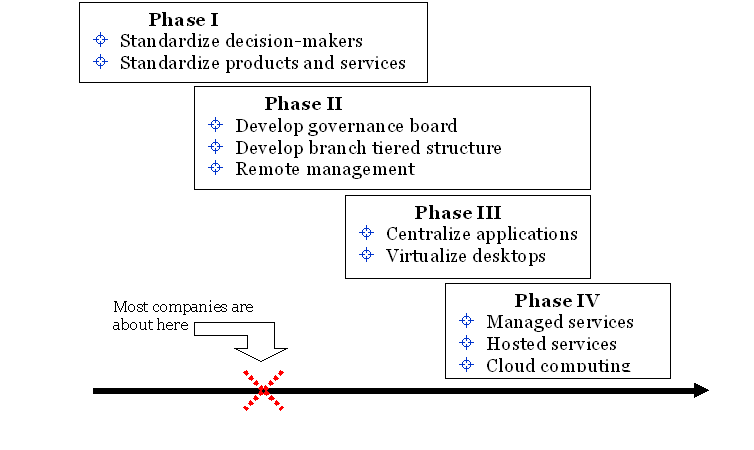 Source: Nemertes Research
(Click image to enlarge.)
Most organizations are somewhere in phase II—they consolidated and standardized applications and are establishing the branch tier hierarchy.
Defining the branch tier hierarchy
A branch tier hierarchy is a critical step to simplifying branch IT management. The process involves segmenting each location in terms of bandwidth, application requirements, and number of employees (see Figure 2):
Figure 2: Location types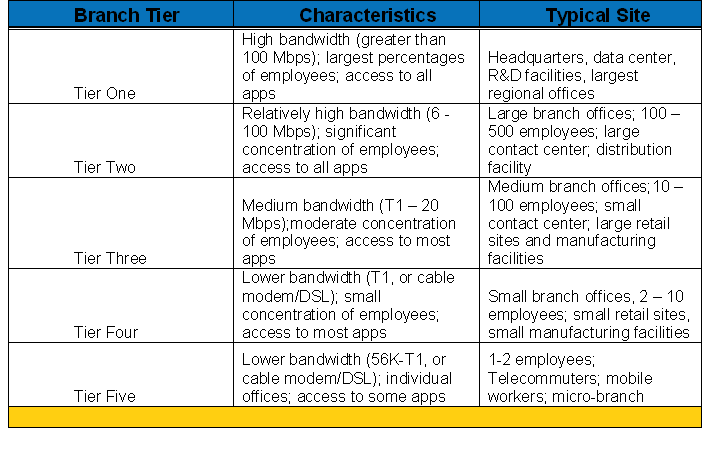 Source: Nemertes Research
(Click image to enlarge.)
It's vital to assess each of these location types and the performance expectations, which become a third dimension. It is quite possible that a small branch on the front line of the business has higher network availability requirements than a large branch that may house more autonomous functions. The classification of branches facilitates negotiating service-level agreements (SLAs) for each class. The SLA takes into account the branch tier and the unique branch performance requirements. The next step is to evaluate technologies that can help meet these SLAs.
Continue reading about branch office management in Chapter 2, The best remote management technology for WAN managers, or visit Bitpipe.com to download the PDF of the full e-book: Simplifying Branch Office Management.