kentoh - Fotolia
Evaluate
Weigh the pros and cons of technologies, products and projects you are considering.
WAN transformation sparked by 5G, cloud and SD-WAN technologies
In a modern world, legacy WAN architecture is rife with shortcomings. But 5G features and use cases could help jump-start a WAN transformation for many organizations.
In the old days, about a decade ago, remote employees would go into a branch office, sit at a desk with a laptop or desktop computer and connect to the company LAN, which connected to the company WAN, which, in turn, connected to the company data center. In those days, when network architects built a WAN, the goal was to couple inside employees to inside network resources, essentially linking employees on company property to resources on company property.
That setup is mostly gone. Today, many companies serve both inside employees and outside partners on their WANs. In fact, 60% of WANs are now serving outside customers, contractors and suppliers, according to a recent study of 390 organizations by Nemertes Research, an advisory and consulting firm based in Mokena, Ill.
Most workloads no longer reside inside the data center, Nemertes CEO Johna Till Johnson said in a recent webinar. The notion of connecting users to inside the data center has vanished. Increasingly, users are somewhere else. Maybe they're on another WAN or the internet. Essentially, company WANs are now connecting outside users to outside cloud resources.
The WAN as a connectivity medium for outsiders is a concept that emerged just last year, Johnson said. And that shift from inside-to-inside to outside-to-outside communications dovetails almost perfectly with the advent of 5G, the next generation of cellular technology.
Enter 5G, of course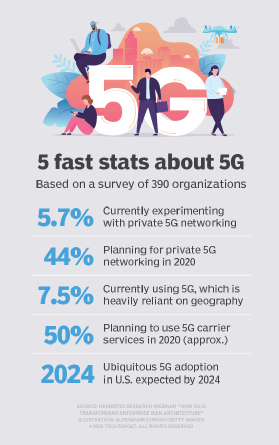 About 60% of organizations plan to use 5G carrier services by the end of 2021, according to Nemertes, even as enterprises assess 5G. Additionally, 55% of organizations plan to use 5G private networking services by the end of 2021.
The introduction of 5G could address some WAN disadvantages. The use of cellular connectivity could, for example, eliminate the need for MPLS links and their associated high fixed costs. Enterprises that move their physical branch offices could more quickly deploy a 5G-based WAN without having to worry about rearchitecting their entire WAN. Finally, replacing wired WANs with cellular WANS would help enterprises significantly cut down the time needed to put a WAN into operation.
Additionally, WAN architecture could benefit from the following 5G features:
gigabit-speed bandwidth that could serve as an alternate WAN connectivity option;
low latency that works well for sensitive applications, such as IoT and multimedia;
enterprise-friendly carrier pricing that competes with wired services; and
embedded security at the physical layer.
Five enterprise use cases for 5G WAN architecture
As 5G and WAN architecture could coalesce, some key use cases start to emerge for businesses, including the following:
But do enterprises really need 5G?
In sum, consider 5G WAN as part of a next-generation WAN strategy, Johnson urged. As you talk with technology decision-makers in your organization and plot your five-year plan, you'll want to consider how 5G factors into that plan and if you even need it.
"The answer might be you don't [need 5G], and that's a perfectly valid answer. But if you haven't looked at it, then that's not a valid answer," Johnson said. "You can consider it and reject it, but you need to at least consider it as part of your next-generation WAN strategy."
Instead of wasting time and energy massaging a legacy WAN, Johnson said, you should consider rearchitecting the entire system.
This was last published in
March 2020
Dig Deeper on Branch office network design